Meerim Kachkynbaeva
The AUCA IBL Program has been instrumental in providing me with the fundamental knowledge and practical skills which have helped me become the lawyer I am today.


Meerim Kachkynbaeva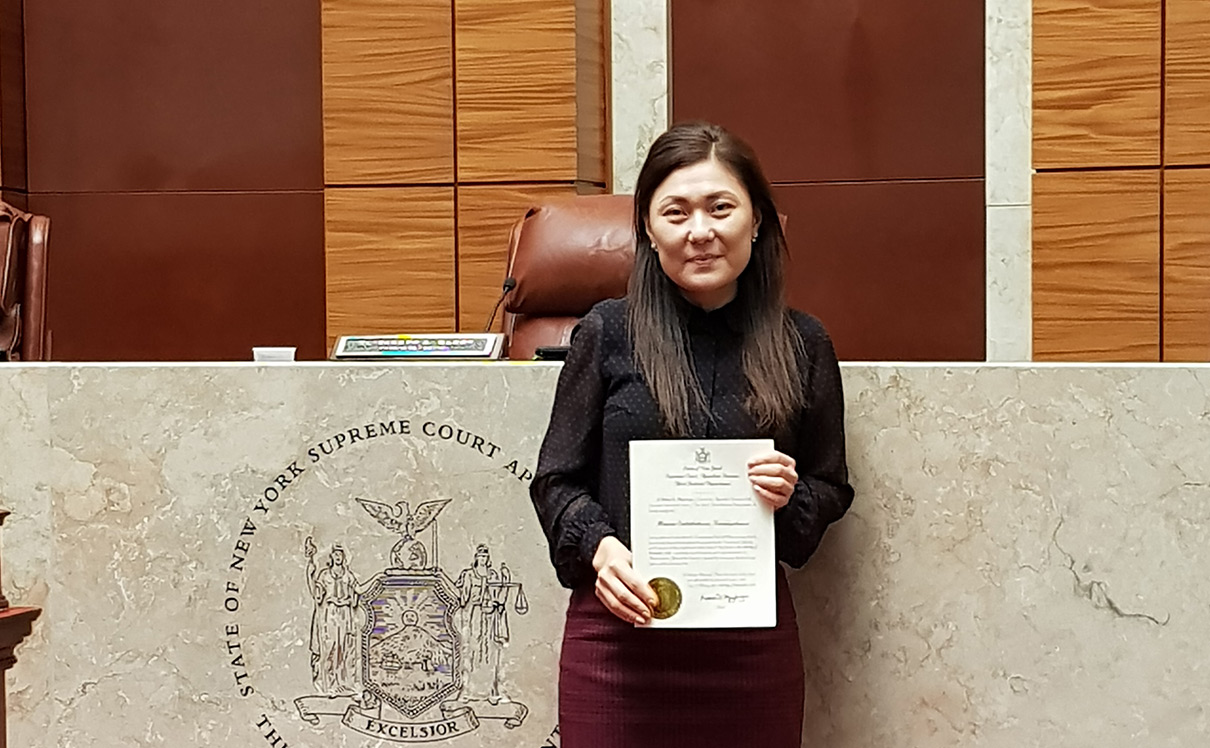 Greetings! Please, tell us about yourself and your experience after graduating from the IBL Program.
Meerim: My name is Kachkynbaeva Meerim. Following my graduation from AUCA's IBL program in 2009, I joined Kalikova & Associates, one of the most prominent law firms in Kyrgyzstan. Due to my interest in public-private partnerships at that time and great support from Gulnara Kalikova, the founder of the Kalikova & Associates law firm, I managed to move to Geneva to do an internship at the United Nations Economic Commission for Europe (UNECE). My stay at UNECE, while initially planned for only 6 months, turned into 2,5 years, as I received an offer from UNECE to work as a consultant following my internship.
At that time, however, I realized that if I wanted to do a career in international organizations and be competitive in an international job market, I needed at least a Master's degree. My choice to apply and go to Columbia Law School was motivated by the fact that it was based in New York City (the place, which I always wanted to visit and live) and to be taught by professors who were also practicing lawyers in the city. Thus, it was a perfect solution to combine business with pleasure. If to be serious, going to a U.S. law school also meant that I could be eligible to sit for the bar exam in any of the states (and, in fact, just last year I got admitted to New York State Bar, which means that I can practice law in the state of New York). In addition, Columbia Law School also offered a general LL.M. program which allowed students to focus their studies in the area of their specialization if they had one, or transition to a new practice area by exploring additional areas of law.
What area of law have you decided to specialize in?
Meerim: In my case, I ended up transitioning to another area of law. While I had practiced commercial and business law in Kyrgyzstan and had an interest in international financial transactions and project finance, I became very much interested in public international law. After I graduated from Columbia Law School in 2014, I was offered a position of an associate lawyer in London at the European Bank for Reconstruction and Development (EBRD), where I started working on the institutional matters of the organization. This area of law requires lawyers to provide legal services related to the organization's governance, membership, privileges and immunities, inter-agency cooperation, resource mobilization, and developing and interpreting the internal legal framework of the institutions, just to name a few. After I left EBRD, I also had an opportunity to work for the Offices of Legal Affairs of the International Federation of Red Cross and Red Crescent Societies (IFRC) based in Geneva and the Green Climate Fund (GCF) in Songdo, South Korea. Currently, I am a Legal Counsel at the Office of the General Counsel (Office of Legal Affairs) in the Asian Infrastructure Investment Bank (AIIB), the headquarters of which is located in Beijing, China.
In your view, what is the role of the AUCA IBL Program in your achievements?
Meerim: The AUCA IBL Program has been instrumental in providing me with the fundamental knowledge and practical skills which have helped me become the lawyer I am today. I will always be grateful to IBL Program professors for their great professionalism, for challenging me intellectually, giving me the courage and inspiration to dream big and take concrete steps to achieve my goals.