Ruslan Sulaimanov
«Business Administration» - 2008; «International and Business Law» - 2010
«Life is a marathon, not a sprint. Success is a result of a constant self-improvement and persistence in achieving goals».


Ruslan Sulaimanov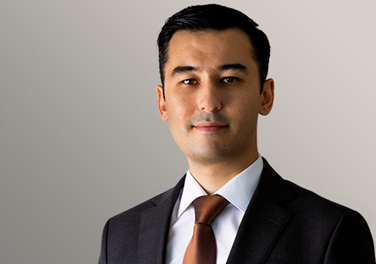 Please tell us about yourself. Where are you originally from? Where do you work now? 
Ruslan: I was born in the Kyrgyz Republic. In 2010, I graduated from the American University of Central Asia (AUCA). I am a lawyer at King & Spalding. It is an international law firm founded more than 130 years ago in the United States. The firm's offices are in New York, Los Angeles, London, Moscow, Paris, Frankfurt, Singapore, Tokyo, and many other large cities of the world. I primarily specialize in mergers and acquisitions, secured financing transactions, private equity, and corporate reorganizations. For the past several years, my practice was concentrated mainly in the emirates of Dubai and Abu Dhabi. I also closely work with our office in the Kingdom of Saudi Arabia. The firm covers the whole Middle East region from Dubai, Abu Dhabi, and Riyadh. In addition to my work in the United Arab Emirates, I represent clients in Kuwait, Qatar, Bahrain, and Oman and cooperate with local law firms there. I advise clients investing in various industries of the region, including healthcare, education, infrastructure, e-commerce, and energy.  
You have completed a double major program at AUCA. Why did you choose two programs?
Ruslan: Yes, that is right. I hold two degrees: one in «Business Administration» and another one in «International and Business Law.» These two disciplines are interrelated and supplement each other. For example, expertise in accounting provides a better angle at identifying and analyzing risks while performing legal audits. Business communication skills help during contract negotiations. Knowledge of marketing and management helps lawyers working in law firms to develop their legal practice, attract new clients, and coordinate the work of junior legal personnel and paralegals. An academic background in business administration also allows a lawyer to achieve a competitive advantage on the market among other legal specialists. This is also appreciated by clients because even a general familiarity with business administration allows a lawyer to understand commercial operations much deeper. Both programs are very well developed by AUCA. Each has its own rich academic curriculum and strong professors.
What was your motivation for choosing AUCA? Please tell us about your pre-enrollment preparation.
Ruslan: My parents were those who mostly motivated me throughout my life. Since I was a child, they kept cultivating my love for education and desire to open new horizons. My father gathered an impressive collection of books, thanks to which I "visited," without leaving the boundaries of my home, so many countries and continents together with heroes of famous adventure novels. My mother encouraged me to learn English during my early childhood years, which became useful during my adulthood. I believe that these factors predetermined my further path to AUCA. 
During my high-school years, I took part in various English language competitions and, later, was selected for participation in the Future Leaders Exchange (FLEX) Program. That program allowed me to travel to the United States, live with a host family in California, attend a local high-school as an exchange student, and study together with American students. While living in a foreign country, I kept preparing for final graduation exams to be conducted in my home country at the end of the school year. At the same time, I also continued preparing for the general republican examination for school graduates applying to higher education institutions throughout the Kyrgyz Republic. Upon returning home, I passed such examination, achieved one of the top scores, and received a special certificate of merit from the President of the Kyrgyz Republic. This certificate acknowledged my proficiency in general disciplines, including English language and mathematics, which was required for admission to universities without entrance examinations. 
AUCA was one of the top choices for me due to its reputation in the country. When I visited AUCA for the first time to check some general information for applicants, members of the admission office have literally pulled out the certificate from my hands, locked it up in a safe, and offered me a full merit-based scholarship for my future studies. It would be fair to say that AUCA made the final choice rather than me. The scholarship offered by AUCA was very important for my family and me back then. Hence, I accepted the offer without any hesitation and have never regretted that decision ever since.
Please share your memories of AUCA students' life. Please explain how AUCA discovered and developed your potential? Why would you recommend future students to apply to AUCA?
Ruslan: Student life at AUCA was extremely busy. This university offers a wide variety of courses. Apart from the core subjects, you can study German, Spanish, and other foreign languages. AUCA offers many courses that are focused on sports, music, public speaking, drama, and so on. Students can be elected to the university senate. Speaking of the department of legal studies, students participate in moot court competitions, practice providing legal advice while working at a legal clinic, polish their skills as interns in courts and law firms and publish their academic works in legal bulletins. Another big advantage of this university is the availability of modern technological infrastructure and equipment, including projectors, computer labs, and modern classrooms. The university also invites reputable guest lecturers. But what really makes AUCA a distinguished place to study in comparison with other local universities is the opportunity to study with people from other countries. This exposes students to different cultures and traditions. I was lucky to study alongside the students from all parts of Kyrgyzstan, as well as with our guests from Kazakhstan, Turkmenistan, Uzbekistan, Afghanistan, USA, and Canada. Many of them have been my lifelong friends ever since.
After your graduation from AUCA, you have also completed your master's degree in law. Did you find skills obtained while studying at AUCA useful during your further studies? Why did you pursue a master's degree?
Ruslan: Correct, I have completed my master's degree studies at the Central European University (CEU) in the beautiful city, Budapest. In 2011, I received my LLM degree in International Commercial Law. I know many talented graduates of AUCA who also were lucky to study at this European university. They work for large international organizations, leading law firms, and teach law in academia. 
CEU offers an intensive study program. Academic requirements are quite high. Each master's program is taught entirely in English. Here, I need to mention that AUCA (unlike any other university in Kyrgyzstan) provides all necessary language skills to continue further education in a foreign country. While studying at CEU, students are expected to review hundreds of pages of academic materials daily. This prepares young professionals for their future legal careers, which would require them to work with large amounts of data under tight deadlines. 
CEU professors often use the Socratic method during their classes. Instead of reading their lectures, they provide hypothetical problems that require in-class discussions or independent research and analysis. This method is very effective, but it may seem unusual to those whose education was based on the traditional "Soviet" approach offered at other universities in Kyrgyzstan. The Socratic method is widely used by AUCA professors, which prepared me for my LLM studies at CEU. 
CEU constantly invites interesting guests to meet students. During my studies there, I had an opportunity to attend a seminar and personally speak with Dalai Lama, the Nobel Peace Prize laureate and spiritual leader of Tibetan Buddhists. A Master's degree opens many doors and opportunities. In my case, the LLM degree has helped me to find a job at the leading law firm in Kyrgyzstan and gave me the right to teach law at universities.
Please let us know about your life and work after AUCA and CEU.
Ruslan: After my graduation, I practiced law working at Kalikova & Associates law firm (K&A) for several years. It is one of the leading law firms in Kyrgyzstan. For many years this firm has been holding top positions in various international directories of law firms, such as Chambers Global, Who's Who Legal, Best Lawyers, and so on.
As part of the K&A team, I had an opportunity to participate in important investment projects well-known in Kyrgyzstan. We advised on matters relating to gold mining, hotel business, banking, the energy sector, and other industries vital for the country's economy. In the course of my legal practice, I helped foreign investors to establish and build their business ventures in Kyrgyzstan, which contributed to the reduction of unemployment rates and the development of infrastructure projects. Among other matters, I especially enjoyed advising on certain aspects relating to the construction of the new environmentally sustainable campus of the AUCA. It was the first construction project in Kyrgyzstan to make use of geothermal heating technology and a rainwater harvesting system.
My legal practice at K&A allowed me to gain significant professional experience in a short period of time. I enjoy passing it on to future lawyers who will work in our country. After I had received my master's degree, AUCA invited me to teach a Private International Law course (for those students who study Law) and, later, a Business Legislation course (for those who study Business Administration). From time to time, I am also invited as a guest lecturer. Not long ago, for instance, I have conducted a remote online guest lecture on 'Mergers and Acquisitions' for 3rd and 4th-year students of AUCA.
Did you have an opportunity to visit other countries during your studies, business trips, or conferences?
Ruslan: Sure. During my graduate studies, my classmates and I often traveled by airway, train, or waterway transport along the Danube river to nearby European countries for a weekend. Traveling within the European Union is very affordable. Even a moderate student stipend provided by the university was enough to buy tickets. I had a chance to travel across Hungary, Austria, Sweden, Czech Republic, Slovakia, Poland, and even Norway. By the way, one of my former classmates from AUCA studied in Norway at that time. She gave me a tour of all places worth seeing in Oslo. You can meet AUCA graduates all over the world. 
While working at Kalikova & Associates, I had the opportunity to go on business trips to remote regions of our homeland as well as abroad, to Kazakhstan, Russia, and Great Britain. I recall a business trip to London together with a former managing partner of Kalikova & Associates (by the way, he is also a graduate of AUCA). The trip was aimed at establishing business ties with partner firms and participating in the Global Law Summit. The conference was dedicated to the 800th anniversary of the Magna Carta, one of the most famous legal documents in England's history. It proclaimed that no man could be deprived of justice and law. One of the sessions of the conference took place right in the High Court of London, where I could observe the original of this antique legal document. 
Even after my graduation from law schools and during my practice of law in Kyrgyzstan, it seemed important to me to continue my self-improvement. For this purpose, I attended a summer school relating to Private International Law organized by the Hague Academy of International Law. The latter is in the Peace Palace located in the Netherlands. It is the home to the highest judicial institutions, such as the International Court of Justice and the Permanent Court of Arbitration.
You lived in the United States, Europe, and the Middle East and developed yourself professionally everywhere. How would you compare your experience received abroad and in your homeland?
Ruslan: Of course, every part of the world has its own characteristics. Culture, traditions, and business customs are different. This difference derives from different historical, geographical, and other background factors. But there are certain values ​​that are recognized universally regardless of a person's origin, religious or political preferences. Honesty, hard work, and good faith attitude towards people and your work are recognized and respected everywhere. 
Speaking of the comparison of experience, I note that international experience usually allows to accelerate the accumulation of professional skills, develop business acumen, and significantly expand horizons of perception. A professional with international experience looks at tasks from a different angle and can offer a wider range of solutions. Interaction with clients, partners, and opponents is usually elevated to a different level due to the nature of multicultural communication, which requires tolerance to different points of view. 
My former experience obtained while working as a lawyer in my home country and academic training gave me a lot in terms of understanding of the so-called Romano-Germanic system of law (also known as "civil law" or "continental law"). This system of law is typical for all CIS countries, as well as many countries of continental Europe. In the Middle East, the legislation is mixed to a certain extent. For example, the UAE legislation is structurally similar to continental law but, at the same time, based on the principles of Islamic Sharia (the main religion in this country). Moreover, the UAE has an extensive system of free economic zones, each with its own legal ecosystem different from the "onshore" legislation. International financial zones in Dubai and Abu Dhabi, for instance, are regulated or based on the principles of common law (also known as the Anglo-American law). Exposure to such diversity of legal systems significantly widens professional outlook and competence.
Please tell us about your future professional plans. Which direction are you heading now?
Ruslan: As an international lawyer with core practical experience and academic background in continental law, I am interested in studying common law more deeply. The latter is based on judicial precedents. Also, I am in the process of improving my expertise in venture capital, technology law, and intellectual property. Apart from that, I would like to continue practicing law internationally and passing on my experience to novice lawyers in Kyrgyzstan and other countries by way of teaching, guest lectures, and seminars relating to jurisprudence.
Please share the secret of your success. What would be your advice to the applicants and students of AUCA?
Ruslan: It is important to realize that life is a marathon, not a sprint. Success is a result of constant self-improvement and persistence in achieving goals. At the same time, success cannot be an end-goal by itself because it is an abstract concept. The desire to benefit your family, society, and country is essential because it fulfills your life with meaning. As for the rest, I wish you to:
- be flexible, but, at the same time, cultivate an unbreakable inner core in yourself and have principles;
- exercise regularly and maintain a healthy lifestyle;
- value your time and the time of other people (remember that time is the most valuable resource);
- learn from your own mistakes and mistakes of the others;
- surround yourself with like-minded people; and
- search for mentors among senior fellow students, professors, and colleagues (do not forget that there are many instructors at AUCA who would be glad to show you the right path and support you by giving a piece of advice).
Believe that you will achieve success if you continue moving despite any difficulties. As was mentioned by wise men in the past: "A journey of a thousand miles begins with a single step" and "just keep putting one foot in front of the other."
Do not be afraid to dream and give it a try – the sky is the limit!
30 NOVEMBER, 2020