The New Star is an independent student newspaper of the American University of Central Asia that chronicles significant news and events happening in the AUCA community and features in-depth profiles on the unique students, faculty, and staff of AUCA.  The newspaper also showcases the creative writing and poetic talents of AUCA students.
We do not work for AUCA administration or the Student Senate; we independently decide on our content that supports ideas of democracy. Sometimes the newspaper has an influence on AUCA reforms because our administration does read the newspaper to be informed about students' opinions and problems. We welcome students who can and want to say something out loud. Don't be afraid of using your democracy. You have rights for freedom of speech.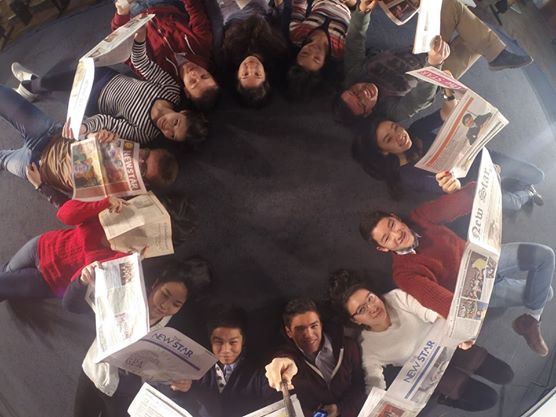 Awards
"The New Star" newspaper was awarded the "Best Student Newspaper 2008," the Annual National Newspaper Prize on the contest organized by the Journalism Association of Kyrgyzstan. 
History
Officially, the American University of Central Asia first printed an independent student newspaper in October 1999, when it was named the AUK Student Newspaper; a month later, the second issue was published with the title The Star. In 2008, the newspaper was renamed The New Star.
This is a newspaper for independent student writing in which important campus events, student success stories, and activities on and off-campus are discussed. The New Star is not working for administration or to promote the university; rather, it gives students the opportunity to speak up about their ideas, issues, and desires. The New Star returned to print on November 22, 2020 after a long pause.

The most active coordinators, who made a valuable contribution to the newspaper, were Efim Filipov, Anisa Afshar, Tatiana Kravchenko, Lazarina Kuchmenova, Natali Anarbaeva, Nargiza Ryskulova, Diana Takutdinova and Elina Turalyeva.