The New Star is an independent student newspaper of the American University of Central Asia that chronicles significant news and events happening in the AUCA community and features in-depth profiles on the unique students, faculty, and staff of AUCA.  The newspaper also showcases the creative writing and poetic talents of AUCA students.
We do not work for AUCA administration or the Student Senate; we independently decide on our content that supports ideas of democracy. Sometimes the newspaper has an influence on AUCA reforms because our administration does read the newspaper to be informed about students' opinions and problems. We welcome students who can and want to say something out loud. Don't be afraid of using your democracy. You have rights for freedom of speech.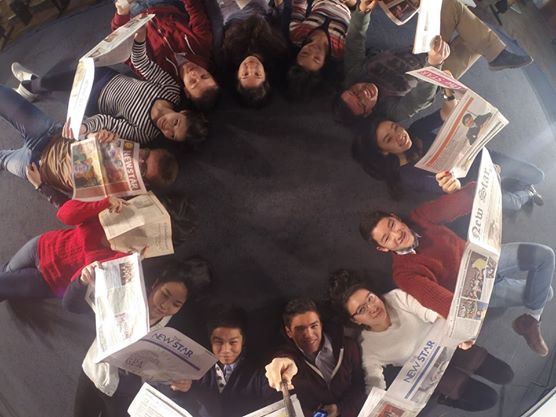 Awards
"The New Star" newspaper was awarded the "Best Student Newspaper 2008," the Annual National Newspaper Prize on the contest organized by the Journalism Association of Kyrgyzstan. 
History
October 13, 1999 - the very first issue named AUK Student Newspaper came out.
November 24, 1999 - the first official issue of The Star came out when we were just kids. The Star is the first name of our newspaper: AUCA student Zulfiya Abdulldaeva won the competition of naming the student newspaper. 
2006 - Boxes column was established, where students could write anything they wanted to say.
2007-2008 - Farewell Kiss was established, a column dedicated to our AUCA star seniors. Just like Boxes, this column doesn't lose its popularity year by year.
2008 - The Star changed to New Star. New Star became an independent student newspaper and was officially registered at the Ministry of Justice. New Star was given the Best Student Newspaper 2008 Award at the Journalism Association contest in Kyrgyzstan.
2013 – a Facebook page was created.
February 5, 2014 - New Star changed to The New Star as the new design and style were developed.

The most active coordinators, who made a valuable contribution to the newspaper, were Efim Filipov, Anisa Afshar, Tatiana Kravchenko, Lazarina Kuchmenova, Natali Anarbaeva, Nargiza Ryskulova, Diana Takutdinova and Elina Turalyeva.