Application process
How to Apply?
Make sure your study needs IRB clearance (it is a research project entailing data collection from human subjects).
Study IRB Manual. 
Go to https://review-irb.auca.kg/. The Engine will ask you to take the IRB exam first, which is based on the Manual above. You need to get 80% of the Exam correct. Then you can register in the Engine: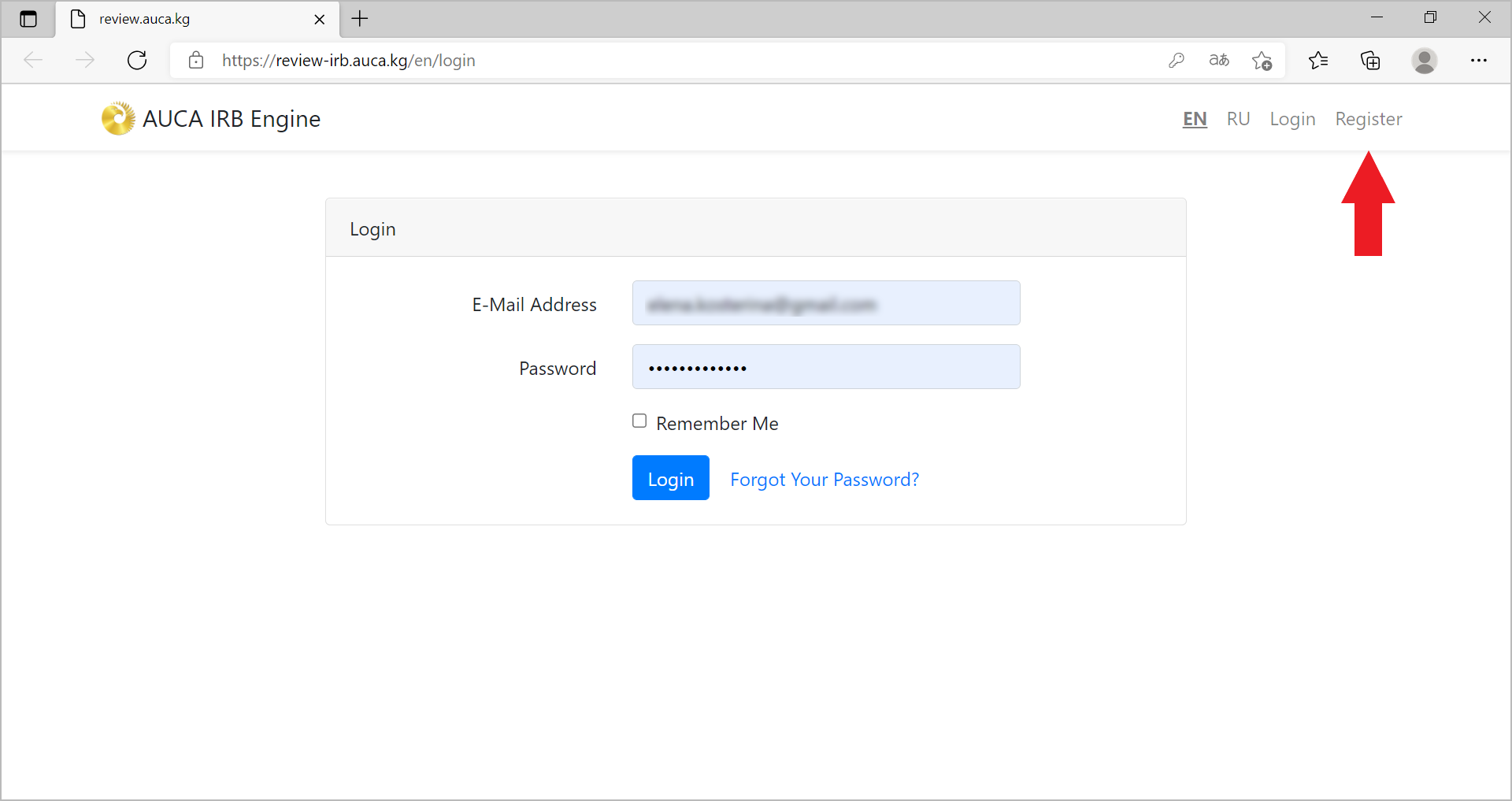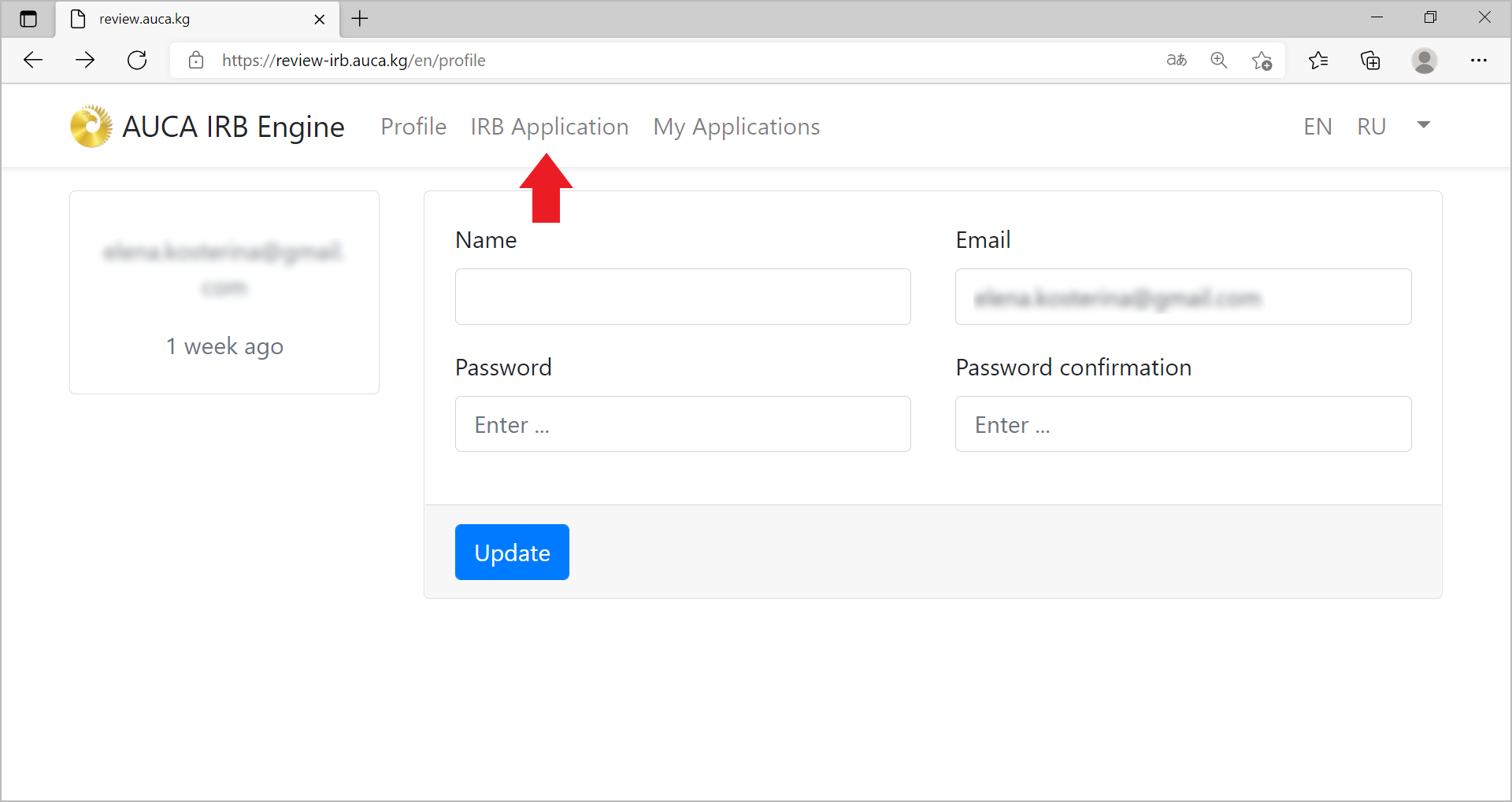 The following Application Form will open: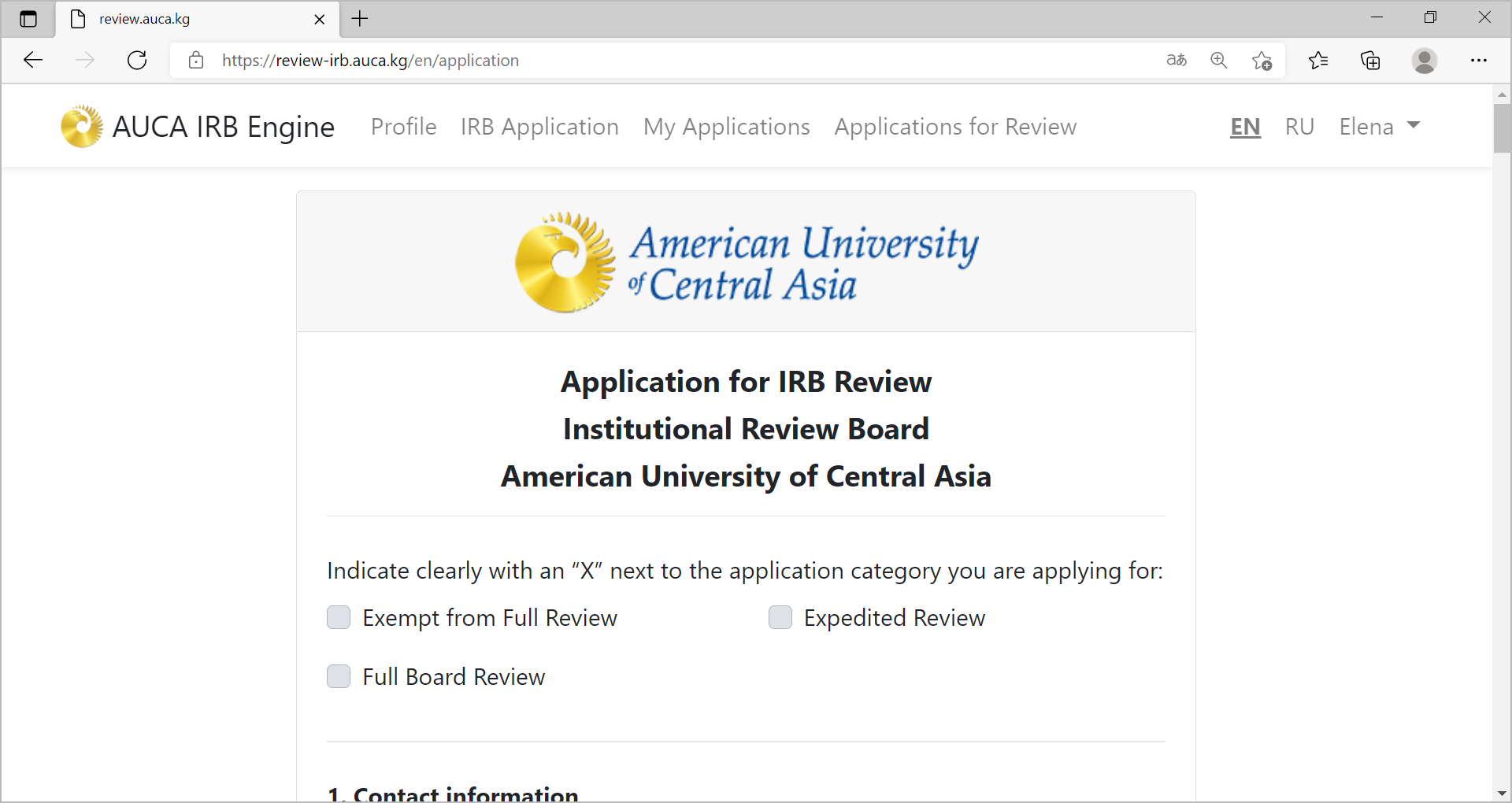 Do not forget to provide all relevant attachments in the end, including consent forms and others: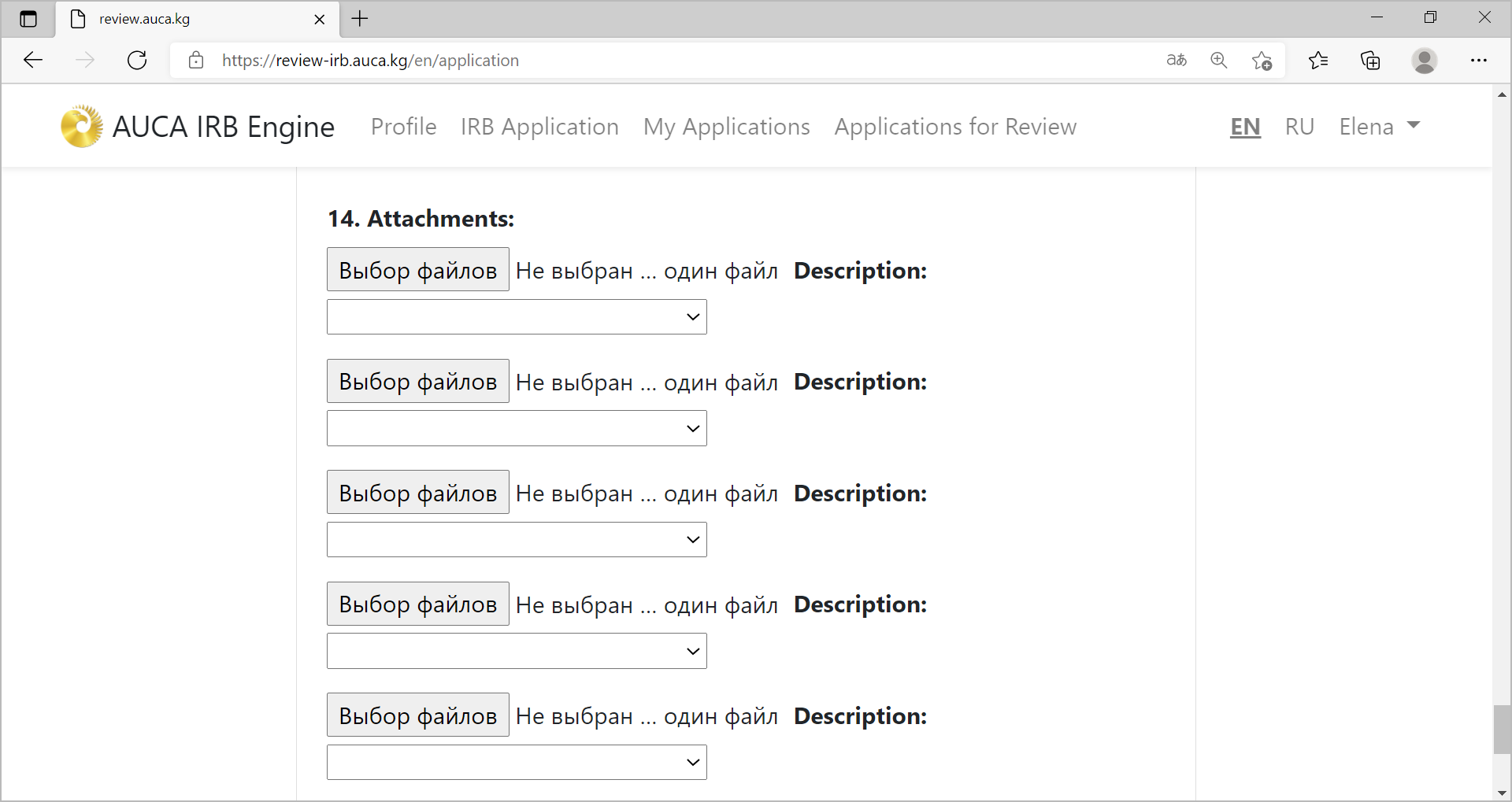 After submission, you can find your application in the My Applications section. You will be getting email notifications of the status of the application and the final IRB decision. Please email us at irb@auca.kg if you do NOT get any notifications right after submission.

All IRB applications are accepted on a rolling basis (without deadlines) EXCEPT FOR Full Board Review. See the deadlines for Full Board Applications here. Please allow up to 15 business days for the review to be completed. 

After you complete your study (collect and analyze all the data planned) you need to submit the Final Report to IRB: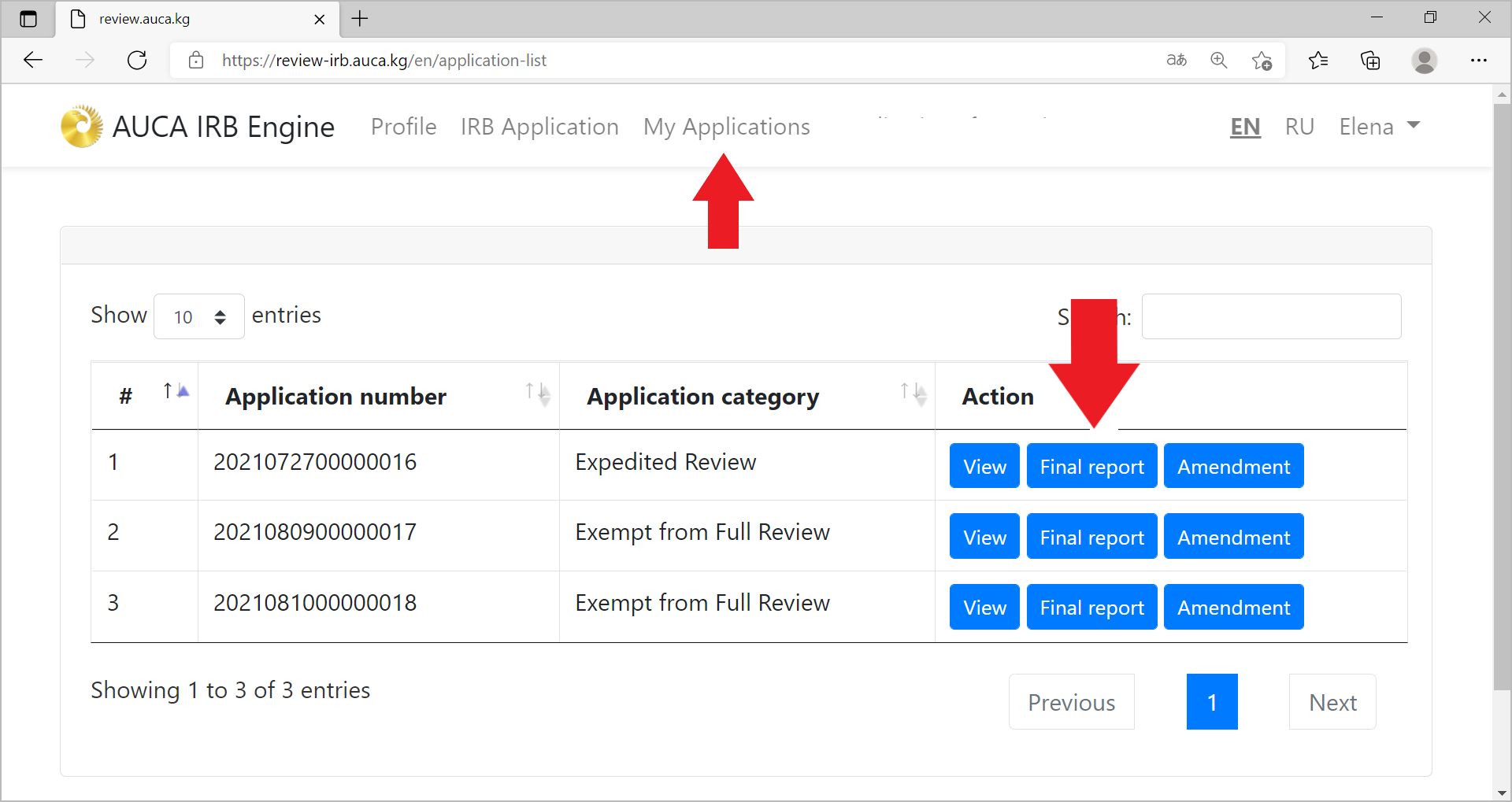 Transferability of IRB Training from other Institutions
Faculty, students, or researchers of AUCA conducting research with human participants are exempted from AUCA's IRB training if they are able to provide documentation of completing a similar course in other institutions within the past 3 years from the date of their IRB application. For instance, a faculty may have completed the Human Subjects Research (HSR) conducted by the CITI Program in the three years before the submission of the IRB application. Hence the faculty may be exempted from attaching the HSR documentation in place of AUCA's IRB Training Completion. Such faculty, students, or researchers should attach proof along with their application of such similar IRB training for consideration by the IRB.
IRB Decisions
Approved:

 

You may now proceed with the data collection activities as described in your application up till the end-date of the approval expiration date stated in the approval email to you.
Approved Subject to Modifications: The research can be approved pending specific conditions such as confirmation of specific understanding about the research process, submission of additional documentation, language changes to the protocol, and substantive changes to documents. Verification of the required changes may be performed by the IRB Chair or other designated IRB individuals.
Deferred: The convened IRB cannot fully evaluate the research under review and grant approval without modifications to the protocol or other documents, or submission of clarifications or additional materials. The PI is invited to provide required clarification and/or documents for further review.
Disapproved: Protocol described in the protocol does not sufficiently fulfill the criteria even with substantive clarifications or modifications to the protocol. The PI may revise and resubmit his/her protocol as a follow-up application, or resubmit as a new application.