Wildlife Conservation Class Expedition to the Dubai Desert Conservation Reserve
Amadeus DeKastle
February 2021 saw the first ever cooperative effort between the American University of Central Asia (AUCA) and the Dubai Desert Conservation Reserve (DDCR).  Two students, Saida Mousavi and Aslan Alparov, together with Amadeus DeKastle who is the instructor of the Wildlife Conservation course offered through the Environmental Sustainability and Climate Science Department, were involved in this project.  DDCR staff were Tamer Khafaga, Moayyed Sher Shah, and Greg Simkins. The research took place from February 19 - 28 on a conservation reserve in the South East corner of the Dubai Emirate, far from the human-made structures of the well known big city of Dubai.  At the DDCR, you can see what the desert used to be like before oil was discovered and the UAE became a wealthy tourist attraction.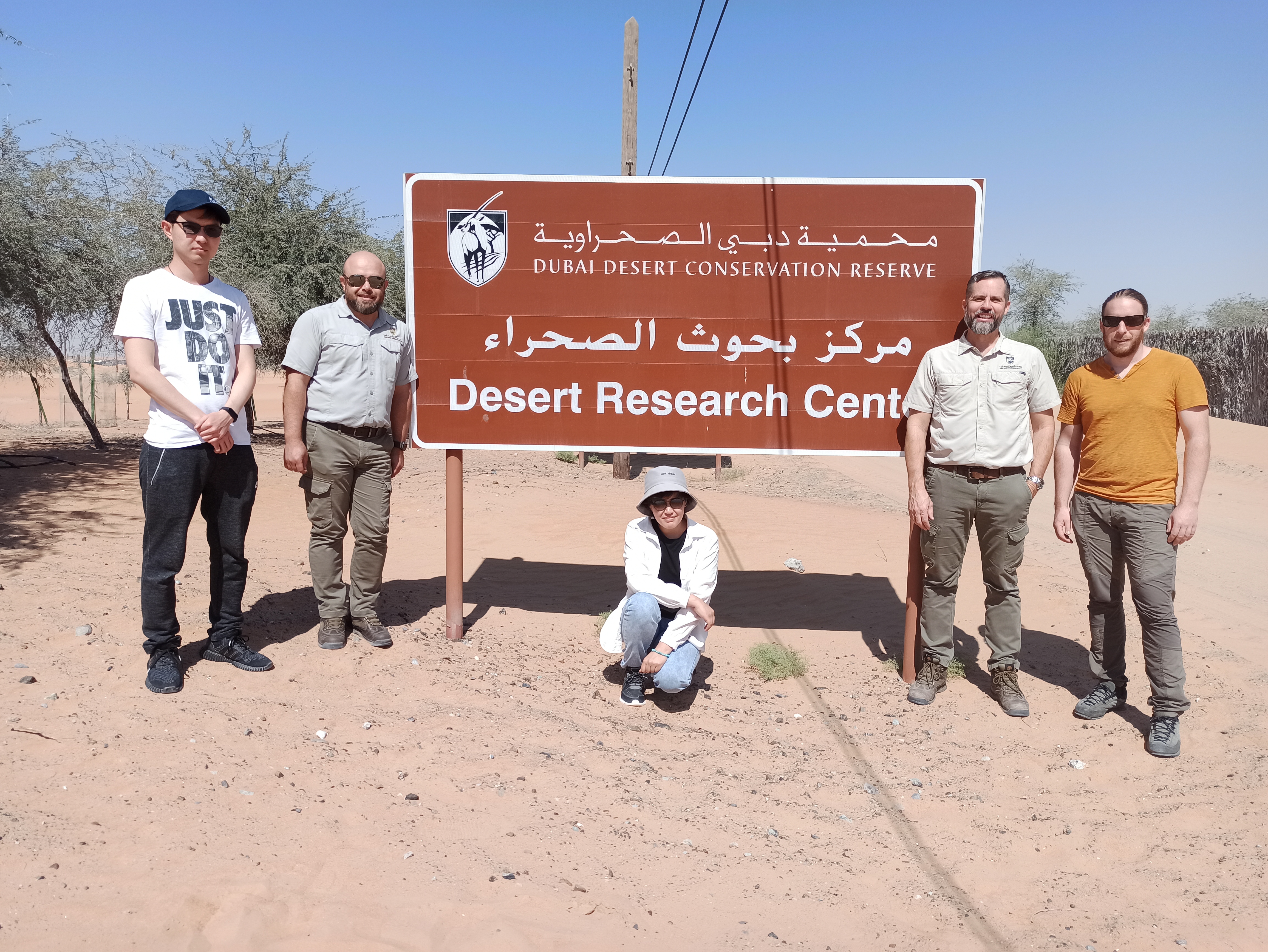 DDCR History and Management Plan
In 1999, the Al Maha Luxury Resort was built in the desert by Emirates Airlines.  It included a small 27 km² region specifically for the preservation of desert fauna and flora.  At this time, 70 Arabian Oryx were reintroduced to this semi-wild area.  The DDCR was created in 2003 when Sheikh Muhammed Bin Rashid Al Maktoum, Ruler of Dubai, increased the size of the initial Al Maha conservation site by setting aside 225 km² (4.7% of Dubai's total land area) as a conservation reserve.  This reserve is home to a large number of red book species (endangered and vulnerable), some of which are no longer found in the wild, such as the Arabian Oryx. 
In 2019, the DDCR developed a Management and Monitoring Plan for the reserve focusing on 10 major site values, including 7 animal species, 1 plant species, and 2 habitat types.  The management plan outlines specific monitoring plans for each of these major site values in order to evaluate what type of management is necessary. 
What AUCA Students Worked On
Classroom theory is all well and good, but as Saida says, "There are a lot of things that you think you know well in the classroom, but once you get the opportunity to experience them in person, you get a much greater understanding.  I really enjoyed learning about camera trapping and about how we use constant monitoring to determine the carrying capacity of a region to manage the population of a species, in our case at the DDCR we were doing that with the Oryx."  Hands on experience has no substitute, and thankfully the DDCR provided us with an endless supply of that at a high level.  Aslan agrees saying, "In Kyrgyzstan we don't really have a lot of places where conservation is being done at this high level, so this was a great experience to learn from some top level professionals in an international environment. We can now apply this experience to conservation efforts in Kyrgyzstan"
Based on the DDCR management plan, AUCA students were directly involved in the monitoring of 6 "major site value" species; Arabian Oryx, Sand Gazelle, Arabian Gazelle, Lappet Faced Vulture, Pharaoh Eagle Owl, and Macqueen's Bustard. 
The main monitoring was done with Oryx and Gazelle.  Students were responsible for collecting data on the location, herd size, species, and gender of these animals in various locations around the DDCR.  In total, 293 Arabian Oryx, 191 Arabian Gazelles, and 18 of the more rare Sand Gazelle.  These numbers will provide further data to DDCR staff who are currently working on lowering the number of Oryx in the reserve (by relocation) in order to relieve pressure on the ecosystem caused by potential overgrazing. 
Secondary monitoring was done on 3 bird species, the Pharaoh Eagle Owl, Macqueen's Bustard, and the Lappet Faced Vulture.  
As far as DDCR staff are aware, there are no nesting sites of the 
 on the territory, as they likely nest in the nearby mountains of Oman.  However, they do frequent the reserve in search of food.  Over the 10 days, only 3 individuals were spotted.  
Macqueen's Bustard is the national bird of the UAE, and there are various breeding programs throughout the country to ensure this bird's survival as it was nearly hunted to extinction.  Typically, the government releases large numbers of these birds on the reserve each January in an attempt to create a stable breeding population, but this year a release was not done.  As such, even though specific habitat has been created for these birds throughout the reserve, none were seen, suggesting that few if any Macqueen's Bustards stay in the same area for more than a year.
Finally, students were key in helping map the distribution of Pharaoh Eagle Owl nesting and roosting sites throughout the reserve.  This distribution includes natural Ghaf tree groves, planted Ghaf tree groves, and a large rocky outcrop in the North of the reserve.  Over 35 different roosting/nesting sites were discovered over the 10 days.  At the rocky outcrop, two juvenile owls were seen, suggesting that this location is a prime area for nesting.
In addition to the student's main tasks of monitoring, they were able to join in with work being done by two visiting professors from regional universities.  
Dr. Andrew Leonce from Zayed University is currently working on using drone imagery of Oryx and Gazelle with the aid of a machine learning algorithm to determine population numbers in a quick and efficient manner.  Currently the algorithm used for Oryx detection is functioning well, but more data is necessary for the Gazelle algorithm.  Students joined him on a couple of occasions to collect this necessary data, which includes capturing images of gazelle from various distances and angles.  
Dr. Brigitte Howarth from the American University in Dubai is leading a student research project focused on niche partitioning in small rodent species found inside the DDCR.  We were able to join her team which included two students, both from Zayed University, for an early morning trap check.  Out of 70 traps, 6 rodents were captured; 3 Egyptian Spiny Mice, 2 Cheeseman's Gerbils, and 1 Baluchistan's Gerbil.  
Beyond the main scientific goals of our trip, there are other things on offer at the DDCR.  It is always incredible to realise how much life is actually in the desert.  We kept a list of birds we encountered, which turned out to be a total of 34 species over the 10 days.  In addition to that, we used black light flashlights to go scorpion hunting at night.  The scorpions shine brightly under these flashlights because of the way their exoskeleton reflects the light.  While looking for scorpions though, we also came across some sand Geckos whose eyebrows also light up under the black light!  And of course, what would a desert adventure be without getting our car stuck in the sand at least once.  Shovels are a great tool for digging your way out, but sometimes you just need to call the DDCR tractor driver to come and help out! On the last evening of the trip, the DDCR was able to set up a nice dinner for us through one of the sustainable tour operators they allow on the reserve.  This was a great chance for us to reflect on the work we'd done and think about how it can be applied back in our home countries.  
Plans for the Future
As this was our first year of cooperation between the DDCR and AUCA, we mostly followed the direction of DDCR staff in terms of what research needed to be carried out.  Tamer Khafaga mentioned that, " Based on our management plans, we have a lot of monitoring to do, so we were very excited to have students from AUCA help us in our work.  We really hope that this partnership will continue as it was a really big help to us." So, in future years in order to continue helping, we plan to develop two separate research topics; one long term monitoring plan that benefits the reserve's management plan directly and can be carried out in the same way each year, and one shorter research goal that can be accomplished by a single group in the short amount of time we are at the DDCR.  This two leveled approach provides long term data that upholds the management strategy of the reserve, but also gives us short term work that we can potentially publish.  
With the signed MoU, we have the ability to continue this partnership in perpetuity, which provides an excellent opportunity for our students to learn from conservation professionals (both at the reserve and professors visiting from nearby Universities) in an international setting at a reserve that has been very successful. 
We also hope to open this opportunity up to students at other universities within the OSUN network in future years.  Having cooperation between partner schools for this project can increase the number of students involved, thereby increasing the potential for data collection during our short time at the reserve each year.  DDCR is very excited for this opportunity to involve students from various universities as they see this as a chance to be part of training new professionals in the field of conservation. 
We look forward to next year's expedition and hope that you will join us!