Liberal Arts and Sciences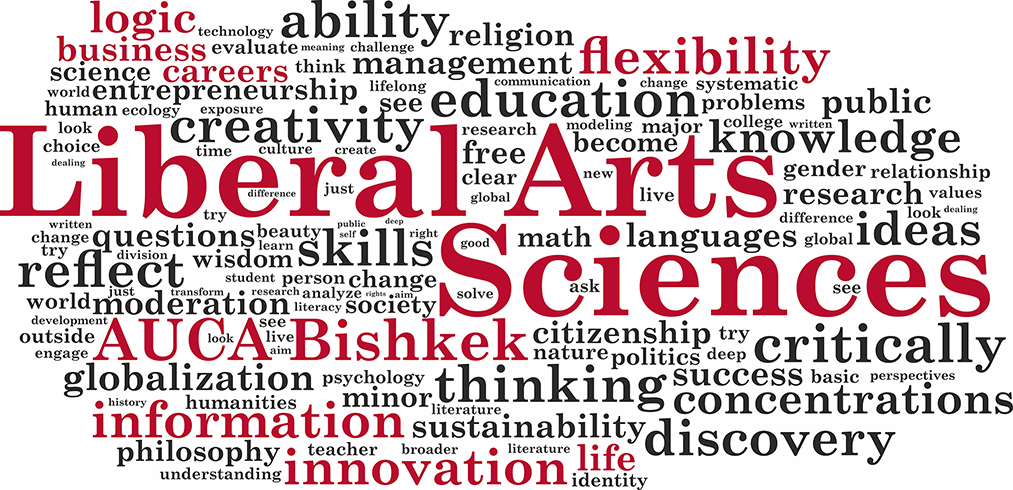 BE AMONG the LEADERS of your COUNTRY
Liberal Arts and Sciences Department is the American University of Central Asia's first interdisciplinary English-taught undergraduate program. This unique program offers the breadth of a liberal arts education and the depth of specialized knowledge in the chosen concentration. The program focuses on various disciplines within the Social Sciences and Humanities. It aims to develop the skills and knowledge necessary to make citizens of the 21st century successful in both personal development and professional careers. The program affords the great flexibility to structure your own studies while providing students with solid preparation for a future study at AUCA.
Mission
AUCA Liberal Arts and Sciences department prepares students through its interdisciplinary education approach to be knowledgeable, engaged global citizens who respond creatively and flexibly to the challenges of a diverse and changing world.
Goals
LAS strives to be a cross-disciplinary program by constantly revising its existing concentrations to meet the new challenges of a changing world

LAS strives to increase synergy between academia and shareholders via inter-disciplinary research, partnerships, internships, and student projects

LAS strives to prepare a future generation of leaders from different academic backgrounds with inter-disciplinary skills and knowledge

LAS strives to be committed to the key tenets of the American tradition of liberal arts: academic excellence, academic freedom, creativity, critical thinking, and flexibility
Learning Outcomes
Communicate, analyze, synthesize, and contextualize ideas in a coherent, logical and compelling cross-disciplinarily way

Translate theory into practice by active involvement in significant projects, internships, and civic engagement

Develop a good understanding of the main concepts and ideas of art, literature, and science

Cultivate collaborative and soft skills to produce innovative solutions for the new challenges of a changing world  
6 reasons to study in Liberal Arts and Sciences Department:
Education of the XXI century: Interdisciplinary programs that prepare you for life in the real world. The skills that students will receive allow them to be competitive in the future socio-economic and technological reality.
Flexibility: Choose your suitable study major (speciality) when you are ready for it, because in most cases the choice of a major is quite complicated right after the school. Our program will help you determine your interests and preferences, and confidently choose a field of study.
Greater choice of specialties: The program offers 11 new training majors. In addition to existing majors, our program prepares new specialists in the field of human rights, environmental and urban studies, mathematical modeling, social entrepreneurs, etc. Everyone will find a major of interest!
High quality of AUCA education: You will learn from qualified professors, and get the most necessary skills for a future career.
No day without practice: Students should do laboratory work, production and open air practice, archaeological practice, ecological expeditions, participation in research projects and much more.
The program of double diplomas: our graduates receive two diplomas, American and Kyrgyz, which give a real chance to continue their studies at the graduate level and build a career in different parts of the world.