LAS NEWS
AUCA LAS DEPARTMENT ANNOUNCED WINNING TEAMS WITH $1,500 USD PRIZE
December 24, 2021
The Liberal Arts and Sciences department at the American University of Central Asia successfully hosted its first Startup Pitch Competition (Innovation Challenge) on December 18th, 2021. The competition was set up to provide all AUCA students with the platform to rethink the current socio-economic development challenges, as well as to redesign innovative solutions using Design Thinking and/or Social Entrepreneurship. There were 12 student teams invited to the final pitch with their project proposals ranging from education, climate, tourism, gender, mental health, poverty, business development to youth empowerment. The proposed solutions were pitched to a captivated audience of industry professionals, businesses, and investors.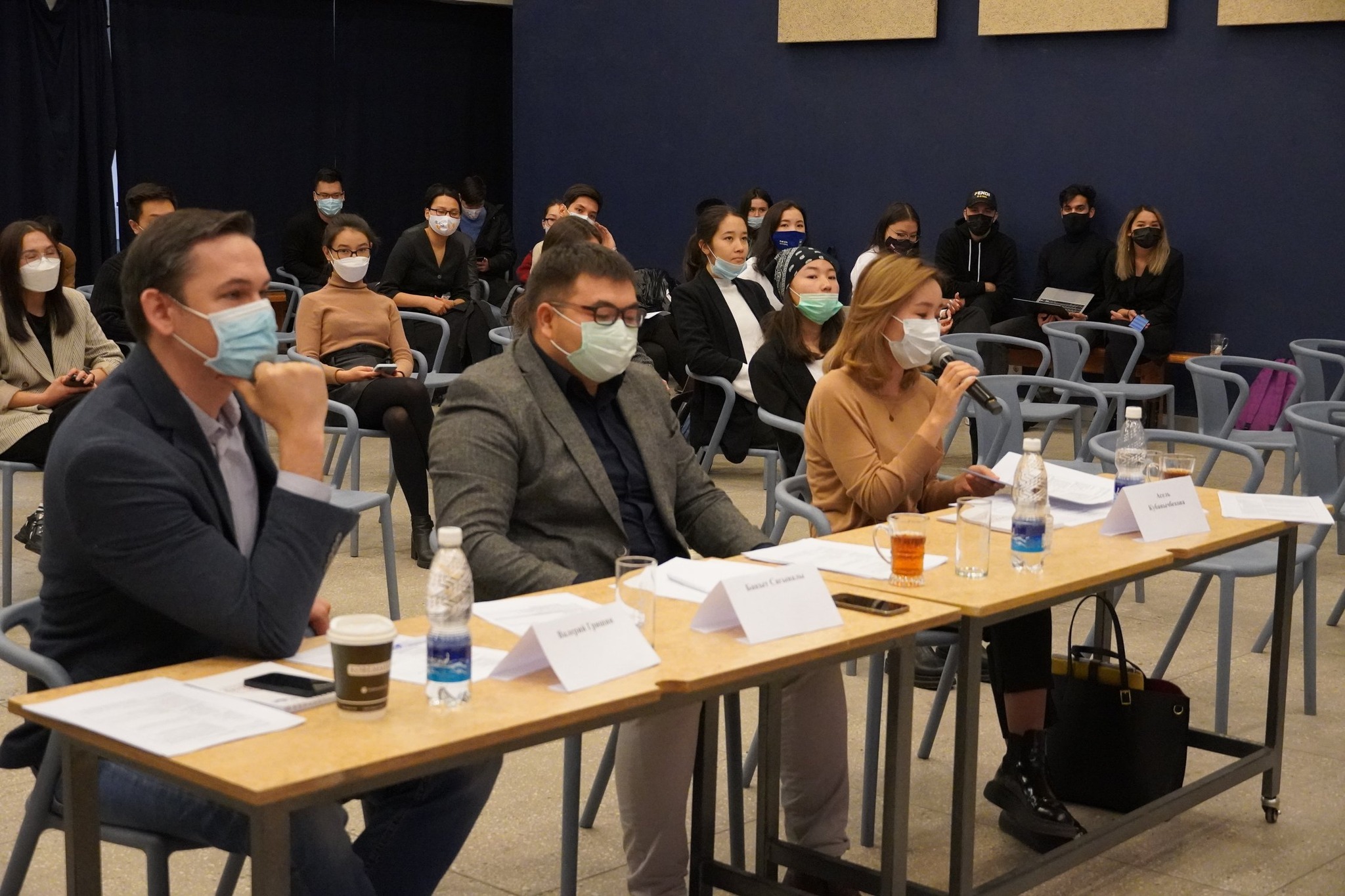 Students joining both online and offline experienced the competitive pitching setting with strict timing, real-time evaluation, and the Q&A from the jury. Teams demonstrated not only their capability to apply academic learning into practical experimentation, but also their human-centered approach to study the needs of clients. The jury commented that they were impressed by the proposals of some teams who had already built prototypes/experiments to test their ideas. As a result, LAS department students have already turned their ideas into action! 
In the end, there were four winning teams selected by the Jury for cash awards in the total amount of $1,500 USD! Our partner, OSUN, generously financed the prize funding. We expect these winning teams to realize their projects in the upcoming months to create a real impact for local communities. For more stories about the winning teams, please visit AUCA LAS Department social media channels (
Facebook
,
Instagram
).
Let us congratulate the following winners:
1st place award: Heart2Heart: Aijamal Manaeva, Kamila Kurbonmamadova, Aigul Saparova, Kurmanbek Kumashov
There are 250 women with mental disorders living in the Kara-Balta psycho-neurological center. Heart2Heart aims to teach women with mental disabilities how to make handmade products and sell them to gain partial financial stability.
2nd place award: Challengers Map: Begimai Ismailova, Lykhin Sviatoslav, Idinova Amal.
Our project aims to help the people in the regions develop new sources of income to help them support their families. Challengers Map is a platform to connect people in regions and tourists seeking authentic cultural experiences.
3rd place award: with the decision of judges, the 3rd place award was shared by two groups: 
●
The Future is you (Chyntemirova Ramilia, Kochkorbai kyzy Almash, Ergeshova Ramina)
The solution is to allow young people to experience real professions and determine who a person wants to become.
●
and  STEAM education team (Saltanat Erkinbekova, Firuz Farkhad Akhmad, Alena Oseledko, Orif Nasrulloev)
STEAM Help the next generation to be successful and competitive in the future labor market, where STEAM is being demanded
On behalf of the LAS Department, AUCA express appreciation for the valuable time and contributions of the following members of the Jury:
●
Bakytbek Sagynaly, Executive Director of Association of Social Entrepreneurs of Kyrgyzstan
● Asel Kubanychbekova, Regional Coordinator for the WAGE Project in Central Asia – CIPE Europe & Eurasia
● Valeriy Grishin Trecker, Startup Mentor, Small and Medium Business Consultant    
*For inquiries and partnership opportunities to scale students' innovative solutions, please contact the Director of LAS Department, Daniar Karabaev at karabaev_d@auca.kg, (cc)
las@auca.kg