CCE Media Fellows
In Fall 2022, AUCA's Center for Civic Engagement decided to open a new initiative - CCE Media Fellows in order to promote civic engagement culture at AUCA and across the OSUN Network!
CCE Media Fellows are AUCA students who engage in matters of public concern and create media materials (i.e., articles, documentaries) about various community-based initiatives of regular citizens of Kyrgyzstan. The idea is to raise awareness about such initiatives and thus encourage our community to become more socially responsible and civically engaged.
This 2022-2023 AY, Salima Almazbekova (JMC) and Alina Baitokova (TCMA) became the first Media Fellows at the Center for Civic Engagement.
First issue: "If you have an idea to make a better future, then the whole world will support you," the story of Omar Dairov, founder of one of the largest youth environmental organizations of Kyrgyzstan.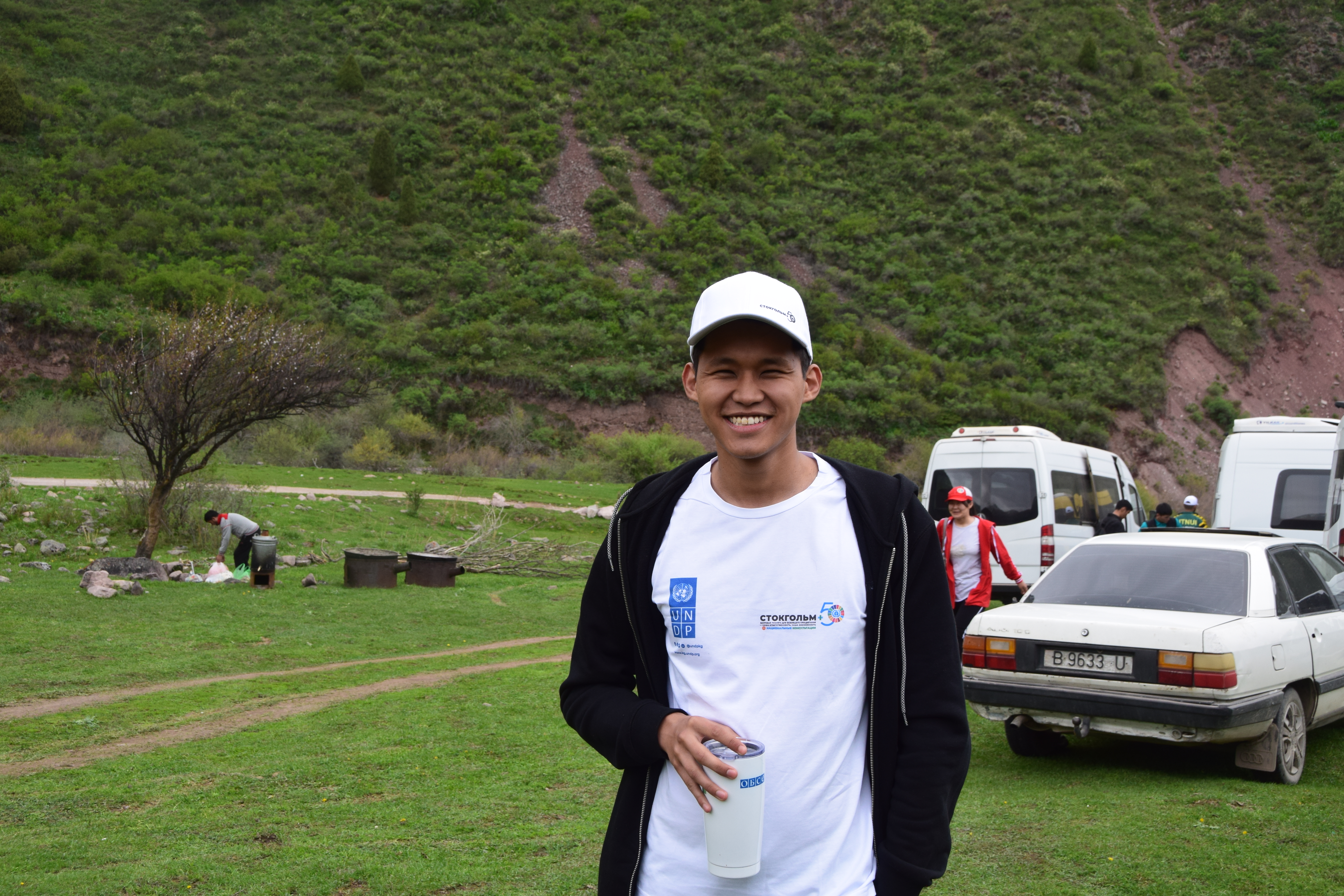 Omar Dairov
How often do we think about ways of making a positive impact on our home communities? And how often do we actually implement our ideas and make our plans happen? The answer to these two questions can be different, however, one thing is for sure – sometimes we tend to doubt ourselves and are afraid to take action even if we have great opportunities for that.
The story of Omar Dairov, an executive director of the public organization of students of Kyrgyzstan for a green economy "Jerdin Baldary" shows that even with insufficient resources and opportunities, but with great passion and desire, it is possible to implement an idea that will eventually have a large-scale impact on the society and in the case of Omar, on our environment.
"Jerdin Baldary"
"Jerdin Baldary" is an organization that contributes to the development of Kyrgyzstan according to the principles of the "Green Economy" and unites the efforts of all students and progressive-minded youth for the sustainable prosperity of our Motherland.
This organization was created to study and exchange ideas of modern world development on the issues of "Green Economy", climate change, and environmental problems in general, and based on such study and exchange, to contribute to the training of young professionals on whom the future of Kyrgyzstan depends.
In other words, it is a large community of bright leaders across the whole country who make their contribution to the development of our environment. One of the main activities of the organization is tree planting. "Jerdin Baldary" has organized a large number of projects where students have planted around 70 000 trees in each region of the country.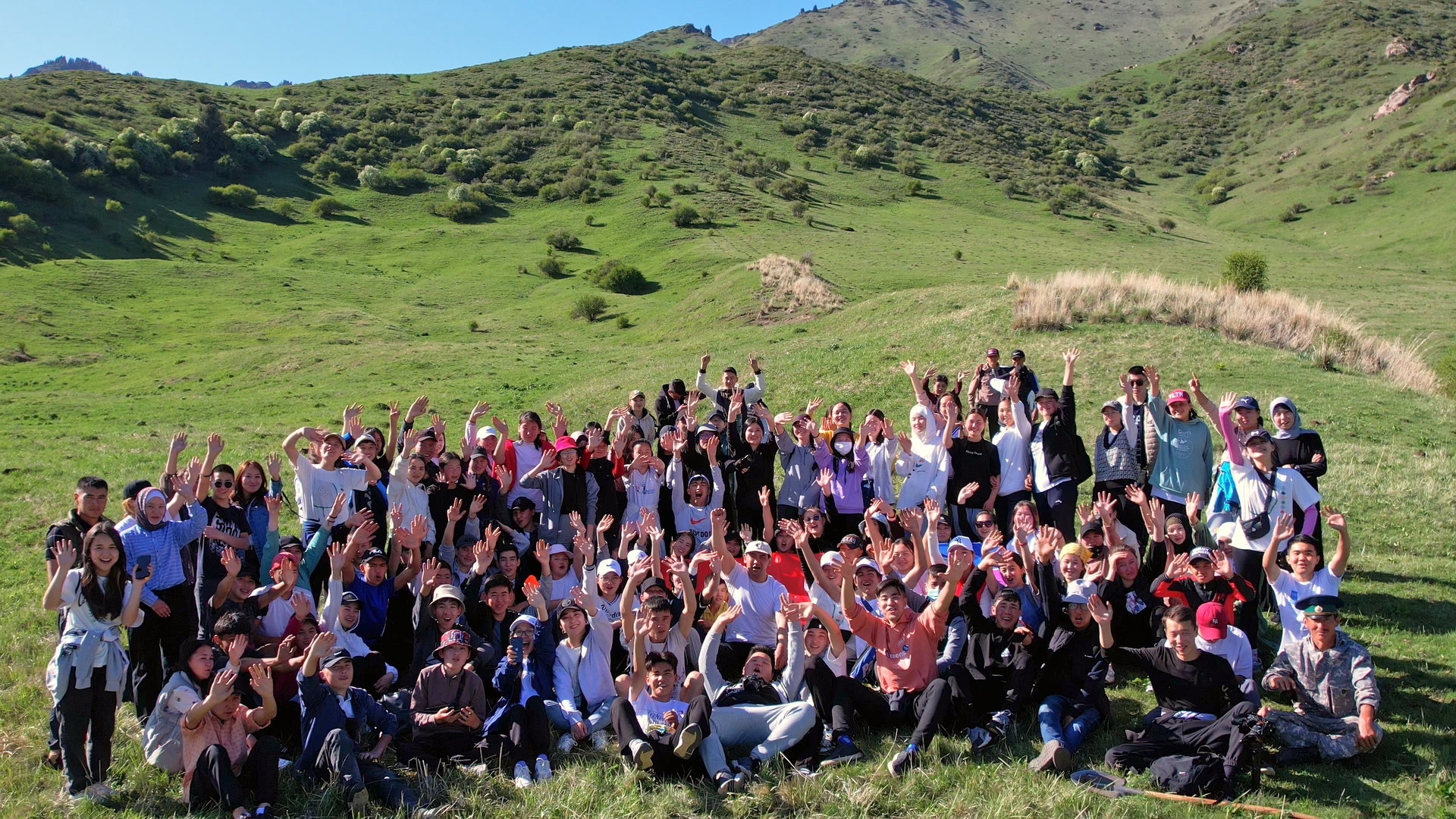 Participants of the "Jerdin Baldary" movement during the environmental activity.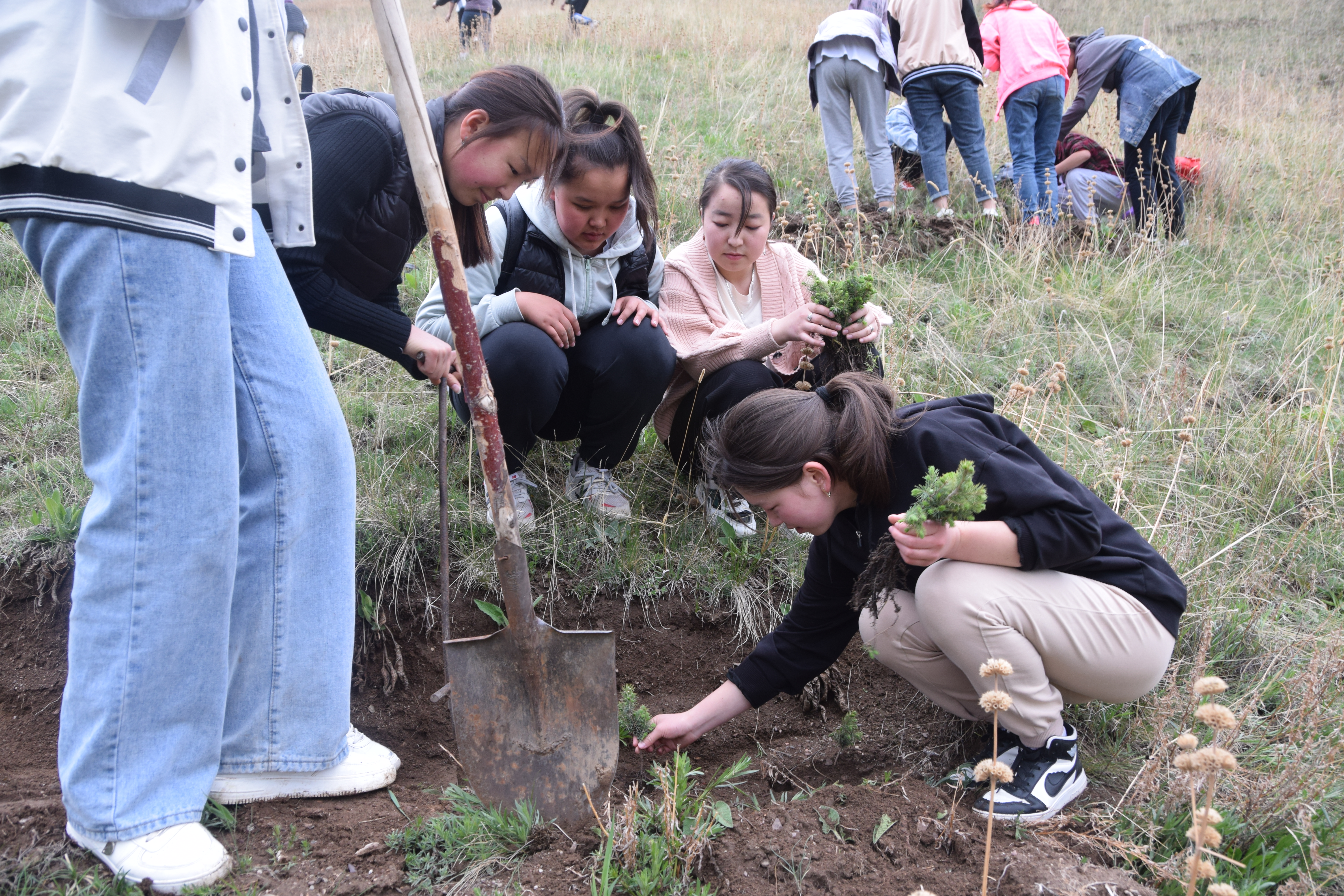 Process of tree planting in the Naryn region.
Moreover, they organize environmental conferences, festivals, and workshops that help to inform the local citizens about ecological issues and climate change. They regularly arrange forest plantations, ecological camps, community work days, and other useful activities. This is not just an organization to promote environmental issues, but it is a huge association of young leaders of the country who care about the future of Kyrgyzstan. Of course, looking at the activities of "Jerdin Baldary", one can understand how large-scale this organization is. However, it is important to mention that the organization did not achieve such a scale immediately, and its founder began this activity without any valuable resources or funding. Therefore, we will find out the personal story of Omar Dairov.
Story of Omar
Omar is 22 years old, he graduated from Kyrgyz Russian Slavic University and now he is pursuing his master's degree in Almaty, Kazakhstan. An important part of Omar's story is his childhood. He was growing up in the village together with his grandmother who always taught him rural affairs. 
"You get up in the morning, look after the cow and feed her with grass. After that, you go to the garden, dig up potatoes to prepare for the winter, and do the same in spring to prepare for summer. At this age, my grandmother and my uncle taught me how to work with the soil, with machinery, with a hammer, screwdriver, and shovel. I think, exactly at that time, my practical skills for caring about nature were established," shares Omar.
Later Omar lived with his mother because his parents were divorced. However, Omar got a chance to reconnect with his father when he was 11 years old and it was one of the turning points for Omar. He could build a strong connection with his father who introduced the divine world of nature to Omar. His father who is an ecologist played a key role in the development of Omar's character and his future. 
"After resuming communication with my father, he began to teach me spiritual and philosophical things related to ecology, nature, and environmental protection. In general, my father revealed to me a huge, unknown world of nature. I realized for myself that I would dedicate my life to protecting nature and developing my country. Before meeting with my father, I did not think about my goals and plans for my future. He became an important figure in my life who was able to guide me on the right path," says Omar. 
Therefore, the key figures in building a love for the environment were Omar's grandmother and father, who gave him the necessary knowledge during childhood. Omar's mother and his sisters and brothers also were significant people who always supported him.
First steps 
When Omar started to study at the university, he thought a lot about how exactly he could help the environment because he was a grown-up who could finally realize his ideas into reality. At some point, Omar and his friends got acquainted with the concept of the Green Economy. They began to research this concept, attending all possible conferences and lectures and spending sleepless nights together to achieve their goals. 
"We started to develop network connections, communicate with experts, and fully delve into this topic. During this period, an understanding of the Green Future of Kyrgyzstan was born and we were excited about it. My friends supported me and we had the same vision about our future," shares Omar.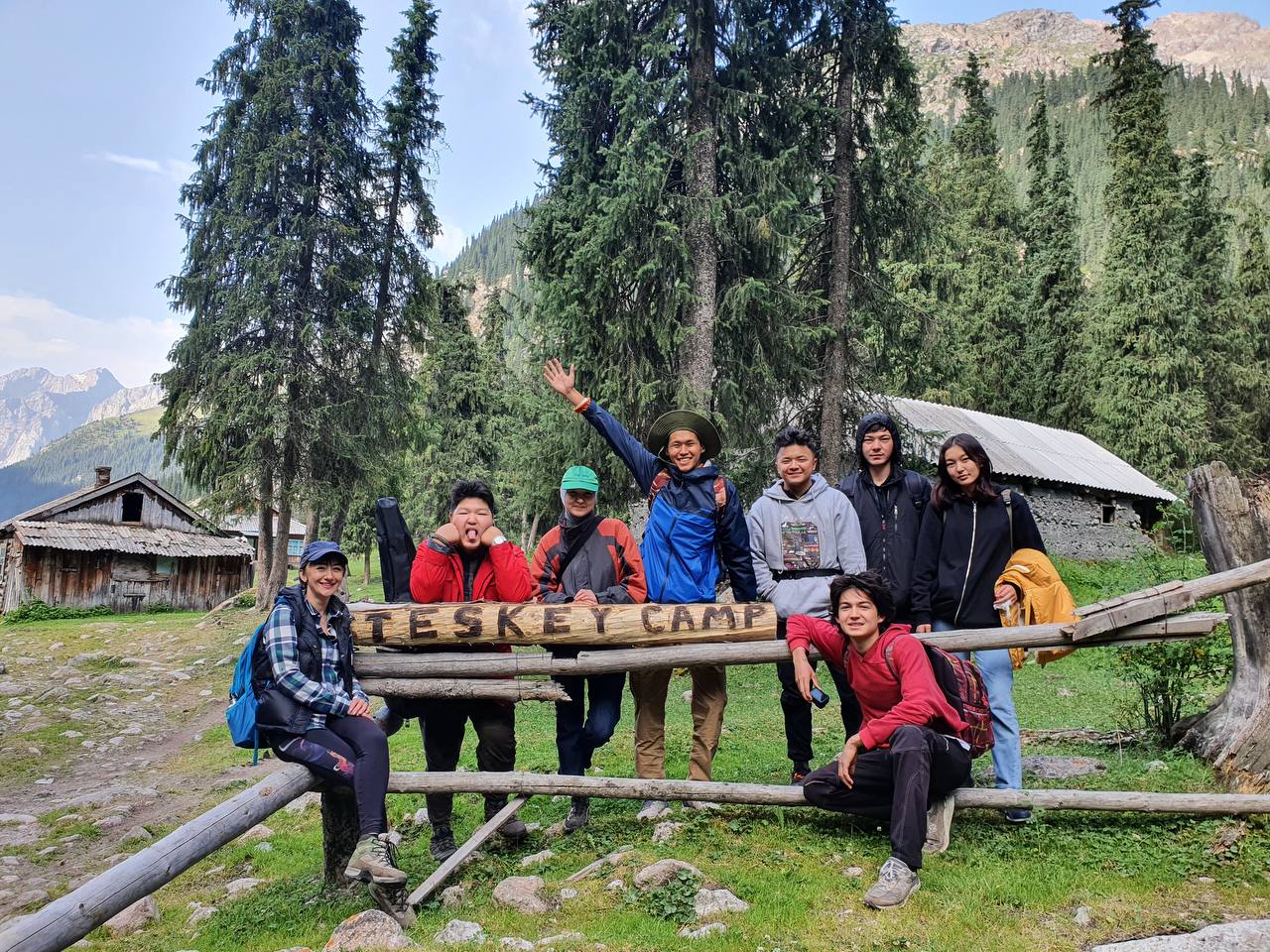 Omar and his team at an altitude of 2600 meters above sea level, in the Tien Shan Alpine Scientific Center.
From the very edge, Zoya Kretova, leading climatologist of Kyrgyzstan.
The first project that Omar and his friends implemented was an educational project which aimed to tell people about the Green Economy. They invited professionals who gave interviews and talked about political ecology, the model of Kyrgyzstan's development, and how to inform people about environmental issues. But what is more important here is that the team created this project with their funds without any sponsorship. They bought the cheapest camera and were learning how to edit videos by themselves. 
After the first project, Omar's team started to learn how to write projects and financial proposals, how to promote their ideas, and build strong informational content. They were working hard and mostly learned everything by themselves. It was hard at the beginning as they were new in this field, however, their dedication and persistence helped them to reach their goals. 
Then their success began to break through. They were able to organize the first Youth Climate conference in Kyrgyzstan, find good support from various organizations, and most importantly, they were able to build relationships with the young people living in the regions of our country. 
We asked Omar about the fundamental elements of eco-activism. He emphasized that the foundation of it is always enthusiasm, initiative, and a huge desire. 
"Eco activism and love for nature are much deeper and more meaningful than a simple shopper and an eco bottle. Eco culture always implies a love that comes not from the mind, but from the heart. If you have a commitment to an idea and a desire for a better future for the country, then the whole world will support you." says Omar. 
We were also interested in how Omar gathered a team of like-minded people who were able to implement so many small and large-scale projects.
"All the people in the team were those who were ready to spare no effort and energy for a brighter future. They were the ones who very much wanted to learn and contribute without the intention of making money from it. They were driven by love and aspiration, which are still the fundamental qualities of our team," explains Omar. 
Work with youth in the regions 
"Jerdin Baldary" works mostly with young people that live in the regions of Kyrgyzstan. Omar explains that his initial goal was to inform and develop the understanding of environmental issues in the regions because people are different there in comparison to Bishkek youth for instance. 
He says that people there are not privileged at all, while students in Bishkek have endless opportunities and resources. Omar understood well how life went in the regions and he had a strong desire to make a difference. He told us that youth in the regions want to help Kyrgyzstan and they are eager to do anything that can positively affect the future. 
"We immediately chose our audience – students who do not have many opportunities. We believe that by teaching these students, we will be able to build a foundation for the development of our country. Lack of access to information among regional students became the reason that we wanted to work with these young people. We wanted to help them a lot because we did not have enough resources and opportunities. However, we were lucky that we lived in Bishkek and were able to find the resources and access to the necessary information ourselves. But everything is different there, and we wanted to bring down this big parallel between rural and urban students."
"You will see how students in the regions have burning eyes, love, aspiration, and a flow of energy. They are very grateful and diligent and this is our main motivation."
With one small initiative and idea, a significant and large-scale project can be established. To make the first steps in making an impact on society, you only need desire, passion, and love which come from the bottom of your heart, in other things, as Omar said, "the whole world will support you."
The article was prepared by Salima Almazbekova, sophomore student from JMC department
To learn more about Omar and his experience, please, watch the documentary  ⬇️
The documentary was prepared by Alina Baitokova, junior student from TCMA department
Second Issue: "Art and women empowerment in "Synergy": how three Kyrgyzstani female artists do it."
Gender inequality is present in every corner of our country, it seems to seep into people's homes, schools, universities, hospitals, work institutions and unfortunately into the mindset of people who accept inequality as a normalized phenomenon that has a place to exist in society. 
Despite reports from government and international organizations on the progress and advancement of women's rights, we still see women killed by their own husbands, harassed by strangers, denied their right to education and employment, and physically or mentally abused on a daily basis. 
Solving the issue of gender inequality, which has been present for many decades, is extremely difficult in our country, but living in a society in which women have to fight for basic human rights and face danger on a regular basis is worse. 
To address this pressuring issue, it is first necessary to speak about it, to identify the significance for each citizen and to give the right of voice to each woman in the country. There are a lot of ways of promoting women empowerment and speaking about the issue of gender inequality. Some use diplomacy and law, some use education and science, but the characters in this story use one of the most enigmatic, profound, and aesthetic methods of addressing societal problems  – they speak the language of art.
Diana Uhina, Adele Ismailkhanova, Alima Tokmergenova are artists who use art to transform established horizons, shape existing patterns and raise significant dialogues. With a focus on collages, art therapies, research, ceramics, and exhibitions, they consider art as a critical discipline linking research and artistic gesture, theory, and practice, in which the transition from an object to an event, a process, study, and immersion are important. They work in the art studio for art, research, and design "SYNERGY" where they create a safe space for emancipation and transformation.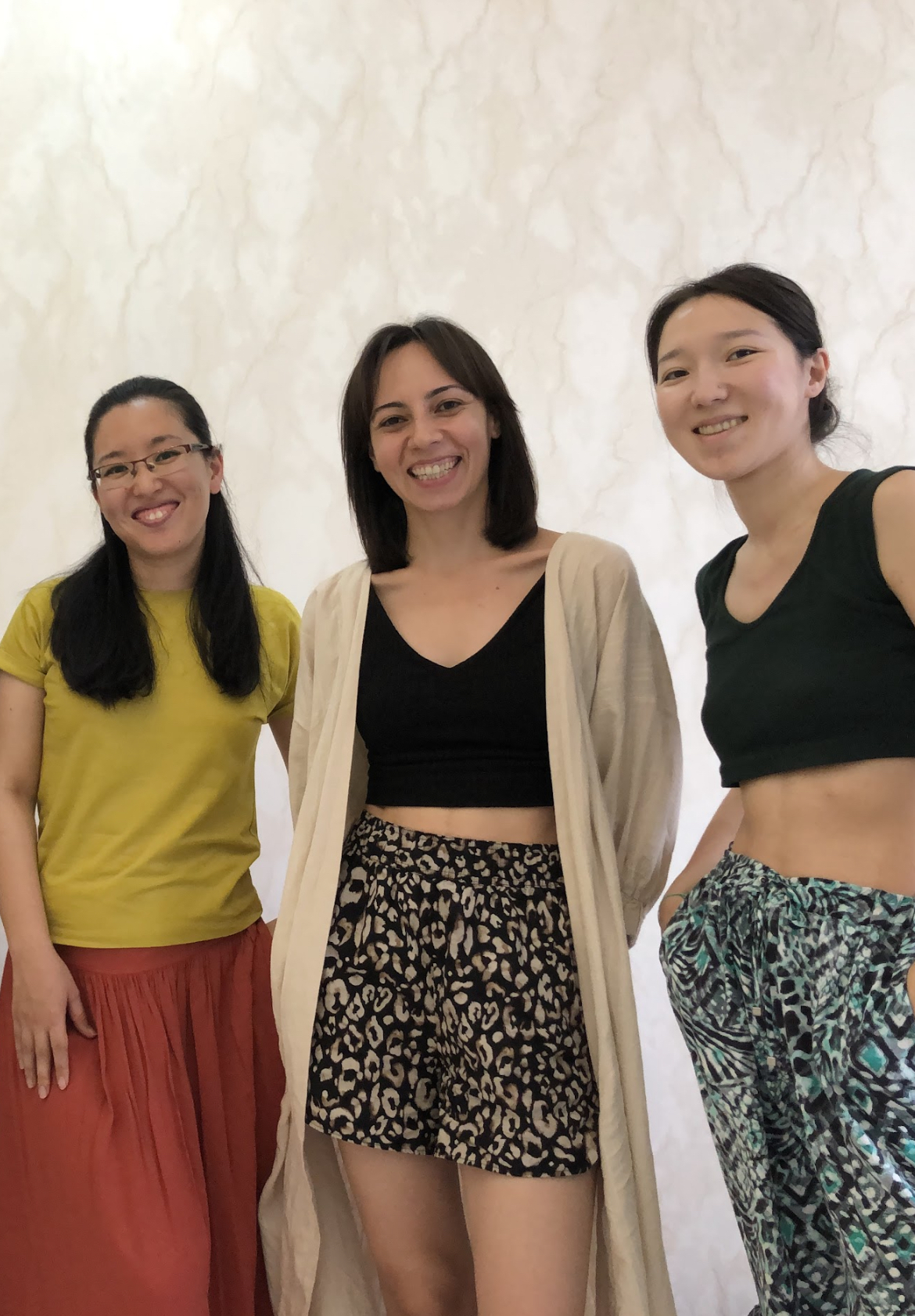 Diana Uhina
Diana Uhina is a founder of the art studio "SYNERGY", curator of exhibitions, researcher, and a member of the Bishkek School of Contemporary Art. Diana supervises all the activities of the art studio, conducts research on a variety of topics, and organizes exhibitions and various educational programs on approaches to research the culture and art of Kyrgyzstan. Currently, she finds art exhibitions as one of her favorite types of medium. 
Diana actively uses art to speak about gender inequality and attract the attention of society to this issue. For example, together with her colleagues, she made a huge research and exhibition about the emancipation process of Kyrgyz women during the Soviet Union. She also researched the Soviet Kyrgyz journal "Kyrgyzstan Ayaldary" to identify the tendencies of change of women's place in society in the past. This research was transformed into a journal which was called "Burulai" after the young woman who was killed inside the police station by a stranger in May 2018 in Kyrgyzstan. 
We asked Diana what she thought about the overall situation of women in our country. 
"We start to set the vector of transformation and it is great that in Kyrgyzstan art is more and more used for this. About the situation – it is complicated. That is why I work on addressing this issue, who better than us women should talk about it and fight against it? Patriarchy in its structure is present all over the world, there are just different dynamics and contexts in which it is realized. And I am also experiencing the patriarchy in my life," shares Diana.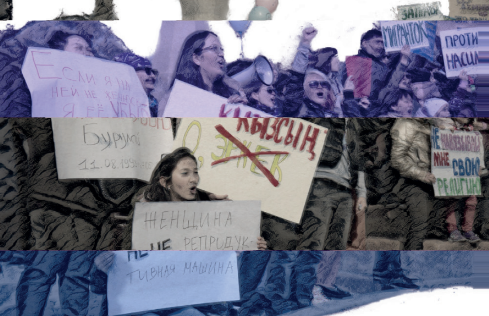 Excerpt from the research art journal called "Burulai". The journal was created and published by the art studio "SYNERGY".
Diana shared that through art and creative work she could emancipate herself which was one of the most significant events of her life. As she explains, that is what they found after exploring the life and art career of women artists of Kyrgyzstan – art is the strongest and most freeing point of emancipation. 
"We had many projects conducted in the regions, one of them was in the village of Bokonbaevo. Women there have an art studio based in one of the village houses where women gather to make felt products. It seemed to me that this place is an opportunity for them to get together, feel safe and free," says Diana. 
She shares that the hardest part of societal issues is that our consciousness moves very slowly, the patterns that are formed and become traditions are difficult to change and unfortunately this is built on the construction of the other in a woman. And this other is not equal.
For Diana, it matters that even five people will read her publications or go through her exhibitions. She tries to create different ways for people to immerse themselves in the exhibit – it can be walking, reading, or participating in the art zones.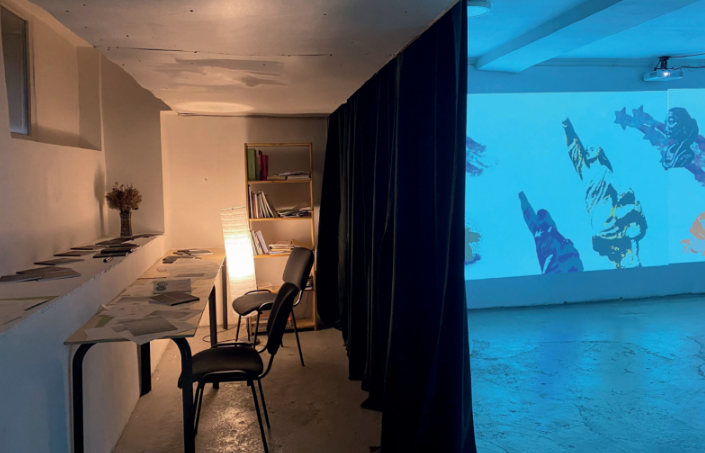 Picture from the exhibition called "Images of Liberation". This exhibition was organized on March 8, 2020 when around 70 activists who came to the peaceful march for women's rights were arrested and delivered to the district police station (https://drive.google.com/file/d/1cqp_YHTvAZW1E9SOF1c8H6Et0AVCY_79/view).
Within the activities of the art studio, Diana and her colleagues do workshops, art therapies where people are encouraged to just come and try different materials and techniques. It is also offered not to try to paint beautifully and perfectly, but to express yourself through any form of creativity. As she says, "If you start practicing art constantly, you start to go beyond the limits, you start to experiment more and then you feel more freedom and that you really have it in you."
That is why women find art as a way to expand given boundaries and frames that have been set and imposed either by family or society. While practicing art for the first time, women feel that they rule the whole process and they understand that nobody but them decide what are their next directions and moves which is later projected gradually onto life itself. Women also begin to take great pleasure in what they create in art. They can be proud that they could, for example, draw something interesting, knit or create art objects. This brings them joy, goosebumps and pride in themselves, which then becomes an integral part of their lives, as Diana says. And after that, when someone tries to put pressure on them, they confidently resist it.
Diana also shared her view on building women empowerment.
"It is not only about the relationship between a woman and a man, but between a woman and a woman, too. It is about creating relationships with each other out of love, solidarity and support, understanding that you have some kind of common ground on one side of oppression and on the other side you have the opportunity to reclaim the power of yourself. If we come together and support each other, that is the most important thing, you do not feel alone, you feel that you can actually make a difference," says Diana.
Adele Ismailkhanova
Adele Ismailkhanova is an artist of the art studio "SYNERGY". She positions herself as a multifunctional artist because she does different types of art such as painting or conducting art therapies. However, currently her main and most favorite medium is collage. 
Collage is not a popular medium in our country, however Adele wants to popularize it as she believes that through collages many important stories could be told. This type of medium could be compared to the Kyrgyz traditional form of art called "Kurak '' when women through mosaic sewing, assemble new items from leftover cuttings or even old items. Just like kuraks, collages also bring different pieces together to create something new. Adele thinks that collage has a strong connection to our modernity as we live in the world where everything has already been created and while constructing a collage, we reassemble, tearing and cutting the old to create new meanings which is the part of Adele's art philosophy.
Adele tells different stories in her collages and she also uses her medium to make a contribution to the development of women empowerment. She feels that the situation of women in Kyrgyzstan is terrible and she strongly believes that even if authorities do not recognize the language of art, it is a great tool to speak and push certain values. 
One of the significant experiences of Adele was her work with Crisis Centers where she taught women how to create collages. 
"I worked with a group of women in one of the crisis centers and it was very difficult. There are women who got there in different ways. I had to expend a lot of moral energy because women there are deeply immersed in their problems and it is of course understandable. One woman told me not to tear and cut the paper because it was hard for her to break her usual boundaries and open herself to something new. I always look at the group in which I conduct art therapies and I evaluate what techniques to give. In crisis centers it is possible to give not all techniques but I try to slowly and step-by-step interest people, to make them feel good, relaxed and feel safe while doing collages," shares Adele.
Every year the number of women who are forced to go to the crisis centers because of domestic violence is swiftly increasing. The data below shows a substantial comparison between women and men who went to crisis centers from 2018 to 2021. The huge difference in numbers between the two genders reveals the whole catastrophe of domestic violence and gender inequality against women in Kyrgyzstan.

The following data demonstrates the total number of women and men who faced domestic violence in the same years as was mentioned before. One of the most important factors is that in both graphics we can see that men's numbers have a good tendency to decrease, while women's numbers always increase in a very progressive manner.

Adele also organized art therapies and usually only women sign up for those workshops. Adele shares that she loves to do social work but she has not understood yet whether it leaves any positive light in the lives of the workshop participants. However, she shares that many women gave her good feedback.
"Some women told me that they started to believe in themselves and realized that they can paint. In general, absolutely everyone can draw and it is vital to remember that creativity and drawing are our basic rights for joy. When people first try to make collages, it is new to them. Tearing up old newspapers, magazines, tearing up old postcards, reassembling and constructing something new – it affects people, positively affects the brain, and a lot of neural connections start to interact," says Adele.
Adele shares that during the pandemic, it seemed to her that the world was falling apart but art helped her a lot. She explains that art is about the moment. If you do not like it, you can tear it up or crumple it, feel that moment and those emotions, and then throw it away and it doesn't matter anymore. In art you never lie, you can never logically explain why you chose this or that paper, material, or color. This is where the purest, wisest, most sincere, unconscious works appear. You become yourself, that is why we call it art therapy or even meditation because we are left alone with ourselves.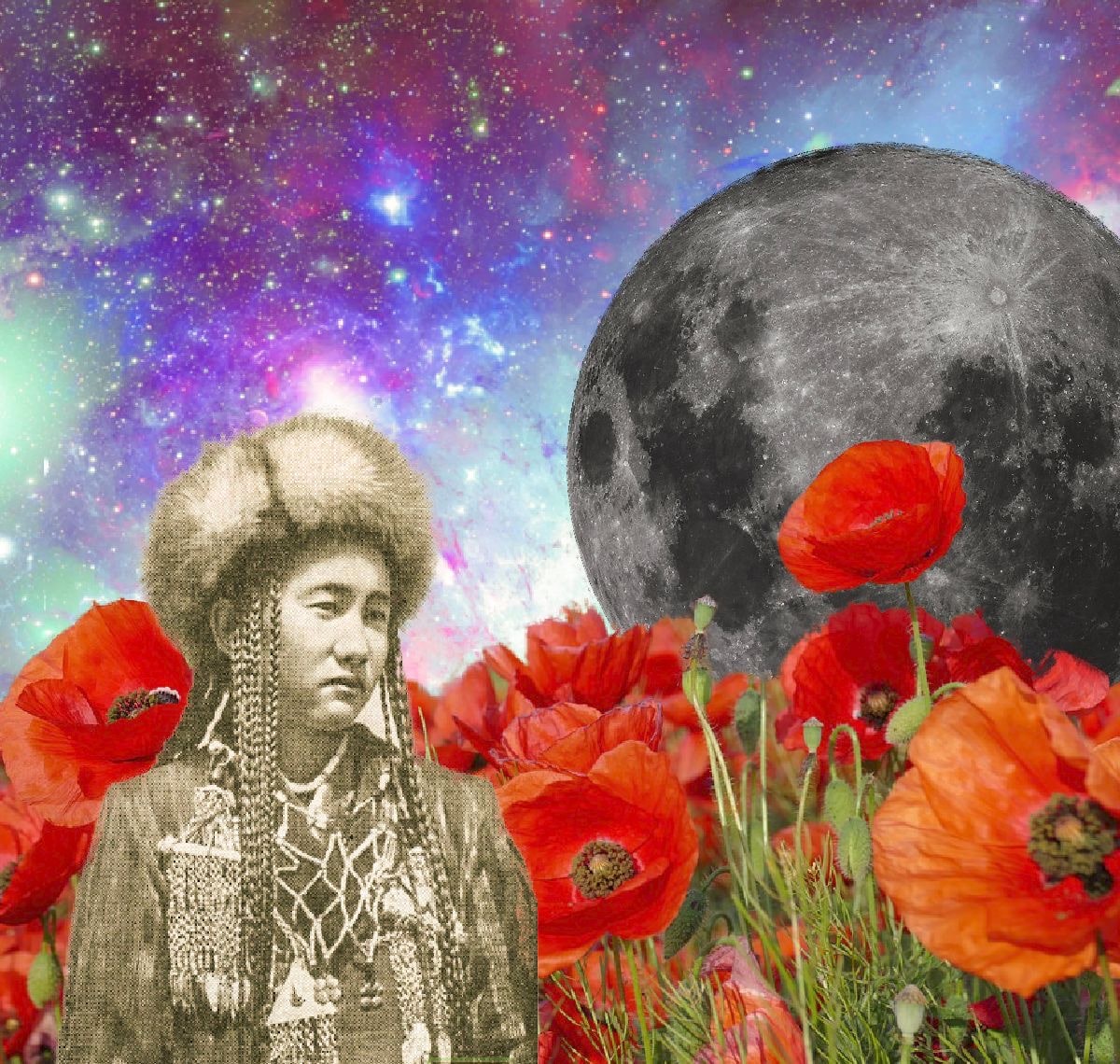 Adele Ismailkhanova's digital collage.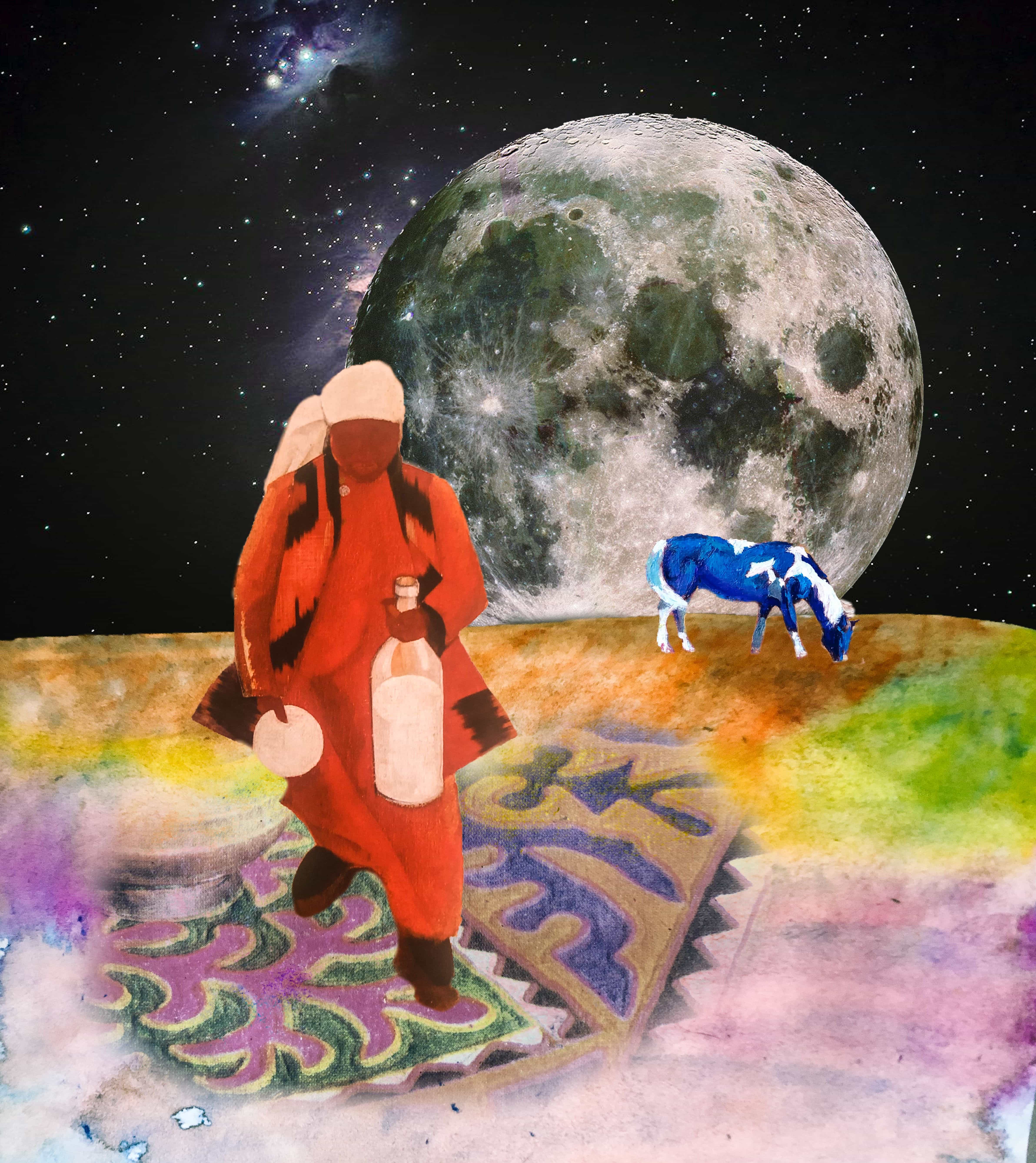 Adele Ismailkhanova's digital collage.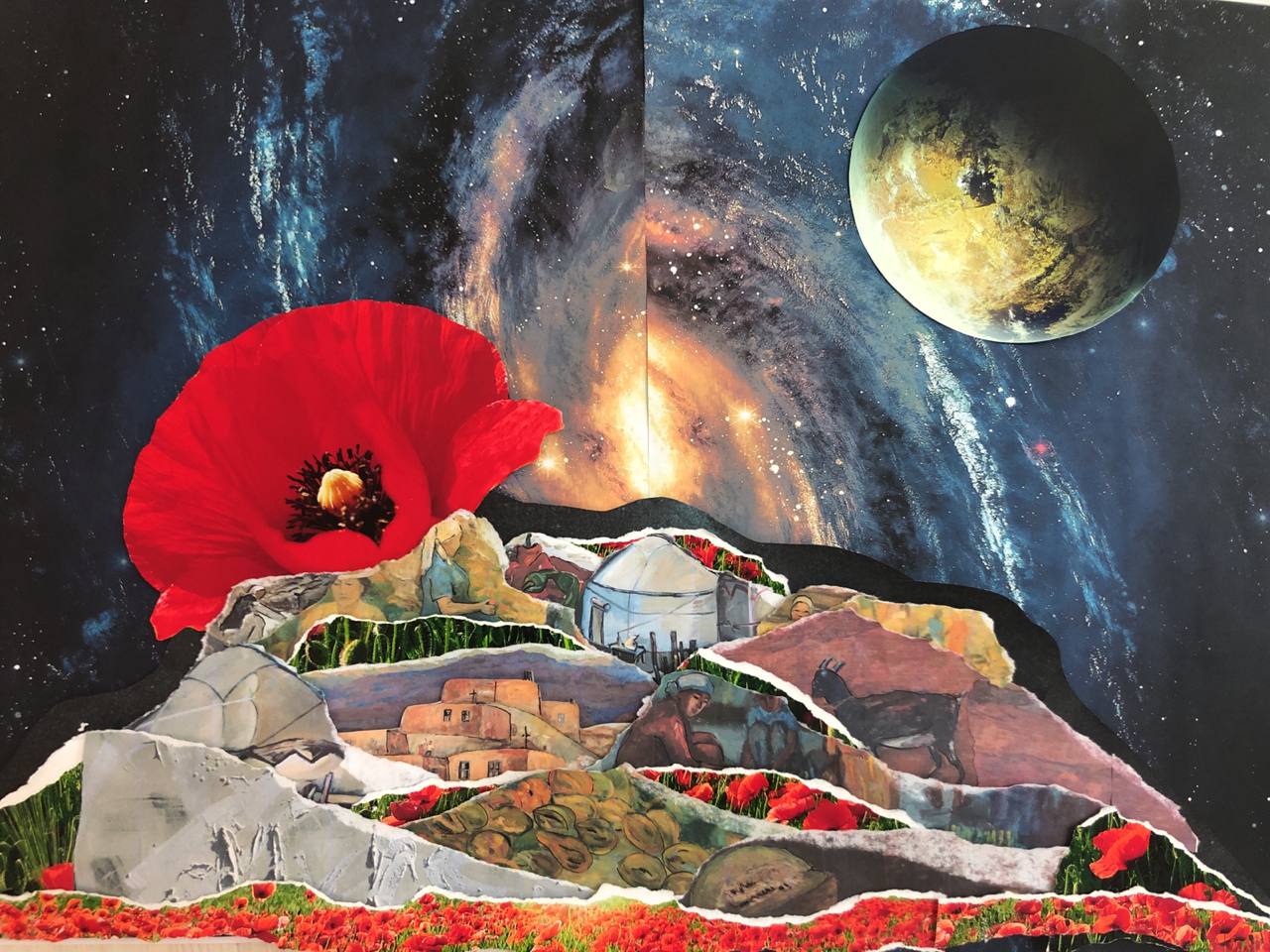 Adele Ismailkhanova's hand cut collage.
Adele says that she tries to focus on solidarity with women as her colleagues are almost all women. She explains that working with women is extremely inspiring as they teach each other, help each other and exchange ideas and skills. 
"I think the era of individualism where there is only one master or brilliant artist is gone. Now we have moved to the era of collectivization and solidarization. Yes, we are all in some way geniuses and we have our own values but our strength is that we unite and through unification and teamwork we can make an impact, promote and create," tells Adele.
Adele shares that the reason for her work with Diana and Alima in the art studio "SYNERGY" is that they feel good together, they have some glue that connects them and they complement each other a lot. 
Alima Tokmergenova
Alima Tokmergenova is an artist of the art studio "SYNERGY". She also considers herself as a multifunctional artist as she does museum tours and city tours of monuments, she loves writing
texts and she also does ceramics and national patchwork called "Kurac". However, currently her main passion is research of Kyrgyz sculpture artist Olga Manuilova and engraver Lydia Ilyina.
Alima believes that we are slowly moving towards progress on the issue of women's equality. She says that all women should have access to education in all its forms, including art. Through her work with ceramics, Alima shared with us how art helps women to feel their inner freedom and identify their own values. 
"Ceramics and clay are very wonderful tools. When you start to touch the clay, you start to feel the tactility in a different way. You think that you know exactly your next moves but clay starts to behave differently. You wanted to make a cup, however at the end you have a plate because the clay went the other way and you followed it. Important thing here is that you have to trust the process and not resist or fight the clay, you have a joint object together with nature," shares Alima.
Alima shares that after ceramics workshops, women are surprised that they can actually do art and create different objects. Women of all ages with different backgrounds visit the workshops and say that the last time they did art was when they were in school. Alima says that women come and open themselves, they express their thoughts, feelings and values through art. Some women speak about vital issues through their work as for example when participants talk about women's rights in their collages or ceramics works.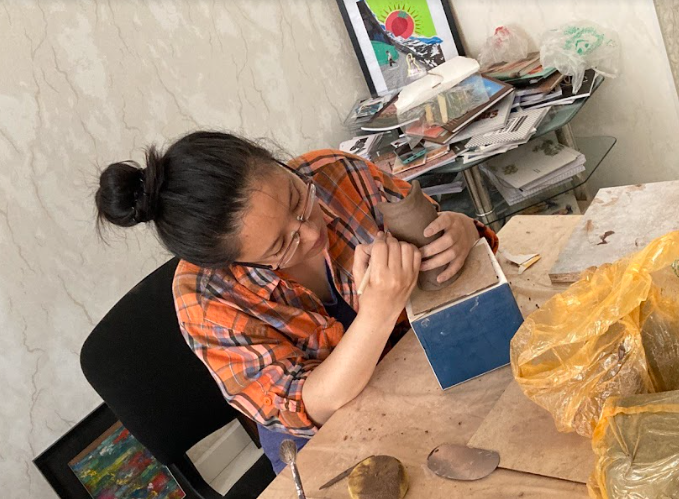 Alima during her ceramics workshop.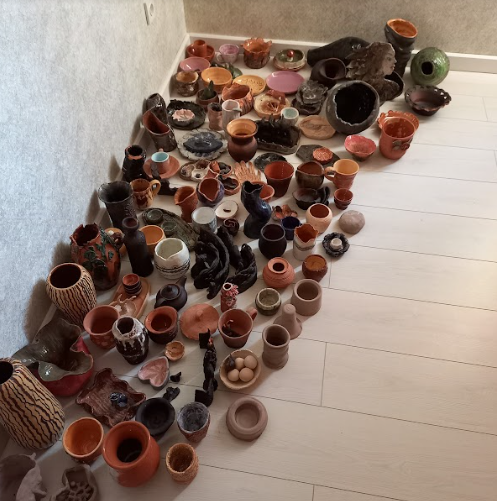 Results of the ceramics workshop.
Alima says that in our society often girls are told that art is not a profession and many of them do not know that they for example can study at Kyrgyz State Art School named after. S.A. Chuikov where education is free.
"I think it is important that women have access to creativity because creativity is a basic human need and right. Some women do not realize that they have this right and opportunity and that they can express themselves through it. Once we went to one of the villages of Talas region where we visited the only art studio where little girls had an opportunity to draw and paint. It is good that they have those resources but we need to expand them and try to give these opportunities to each girl," says Alima.
Through research of the Kyrgyz sculpture artist Olga Manuilova and engraver Lydia Ilyina, Alima raises awareness about female artists of Kyrgyzstan and inspires readers by their outstanding work. Olga Manuilova was one of the first in Kyrgyzstan which was difficult for her as there were no schools and she did not have enough support. Lydia Ilyina is the ancestor of Kyrgyz graphics, engravings, linocuts. Alima says when people read her research about these two powerful women, people are surprised that they could start doing art when there were no women doing that before. 
Alima is very inspired by the female artists from the past because not many people know them and at least their names which is the main reason Alima tries to talk more about them.
"By doing what we do, we create a space where different people can come and experience something new and do it together with other people because communication creates a specific atmosphere. We create a place where people can exchange energy and ideas," tells Alima.
Alima also thinks that with Diana and Adele, they compliment each other and that she is inspired by the work of her colleagues and female friends. 
**********
Each of these characters has their personal stories of acquaintance with art and they, like all of us, have their own prism through which they create and explore its different and interesting forms. Diana, Alima, and Adele work as a single mechanism, complementing and supporting each other. Working in the art studio "SYNERGY", they create a space in which everyone can reveal his or her true self and feel the patterns of their inner emotions. 
Through different art forms, they empower women by showing them how to go beyond the limits of what is allowed and transform towards freedom and personal values not succumbing to pressure or judgment. We interviewed our heroes individually, revealing their unique personal stories and views. However, each of them delivered a message that accurately describes the uniqueness and power of their work. Despite the diversity of the art forms they use, each of them sees and feels art as a unique language which builds gentle dialogues that help gradually address and hopefully solve the most critical societal issues such as gender inequality. 

Web-site of the art studio "SYNERGY": https://ci.kg/about 
Link to their publications: https://ci.kg/press 
Their contacts: laboratoriaci@gmail.com
The article was prepared by Salima Almazbekova, sophomore student from JMC department
To learn more about "SYNERGY," please, watch the documentary  ⬇️
The documentary was prepared by Alina Baitokova, junior student from TCMA department