Resume Writing

Point of the resume
The main point of your resume is to give an idea about you to the employer/professor/grants coordinator. Resume should present your achievements and qualifications in an efficient manner. Remember that for different purposes you will have to modify your resume, depending on what you are willing to accomplish:
To get a job;

To get enrolled in a grad school;

To receive a grant, financial support, or a fellowship.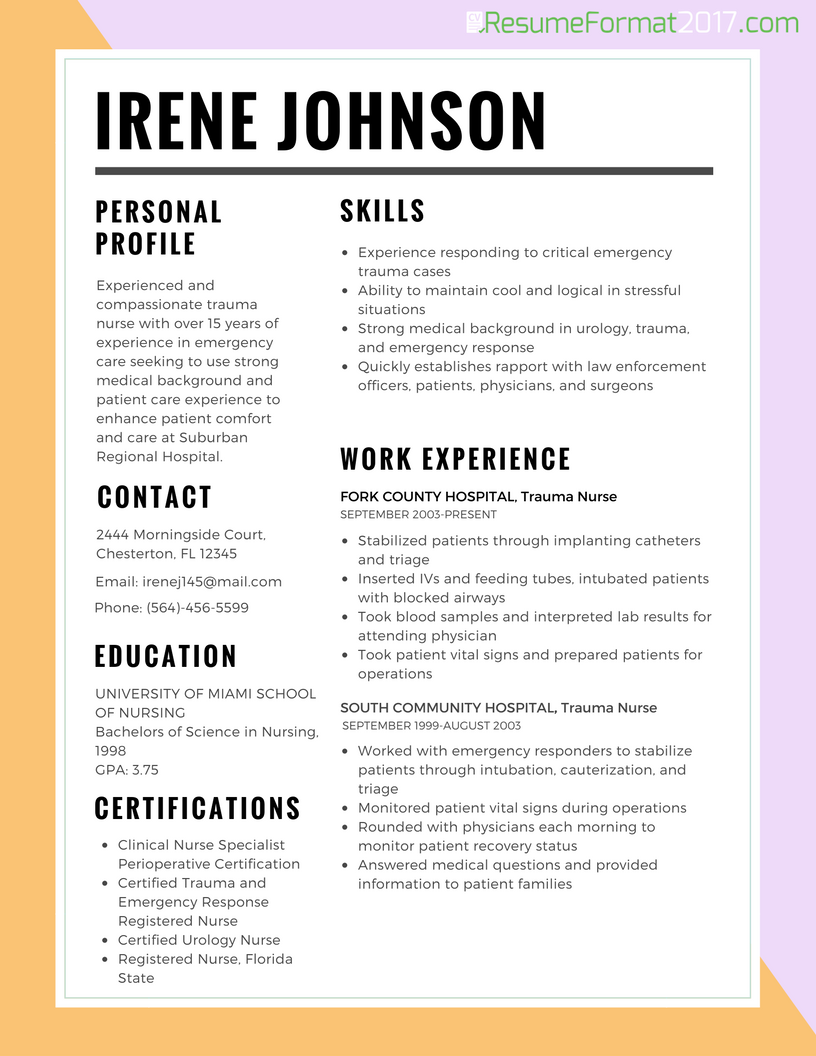 Sections of resume
Personal information. This section includes your name, addresses, phone numbers, emails, and any other relevant information on how you can be reached. Do not attach your picture, unless the employer requests one.

Educational background. This section should indicate the name, location of your school/college/university, date of entering and graduating from this educational institution, degree received or expected (if you are still a student), major and/or field of study, honors, and awards received during your studies. Remember also to numerate educational institutions where you studied in reverse chronological order, starting with the most recent one.

Work experience. This section also could be called Professional Background and encloses your professional experience gained so far, including internships, part-time jobs you had while studying, volunteer experience, community service activities, all in all, any of your work experience where you gained professional skills. However, please note that not every experience could look presentable on your resume list. If you were working as a waiter, bartender, or dishwasher at a café, do not include this experience, unless you are applying to the position of chef or administrator to a prestigious restaurant or hotel. List places of your work in reverse chronological order starting with the most recent one.

Skills. List all skills you gained so far by dividing them into separate subsections related or not related to each other. For instance:
-          Computer skills: MS Office (usually includes Word, Excel, PPP, and Excess packages,); SPSS (quantitative tool); Email systems such as MS Outlook, Lotus Notes and other; blind typing (indicate how many words per minute); some graphic or designer programs such as Corel Draw, Photoshop etc.
-          Language skills. Enumerate all the languages you know giving characteristics to each such as: fluent, excellent, good, fair, or conversational.
-          Other skills. In this subsection you can mention such skills as: interpersonal, logistics, communicative, etc.;
Other sections. In other sections you can point out such things as your interests and activities, list any of your awards or other extra curriculum accomplishments. Any information that will be interesting and important for the employer/professor/grants coordinator.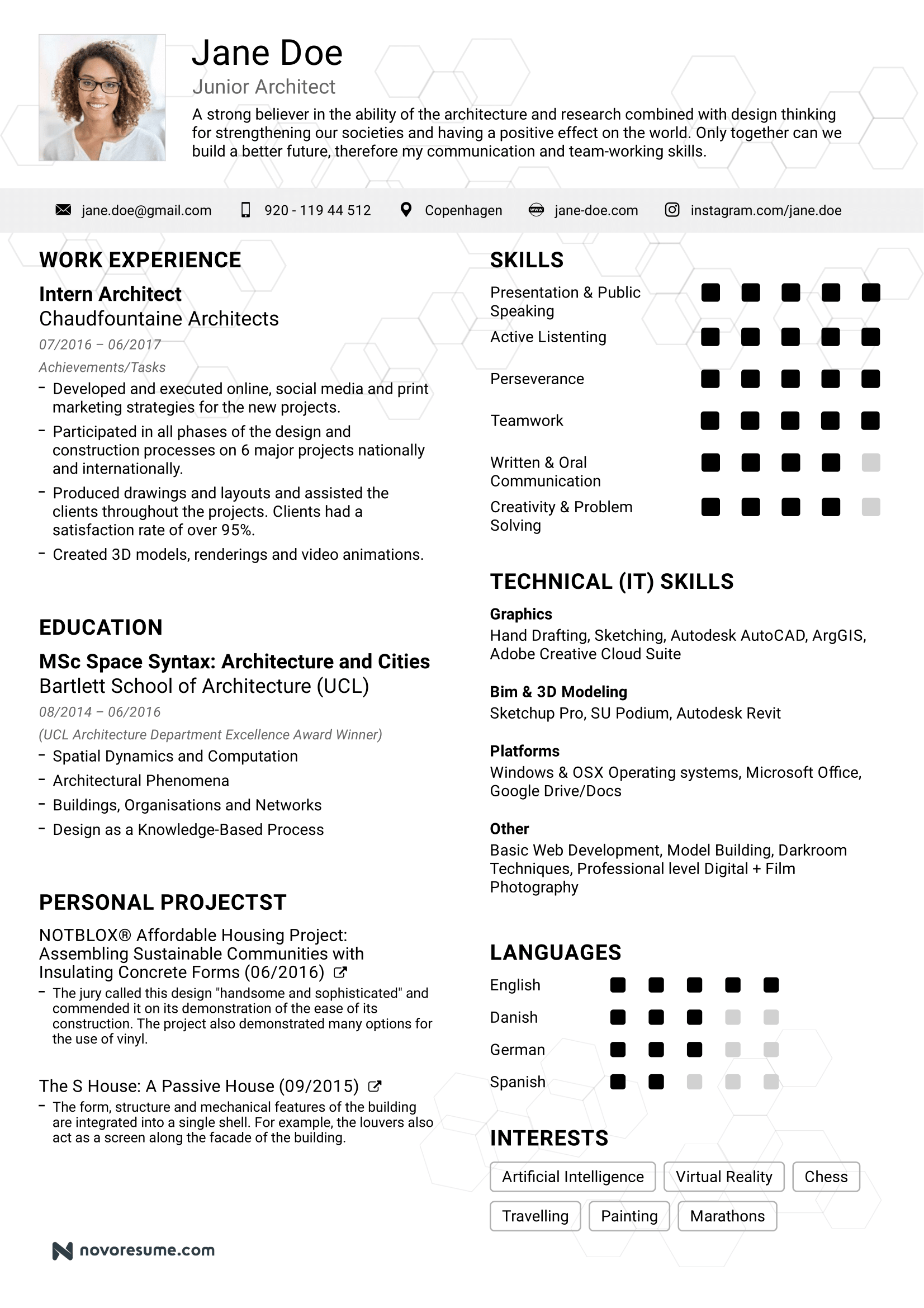 Resume language
Remember that your resume should be constructed of facts, dates, and professional characteristics. Do not use personal pronouns. Make double or professional checks on spelling, grammar, and punctuation. Avoid repetition of words and facts. Make each statement specific, informative, and substantial, avoid vague language. Use active verbs.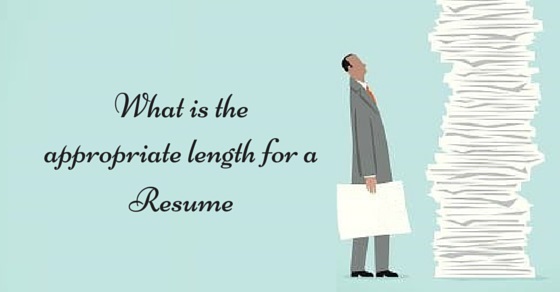 Length
Your resume should be no longer than one page. You do not have to include everything about your experience or training you had, only that information, which is relevant to the certain job or industry you are applying to or field of study in grad school. You can also attach the list of references to your resume.
Visual appeal
Make sure that all the sections are written in the same font and size. Do not use too small font sizes or unusual fonts. Use Bold, Underline, and Italic in a steady manner to point something out.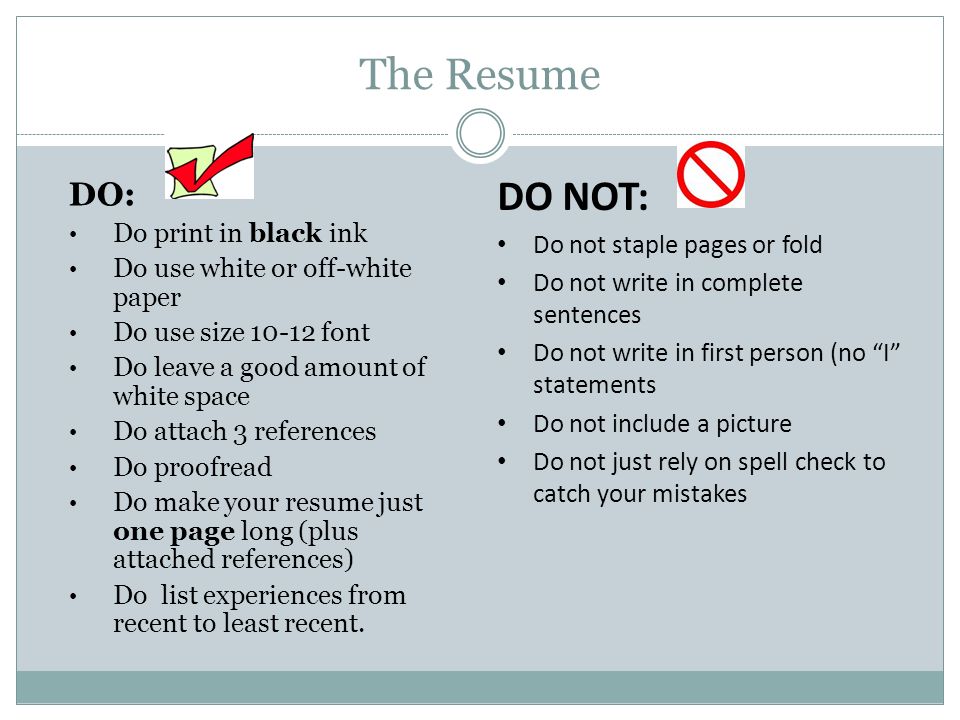 Do not:
Include the information on your age, marital status, religious and political affiliation, or gender;

Mention your salary expectation or salary history;

Attach your picture, unless asked by the employer. Sometimes, employers require resumes with pictures, when the job is closely related to constant contact with clients or other businesses where appearance is important.
Make sure to attend a workshop on "Resume Writing Techniques" organized by the Career Center.
1.https://zety.com/blog/how-to-make-a-resume
2.http://www.resumelogic.com/resume tips.htm  
3.http://www. taos. соm/resumetips.html  
4.http://www.free-resume-tips.com/10tips.html
5.https://resumegenius.com/resume-formats
6.http://theinterviewguys.com/how-to-make-a-resume-101/# 
7. https://zety.com/blog/how-to-make-a-resume