CULTURAL PROGRAM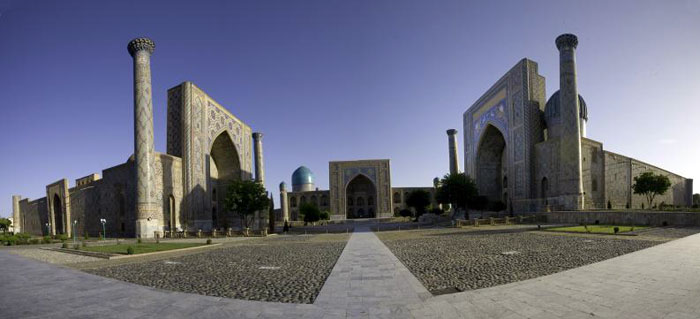 Introduction to Culture and History in Central Asia
This introductory course is focused on the mutual dynamics between preserving or constructing ethnic, cultural or national identities and the past and present processes of interaction and mixing between various local communities. It is focused on languages and on their use as identity markers or as tools for contracting or extending groups' frontiers and membership. The introduction comprises four types of interrelated activities:
Culture and History Classes, take place every Tuesday, 4pm -5.20pm, see syllabus below.
Movie Evenings place every Thursday at 5pm, see program
Language Tables, take place Monday, Wednesday, Friday at 12.30 pm. Each group participating in the Summer Language Intensive program will be assigned an AUCA student peer who will act as a language and cultural mentor. Language Tables during lunch time will facilitate conversational skills.
Visits and Excursions, take place first, third, sixth and eighth week, see program.
Week 1 - City tour, History Museum, and Art Museum
Week 3 - Midieval Cities of Chui Valley: A one day excursion around Bishkek that will introduce students to the history of the region between V-XV centuries. The excursion covers three settlements in Bishkek vicinity. Krasnorechenkoe settlement- visiting the remains of citadel, necropolis, Zoroastrian and reconstructed Buddhist temple; Ak-Beshim settlement visiting the ruins of Suyab town and Balasagun town ruins, exploring a 25 m Burana tower built in XI century.
Week 5 - Day trip to a Jailoo, a summer pasture for Kyrgyz nomads.
Week 7 - An overnight trip to the south shore Lake Issyk-Kul with accommodation in a yurt camp.
Introduction to Culture and History in Central Asia
"The Most Ancient Peoples of Central Asia": available data and the trickiness of its interpretation, the obsession with origins, the choice of national emblems (Manas, Timur, etc.), the bids on anniversaries (2200 of Kyrgyz statehood, 3000 Osh etc.).
Favourite Paradigms for Reading the History of the Region: "nomads" versus "sedentaries", "herdbreeding" versus "agriculture", warfare versus trade.
The Kyrgyz Dimension of Central Asia: focus on nomadism, mobility, genealogy and oral lore
The Tajik and Uzbek Dimensions of Central Asia: focus on agriculture, urban culture and trade
The Uyghur Dimension of Central Asia: focus on ancient-ness, writing systems and written lore, statehood-lessness, "separatism" and China's role in the past and in the present.
The Silk Road: Past and Present
Islam and other religions in Central Asia
The Russian Dimension of Central Asia: focus and colonialism and post-colonialism.
Post-Soviet Central Asia I: identities, conflicts, integration
Post-Soviet Central Asia II: geopolitics and political economy