Bard College Postgraduate Tutorials
New NGA teachers from Bard College
September 18, 2015
For the first time, the New Generation Academy (NGA) at the American University of Central Asia (AUCA) has established a partnership with Bard College and brought over two tutors to teach for the NGA program. Anna Daniszewski and Sophie Lazar share their thoughts on the NGA students and program, new campus, and about their first visit to Kyrgyzstan.
Both of them just graduated from Bard College in May. Anna graduated with a double major in Philosophy and Photography, and Sophie graduated with a joint degree in Anthropology and Biology with a concentration in Public Health.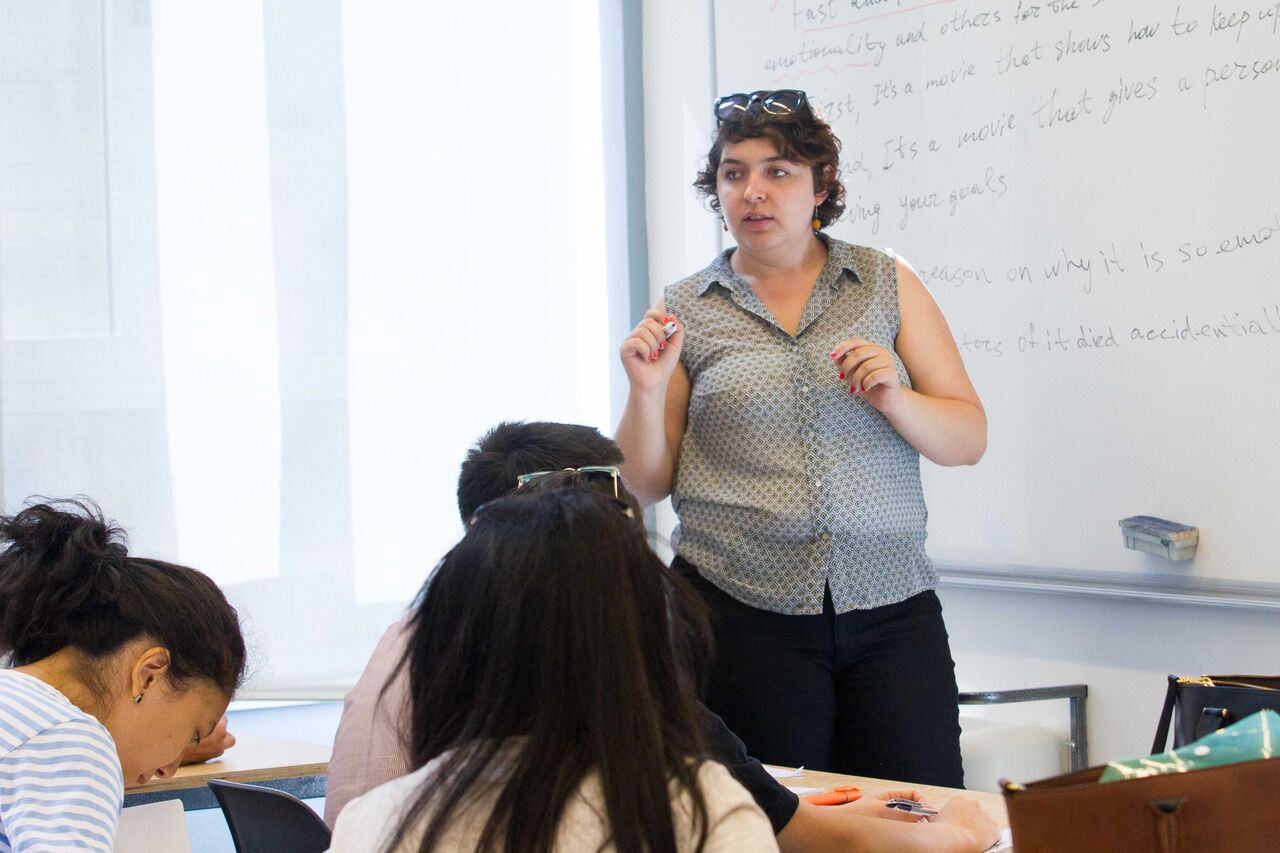 Can you tell us a little bit more about your career path and why you decided to come to AUCA to teach NGA courses?
Anna:  I am interested in pursuing an academic career. I wanted to get experience both in a university setting and teaching. At the same time, I wanted to be in a new place that was completely different than my home, and I had heard good things about Kyrgyzstan.
Sophie: I hope to pursue a career in research, specifically epidemiological and public health research. I'm very interested in health problems facing the states of the former Soviet Union. For me, coming to this country was an exciting opportunity to better my Russian and interact with students from Central Asia. I'm very excited to work with NGA students. They are very intelligent and motivated.
What do you think about the NGA program and its students?
Sophie: I find the NGA students to be very curious and very bright. They are focused on learning in a way that sometimes we don't have the same kind of respect for in the United States. It's moving to see these students, coming from the backgrounds they do, focused on getting the best education they can. They are very excited, tenacious, and dedicated to their studies, not to mention creative. When we did a unit on advertising, they came up with their own ideas for advertisements, and I was pleasantly surprised by all the great ideas they had. Also, their hopes for the future have such variance, each one of them has an amazing idea for whom they believe they can become.
Anna:  Like Sophie said, there's a deep appreciation for getting an education here and pursuing what they want in whatever field they want to go into. Applying that effort and determination is important. We've only had one meeting of each section that we're teaching, so I'm excited to get to know my students. So far, this is all very new to them, so they're a little shy and nervous, but ultimately they've already demonstrated this determination, and they are here because they've worked really hard. That projects a good future for them.
Why did you specifically decide to teach NGA students?
Sophie: NGA students are very diverse. It's exciting to learn from a multitude of different experiences and perspectives of Kyrgyzstan and to engage with an assortment of students who are different from the traditional student body.
Anna: We're also probably most useful in the NGA program. Undergraduate students at AUCA come with a little more experience speaking English. To have native speakers as a resource can be more helpful here.
What are you goals and plans for the teaching process at the NGA?
Anna: We are each teaching a club. The clubs have mandatory participation but it is not a class. They're meant to be a little more fun (not that the classes aren't fun!) and casual. They're meant to be a time when students can ask questions freely and start either writing (as in my Academic Writing club) or conversations (as in Sophie's Conversation club). In Academic Writing, we're going to be spending half the time exercising their written English and doing grammatical exercises, but I'm also excited for the other half as where we're going to be focusing on writing an argumentative essay. The way that I've organized it, over the course of a semester we'll go through the essay sequentially: first brainstorming and writing introductions for the essay, then writing body paragraphs for each argument, and finally working on a conclusion. So by the end of the semester, each of them should have an essay on a topic of their choice that hopefully convincingly argues a point.
Sophie: I am very interested in helping the students be better spoken in English. I want them to become better debaters and critical thinkers, and I want them to be able to express their opinions out loud so that when they enter AUCA they won't be afraid to speak up in the classroom. They will be confident in their academics and when they interact with teachers and other students.
How are you going to strengthen and improve the academic learning process?
Sophie: I think a huge part of the conversation class is trying to think of topical subjects; subjects that are relevant to what they want to pursue in their studies. For instance, if students are interested in business administration, learning the vocabulary and acumen of the business world is very important. If they are interested in anthropology or sociology, learning to discuss the impact of culture is meaningful. Ultimately, being able to think critically is necessary for each of their intellectual pursuits.
Anna:  Sophie and I share a focus on critical thinking. We both want to work on the ability to develop an argument that is separate and distinct from their opinion, to use supporting evidence to make that argument, and to see the multitude of other arguments that could be counter to their original opinion.
Sophie: In the conversation club, I encourage students to voice their own opinions while respectfully engaging with ideas that come from an entirely different perspective foreign to their own. I have my students ask each other questions, in order to get to know each other better. I also break my students up into groups and have them present on topics together to facilitate project-based learning in the classroom.
Is it your first time in Central Asia? What are your impressions of Kyrgyzstan?
Anna: Well, I haven't left Bishkek yet, so I can only speak to my first experiences in Bishkek. I have really enjoyed it so far. I think you get a very specific experience when you don't know the language of the place. It's a little tumultuous and a little exciting. I'm really excited to explore more of the city. So far, people have been incredibly generous and kind and have tons of suggestions for things to do and where to go. I'm never going to stop appreciating seeing the mountains everyday when I walk to work.
Sophie: I find everyone in Central Asia to be so friendly and helpful. My visit to and experience at Lake Issyk-Kul is emblematic of the natural beauty of Kyrgyzstan. Before I came to Bishkek I was a vegetarian, so I'm adjusting to eating meat for the first time. While it's a new diet, I do enjoy the food here.
What do you think of AUCA's new campus?
Anna: I really love it. It's beautiful, just architecturally. And it's conceptually designed, such as these office spaces that are open concept where everyone can interact and work collectively. Many colleges and universities in the US are spread out over a large mass of land, whereas having an entire university located in one building creates an entirely different environment. We're not cramped, but you have everyone closely knit together in this community.
Sophie: I agree. It is a beautiful building. Many universities in the United States would want to have a campus like this. It is both modern and conducive to learning - especially the way the open space and simplicity of design promotes conversation and discussion among students.
What do you hope will come out of your NGA students?
Anna:  As someone also working with First Year Seminar, I'm very enthusiastic about teaching the NGA students the critical thinking skills that will be crucial in the First Year Seminar. If I can teach them how to write a critical and argumentative paper before they step foot in their First Year Seminar, I will be thrilled. College was the best experience I've had in my life so far. I hope they see their upper level education as a time for self-exploration and intellectual exploration. Hopefully, they find out what they want to do and then do it.
Sophie: My hope is for NGA students to not feel embarrassed or ashamed about their backgrounds, even if they do not match that of other AUCA students. One of the benefits of AUCA is that students come together with an emphasis on education, regardless of income or family background. It's important for students to feel confident in their classes, and to know that they too can pursue an education (here and abroad) and bring intellectual life to Kyrgyzstan.
Original link: https://auca.kg/en/auca_news/2127/