Davlatsilton Mirzodzhalolova: "The skills honed at AUCA served as a guiding compass"
November 17, 2023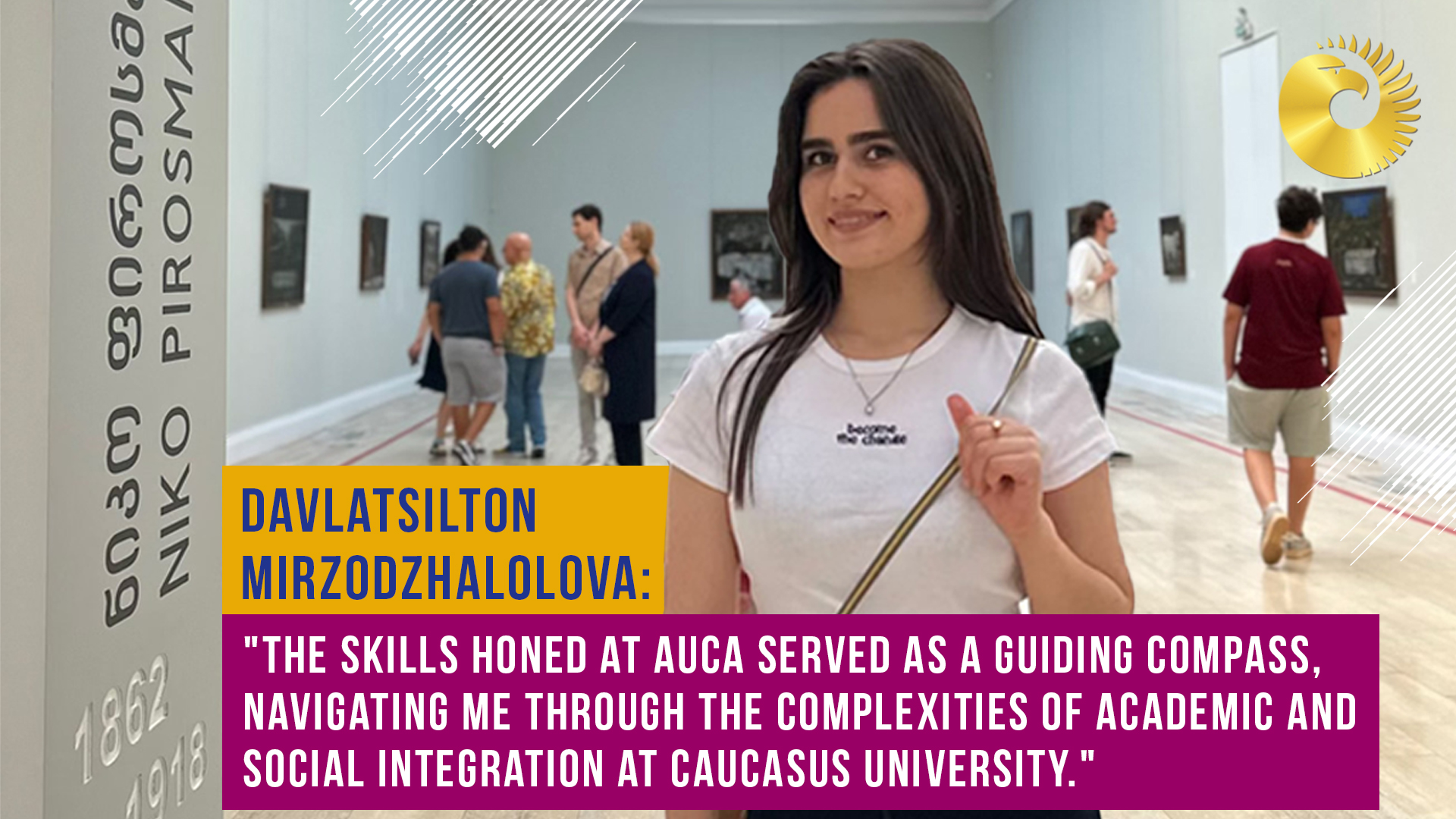 Embarking on the journey of the exchange program was a conscious decision rooted in my profound yearning to extend beyond the conventional boundaries of academic pursuits. It wasn't merely about scholarly enrichment but also the cultivation of personal depth within the vibrant tapestry of a diverse cultural landscape. This odyssey represented a deliberate choice to broaden my intellectual horizons, foster holistic development, and immerse myself in a mosaic of new experiences.
The decision to select Caucasus University in Tbilisi, Georgia, as the focal point of my academic pursuits was underscored by a meticulous consideration of its academic standing and its potential to offer a culturally immersive environment. My tenure at the university encapsulated a myriad of academic and cross-cultural engagements, each contributing to a nuanced tapestry of experiences.
Interactions with international peers from diverse backgrounds, including the United Kingdom, Russia, the Czech Republic, Saudi Arabia, Armenia, and Iran, fostered a rich milieu for academic discourse and cultural exchange. University-organized tours and activities, notably the Masterclass on Georgian cuisine, further enriched my academic journey with practical and experiential dimensions. Organized tours and cultural activities orchestrated by the university became a portal for me to explore the historical tapestry of Tbilisi and engage in a hands-on Masterclass unveiling the secrets of Georgian cuisine, notably the art of crafting "Khinkali."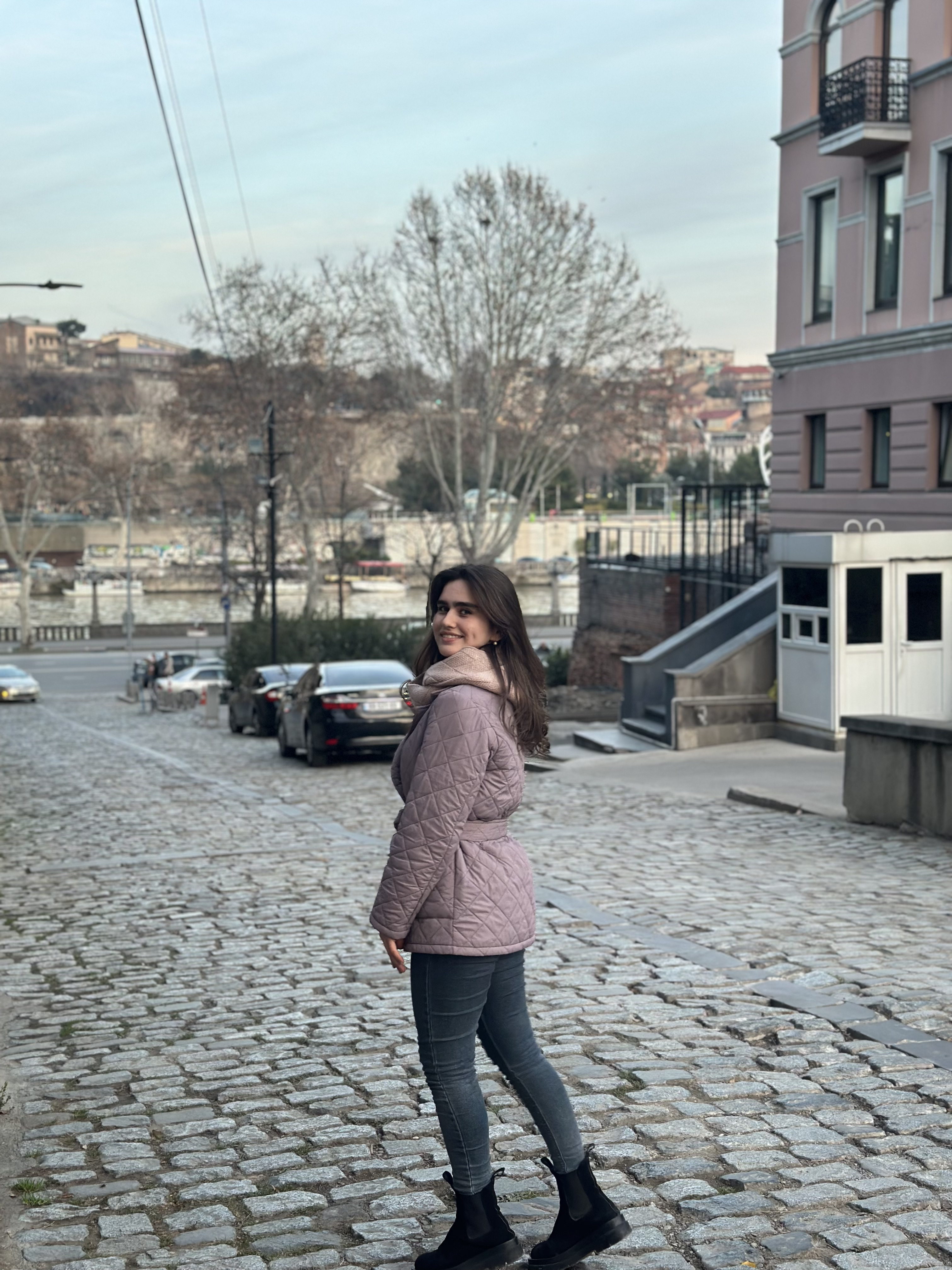 The decision to reside with a French family during the exchange period provided unique insights into distinct familial customs, augmenting my cultural assimilation. Concurrently, the internship at "FinExCoop Georgia" added a pragmatic layer to my academic pursuits, affording me a hands-on application of theoretical knowledge.
I wish to acknowledge the foundational role played by my home institution, the American University of Central Asia (AUCA), in fortifying my adaptability and resilience. The skills honed at AUCA served as a guiding compass, navigating me through the complexities of academic and social integration at Caucasus University.
Expressing gratitude, with the sincerity that emanates from the depth of profound experiences, finds its resonance in my acknowledgment of the indispensable support received. This support, I emphasize, was not merely a financial contribution but an investment in my academic success and the nurturing of an environment where I could thrive. The international experiences garnered and the open-mindedness cultivated during this exchange, I believe, serve as the pillars upon which my future academic and professional edifice will stand.
In the denouement, my exchange journey unfolds not just as a chapter in my academic pursuit but as an intricately woven tapestry where each thread, whether educational, cultural, or personal, contributes to the masterpiece of my growth into a globally astute and culturally enriched individual.