Street art and gender equality
May 18, 2023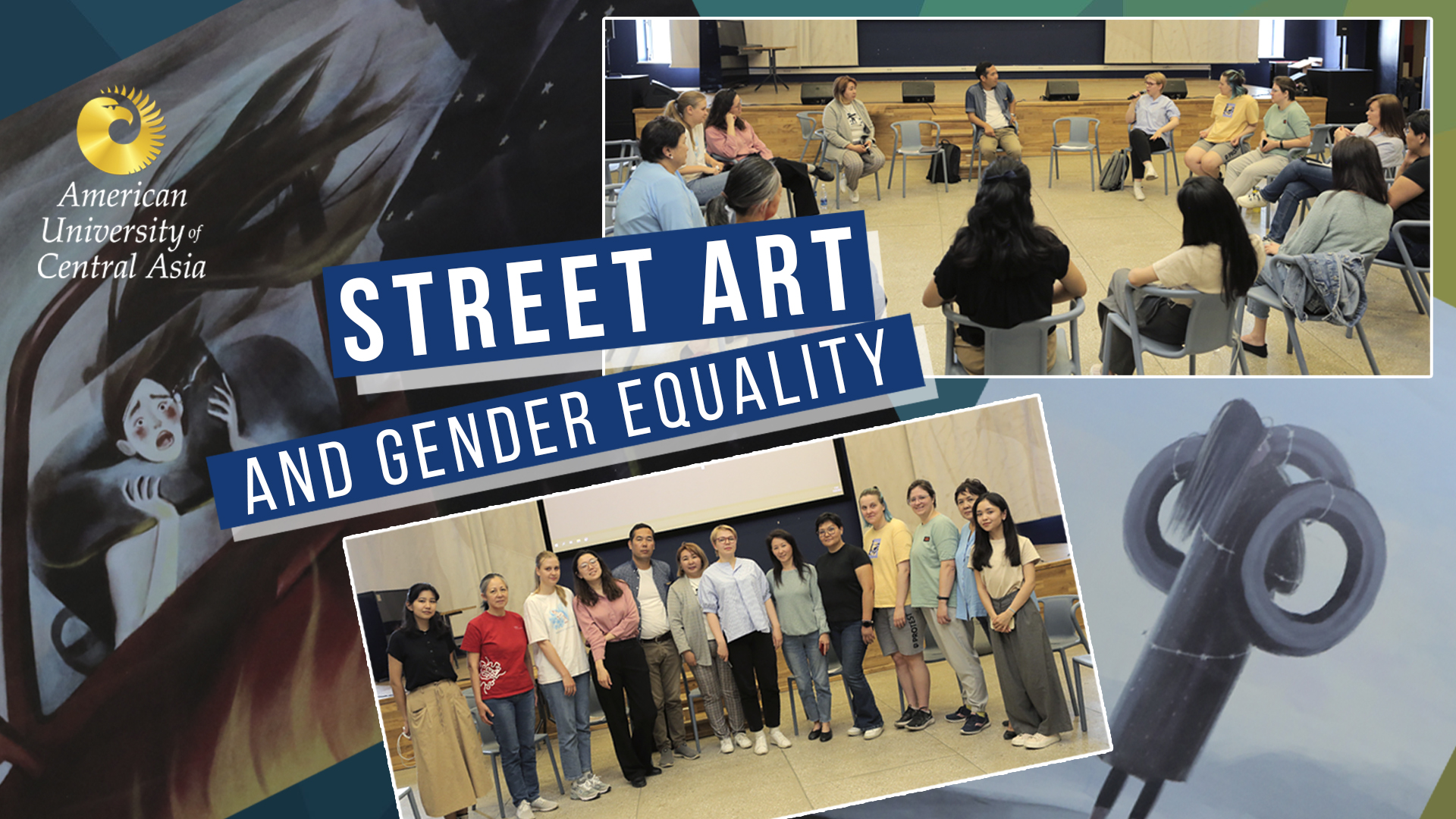 Last week, AUCA hosted a round table and an exhibition on "Public art as a tool for promoting gender equality". It was organized by AUCA faculty members Zharkyn Shadymanova and Ruslan Rakhimov with the support of OSUN and Talloires Network of Engaged Universities.
On the fourth floor of the university, an exhibition of photographs of murals from different cities of Kyrgyzstan dedicated to gender equality unfolded. The works of Kyrgyz artists – Aigerim Sherimbekova, Tatiana Zelenskaya, Ukey Muratalieva, Nurperi Orunbayeva were also presented. Today you can also get acquainted with this exhibition located near CH.
At the beginning of the event, Ruslan Rakhimov said that the idea of holding a round table appeared as a continuation of the research with the same theme, that this event should become a brainstorming possibility on the topic of public art, and its perception by society and personality, the influence of street art on society. Zharkyn Shadymanova shared the preliminary results of the project's research, where she said that the main channels for disseminating works are social networks, and the primary audience is users of social networks. All jobs are somehow a reflection of gender and social problems of society.
During the round table, topics such as state control in the creation of murals, the role of social networks and their use as a tool to attract public attention to gender issues, state censorship and copyright censorship were raised. The authors shared the difficulties they faced when creating street paintings. So Vera Andrianova talked about the complicated bureaucratic procedure for obtaining a permit for the mural. Tatiana Zelenskaya told from her own experience how the space of social networks could be used to promote ideas of gender equality. Nurperi Orunbayeva talked about her works presented at the exhibition and what thoughts and facts served as inspiration for their creation.
Of course, in the two hours that the round table lasted, discussing all the problems, ideas, and circumstances in this topic was impossible. But it is already valuable that today there is an opportunity to discuss this topic, to study it from different points of view.