Solo Show by Vargas-Suarez Universal
January 17, 2023
We kindly invite you to the opening of a solo show of Vargas-Suarez Universal, author of the textile panels for the AUCA Forum, curated by TCMA assistant professor Georgy Mamedov at Gapar Aitiev National Museum of Fine Arts on Friday, Jan. 20 at 16:00.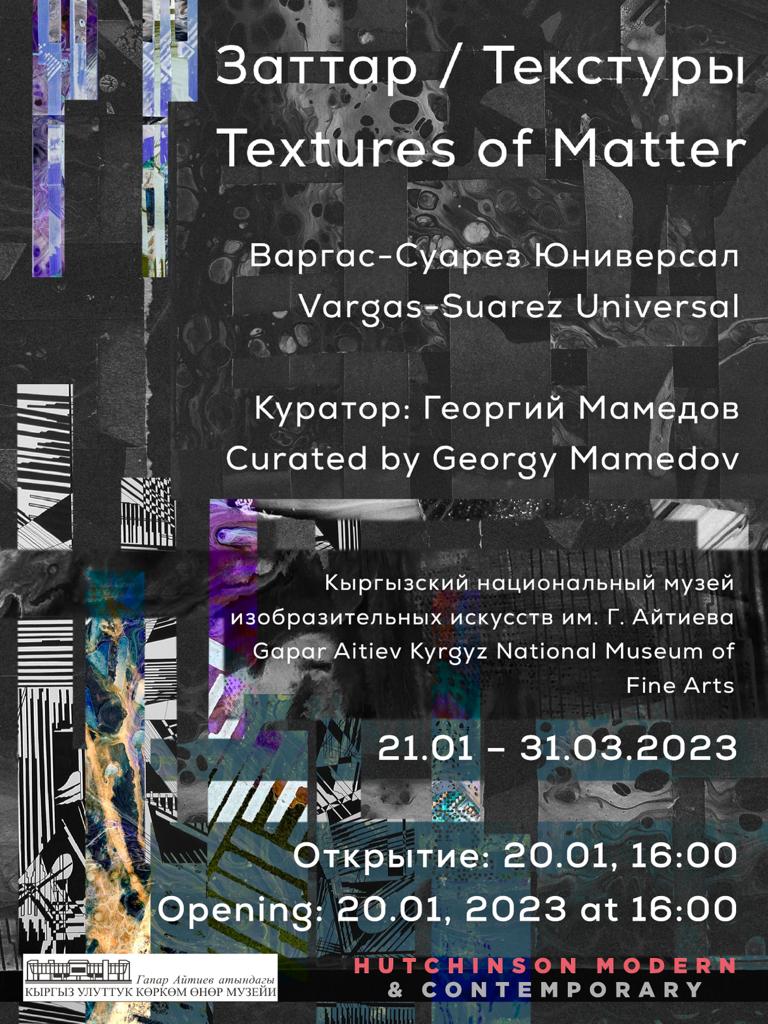 TEXTURES OF MATTER
A solo show by Vargas- Suárez Universal
Curated by Georgy Mamedov
January 21 – March 31, 2023
Opening on January 20 at 16:00
Vargas-Suárez Universal is an internationally recognized American contemporary artist. Born in Mexico City in 1972 and raised in Houston, Texas, he has been living and working between New York City and Bishkek for the last eight years. Textures of Matter is the second show of a two-part survey of the artist in Gapar Aitiev Kyrgyz National Museum of Fine Arts curated by Georgy Mamedov. While Universe as Experience, the premier show of the survey opened in January 2022, solely focused on paintings and drawings, Textures of Matter aims at a comprehensive presentation of the multiplicity of materials, techniques, media, and conceptual approaches that Vargas-Suárez Universal uses in his artistic practice.
During his eight years in Kyrgyzstan, Vargas-Suárez Universal has been actively collaborating with local producers of traditional textile works, mainly felt carpets – Shyrdaks. Textures of Matter, among other works, will present three hand-made pieces in this traditional technique featuring Vargas-Suárez's signature visual pattern – vector (61 Vectors (2021); 45 Vectors (2021); Orbital Vectors (2022)). Another project that engages with the Kyrgyz context and history is a digital projection of the Timeline of Uranium Mining in Kyrgyzstan (2022) – the central piece of Mailuu-Suu City and Kyrgyzstan Uranium Legacy Museum that recently opened in the former uranium mining town of Mailuu-Suu with the support of the OSCE Office in Kyrgyzstan.
An astrophysicist by training, Vargas-Suárez Universal approaches art as a medium of exploration, understanding, but perhaps most importantly, engaging with the complex materiality of the surrounding world. Faithful to the counter-intuitive imperative of the 20th century avant-garde, Vargas-Suárez does not approach art as a reduplication of reality, be it through reflection or representation, but rather as a portal into reality itself. The reality in its most material, textural aspects. Textures of Matter is a site-specific show that interweaves artworks and exhibition space into a colorful multisensory tapestry. Occupying two major halls of the National Museum, Textures of Matter features a diverse selection of artworks that engages a wide variety of media such as textiles, sound, altered and unaltered found objects; and experiments with a digital presentation of artworks initially produced in analogs media as a probe into deeper, infra-aspects of their textures of matter.
Vargas-Suárez Universal has participated in solo and group exhibitions in the United States and across Latin America, Europe, and Central Asia. His work can be found in numerous public and private collections including the Whitney Museum of American Art, the Museum of Modern Art Library, El Museo del Barrio, the Brooklyn Museum, the Queens Museum, the Baltimore Museum of Art, the Mexic-Arte Museum in Austin, TX, Centro Atlántico de Arte Moderno in Las Palmas de Gran Canaria, Spain, Museo de Arte Contemporáneo de Castilla y León in León, Spain. In 2022 Vargas-Suárez was commissioned to produce two public art projects. Horizons Spectrum – a large scale colorful multimedia mural based on the combination of several data visualization elements from the air travel experience and aviation materials, aiming to be a recognizable landmark for passengers, workers and the general public alike - for the new terminal in the Houston International Airport. The second commission is a large-scale mosaic tile mural for the newly built US General Consulate in Guadalajara, Mexico.
The two-part survey of Vargas-Suárez Universal in the Kyrgyz National Museum of Fine Arts (Universe as Experience (2022); Textures of Matter (2023)) is curated by Georgy Mamedov - an independent curator, cultural writer, and assistant professor of film and media arts at the American University of Central Asia (AUCA). Georgy Mamedov has curated shows and presented projects locally and internationally including Central Asian Pavilion in Venice Biennial (2011), Asia-Pacific Triennial in Brisbane, Australia (2015), Bergen Assembly in Norway (2019).
The exhibition production team includes Oksana Kapishnikova (head of the production), Saadat Aitalieva, Aliia Amazbekova (production assistants), Adel Ismailkhanova (visual identity design; production of digital video collage) and Diana Ukhina (video editing and sound design). Equipment and technical support for the exhibition are provided by G-Craft company.
Textures of Matter is supported by a New York City based gallery Hutchinson Modern & Contemporary which specializes in modern and contemporary art of the Americas, with a focus on Latin American, Caribbean, and Latinx art.