Farzana Abdilashimova: "AUCA played a crucial role in shaping me into who I am today"
January 13, 2023
Farzana Abdilashimova graduated from AUCA in 2019 with a degree in Sociology. Upon graduation, she continued her academic journey by pursuing a master's degree at Central European University. Currently, she is holding the position of Project Officer at the Spotlight Initiative program, UN Women. In this interview, Farzana shares her favorite moments at AUCA and what was it like pursuing her career path.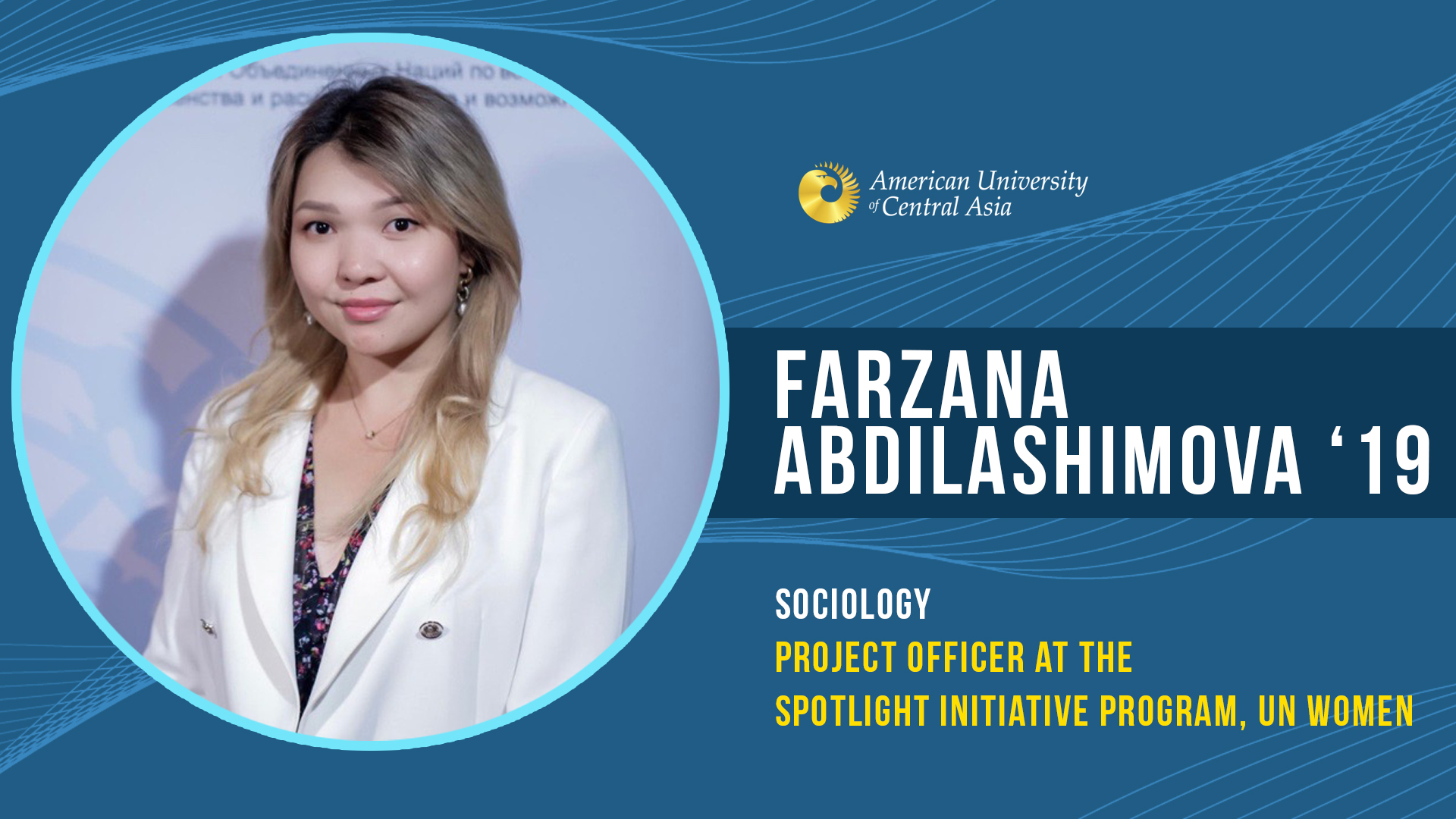 My student years were truly the best time of my life with lots of great opportunities. AUCA gave me not just a foundation for critical thinking, professional growth, and aspirations, but also played a crucial role in shaping me into who I am today. Each year was full of fun and academic achievements. 
During my studies, I met people who became my closest friends and I am extremely excited to have these people in my life up to this moment. This is what I call "friendship for life" – feels great to have your soulmates. I am thankful to my university for this.
Extremely grateful to AUCA for the creation of favorable, or I would even say the best conditions for successful personal growth and lots of extracurricular activities. During my 4 years of studying at AUCA, I was actively involved in the following activities:
Rotaract Charity Club

Mirrors theater during my freshman year

AUCA Book Club 

Career Ambassador and all the activities conducted by Academic Advising Office

Tutoring at the WARC
Once I graduated from AUCA, I continued my studies pursuing an MA degree in Gender Studies at Central European University in Vienna. It was another unforgettable experience, which allowed me not only to gain an invaluable wealth of knowledge but also offered the opportunity to work on research and intern in the research think tanks in the field of gender studies and human rights in Europe.
Currently, I work as a Project Officer at the Spotlight Initiative program, UN Women Kyrgyzstan Country Office. Spotlight Initiative is a multi-year global initiative to eliminate violence against girls and women, implemented by United Nations and European Union in Kyrgyzstan. I provide the analytics of the project and all related activities and coordinate our implementing and responsible partners. Also, I support the effective management of the Spotlight Initiative by contributing to the program design, formulation, implementation, and evaluation. I closely collaborate with the program and operations team, UN Women HQ staff, Government officials, multi and bilateral donors, and civil society ensuring the successful implementation of the Spotlight Initiative program in Kyrgyzstan.
My future goals and aspirations are definitely related to the sphere of women's rights and empowerment. I chose this direction with my heart and following it since graduation (if not earlier). Each and every day I get inspired by my daily work and achievements, by the achievements of my colleagues and our implementing partners – even very small achievements and progress motivate me even more. I believe it is crucial to promote gender equality and advocate for equal rights and opportunities for all, including women and girls, minorities, and all excluded groups. I know that every effort and action taken in this direction makes a difference. If every human being in our country understands the importance of the gender agenda and becomes an ambassador of gender equality and women's empowerment, we will achieve a life free from violence, inequality, and exclusion. I hope that my efforts and the professional trajectory that I am taking now will contribute to the bigger goal of having a safe and equal world for all.
The best advice to the students of AUCA is to always listen to your inner voice and follow your aspirations. Do not get distracted by external factors, if you have your goal – do your best and put your efforts to achieve it. Educate your mind, develop your emotional intelligence, and get engaged in all the activities that might be useful for your future career and growth. Only YOU know what you are capable of. Only YOU know what will bring you joy, growth, development, and satisfaction – you just need to figure that out. Choose your future profession with your heart and think of what will make you happy at the end of the day.