AUCA's Masters of Arts in Teaching received "Best Programme" Award
July 13, 2022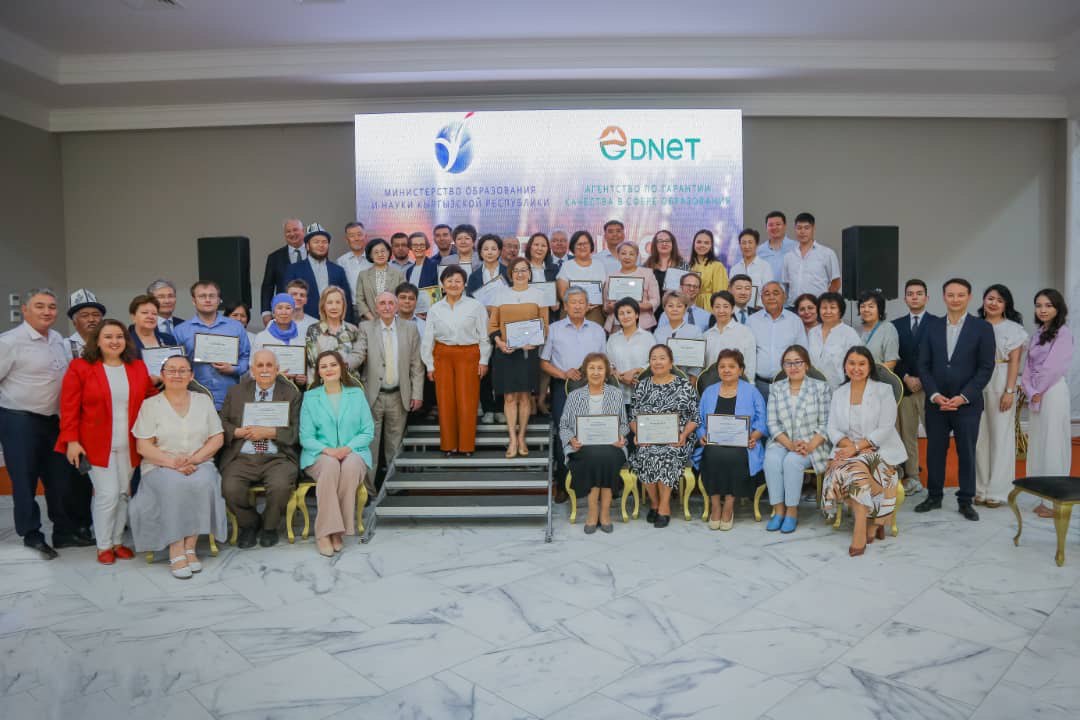 On June 16, 2022, the MAT (Masters of Arts in Teaching) of the American University of Central Asia was awarded by "Best Programme" Award by the Ministry of Education and Science of the Kyrgyz Republic and The Agency for Quality Assurance in the Field of Education "EDNET".
Vice President for Academic Affairs of AUCA Nurgul Ukueva participated in the event and received the award from the Ombudsperson of the Kyrgyz Republic Atyr Abdrakhmatova. As Nurgul Ukueva mentions, it is an immense pleasure that the Institute of Education is the award winner. This is because education plays one of the most critical roles in society. So, teachers who learn up-to-date methodologies today are more likely to transfer the knowledge more effectively.

Among eleven nominations, Best Programme award is one of the most valuable and holds a constant status. Among the nominees were INAI.KG, AUCA, IUCA.
This nomination is awarded to educational programs that have shown the best result in achieving quality education at all stages of accreditation. Once teachers, staff and management of the program show leadership qualities and motivation for excellence and fully meet all the criteria of the Agency, they receive full accreditation for five years.
"It is a great honor to receive such a certificate from prestigious agencies as the Ministry of Education and EDNET. One of the most interesting things about our program is that it is strongly based on practice and mentoring. We have developed our own technology-enhanced mentoring model, which is now being piloted and incubated within schools of Kyrgyzstan," says Tamo Chattopadhay, Director of the Institute of Education (IOE).
The program's uniqueness is in the fact that it allows teachers from all the regions of Kyrgyzstan to receive high-quality postgraduate education at the international level. This is the first and only MA program in Kyrgyzstan that enables the graduate to receive American and Kyrgyz diplomas at once. In addition, MAT program offers scholarships for those who strive to bring positive changes to the community. The American Embassy of Kyrgyzstan supports the program.
"Most of our students are teachers that want to achieve the next level; they want to know the recent advances in the field and enter the global dialogue. They are passionate about contributing to their schools and communities. It is a big inspiration for me to teach them," comments Elizabeth Davis Alibaeva, Assistant Professor of the MAT Program and Assistant Director of the Institute of Education.