Registration to the AUCA Law Debate Competition is due to April 23
April 15, 2022
Would you like to study in one of the most prestigious law programs of Central Asia? Then sign up to participate in the AUCA Law Debate Competition!
The competition aims to provide high school students across Central Asia with an opportunity to come forward and experience the art of debating on legal issues. This will allow high school students to showcase their skills and GET SCHOLARSHIPS to study in one of the leading law programs in Central Asia.The format of the competition will be fully online and will be conducted via the Zoom platform.The competition will be held in the English language.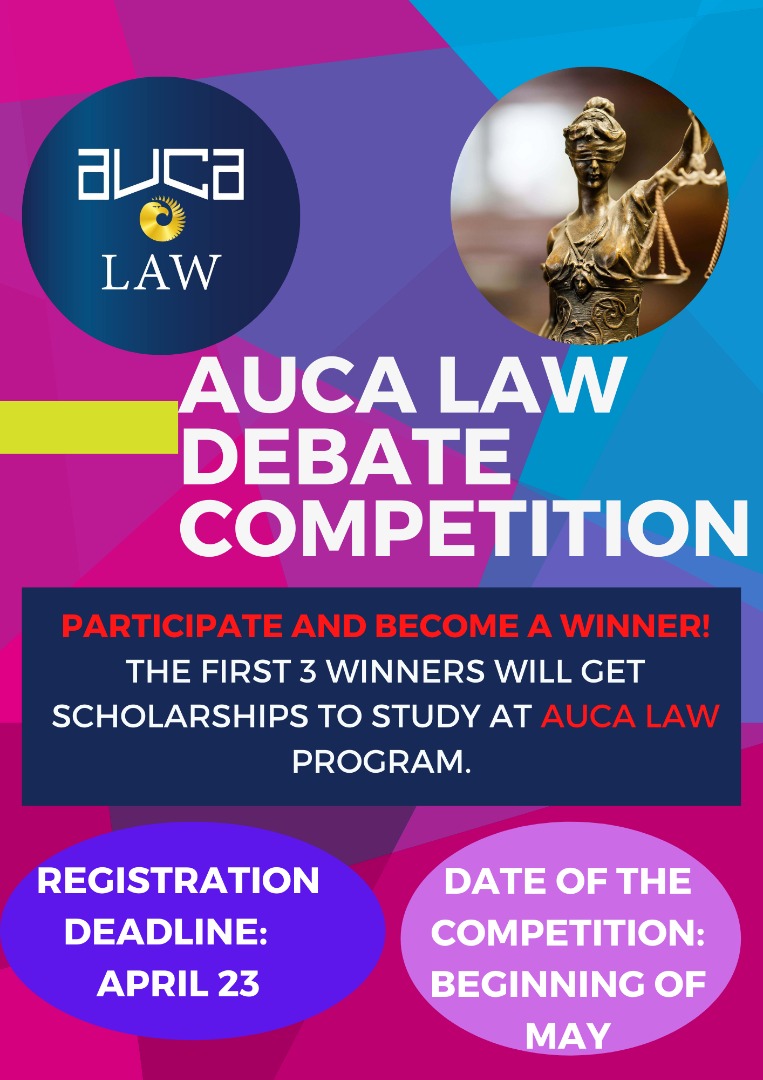 WHO CAN PARTICIPATE
The competition is open to all HIGH SCHOOL STUDENTS (11th grade) across Central Asia.
WHAT IS THE PRIZE
The first three winners will get scholarships to study at AUCA Law Program. Certificates of participation will be given to all participants.

HOW CAN YOU REGISTER
To participate please register via the Google form: https://forms.gle/GjE1cPRkHmCEFdjJA 

WHAT ARE THE KEY DATES
1. The last date for registration – April 23, 2022
2. The Competition date – Beginning of May

HOW CAN YOU CONTACT AUCA LAW PROGRAM FOR MORE INFORMATION?
E-MAIL: law@auca.kg
WEBSITE: law.auca.kg
INSTAGRAM: auca_law
FACEBOOK: AUCA LAW
WHATSAPP: +996990988890
CELL PHONE: +996990988890