Green AUCA: COMPETITION among departments/offices for the title of "The greenest department"
March 16, 2022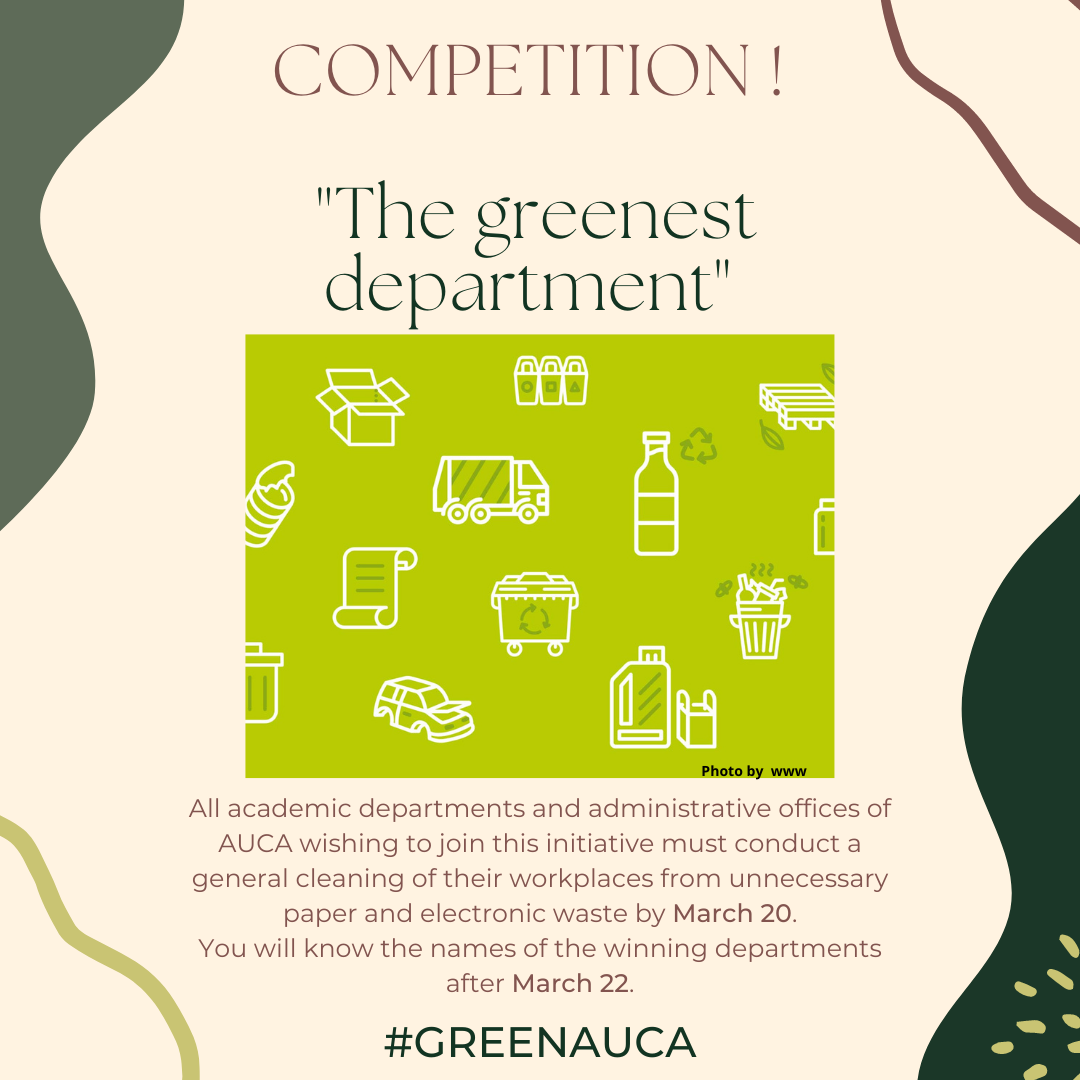 The Center for the Environment and Development (CED) and the Center for Civic Engagement (CCE) within the framework of the "Green AUCA" project announced a competition among the departments/offices of the university "The greenest Department".
The task is to start collecting paper, plastic and waste from computer/office equipment separately. All academic departments and administrative offices of AUCA wishing to join this initiative must conduct a general cleaning of their workplaces from unnecessary paper and electronic waste by March 20.
Each department/office participating in the initiative has a student volunteer assigned to assist you with sorting.
 We ask you to collect electronic waste and office paper in one place in your office and keep it until March 22.
 What CAN be recycled: 
office paper, newspapers, books, magazines, flyers, posters, brochures, business cards, paper boxes for stationery and medicines; 
non-working flash drives, CDs, headphones, old cell phones, cables, keyboards, computer mice. 
Paper and electronic waste must be clean and dry. Dirty, grease stained, laminated paper, used paper napkins are NOT accepted by recyclers and are NOT recycled!
 On March 22, employees of the CED, the PPD and volunteers of the Green AUCA project will go through all offices /departments, weigh the collected office paper to evaluate your efforts, and take it from the offices. On the same day we will hand over the office paper for recycling.
The THREE departments/offices that showed the greatest enthusiasm and willingness to collect their waste separately will receive the title of "The Greenest Department" (1st, 2nd and 3rd places) and PRIZES!
You will know the names of the winning departments after March 22. The award ceremony will take place on March 28. Please follow the email newsletter marked "Green AUCA digest" and the project news on the AUCA website!
If your office needs an ecobox for collecting office paper, please write an application BEFORE March 20 to Margarita Lazutkina's email: lazutkina_m@auca.kg. We will collect all applications and order eco-boxes for offices.
If there are documents containing confidential information in your office, then we ask you to collect the documents you no longer need in a separate stack. In your presence, we will pass these papers through a shredder and then also hand them over for recycling.
WE also REMIND YOU that:
plastic you can throw into one of the boxes designed for this, which are located in the corridor on each floor (with the inscription "ONLY plastic bottles").
you can also bring used batteries from home and take them to the PPD office (room T14).
Join this initiative and help us to confirm and strengthen the status of AUCA as a "green university" and the leader of the educational sphere of Kyrgyzstan!
This project is being implemented as part of the Pilot program "Improving the efficiency of the waste collection and processing system in the Kyrgyz Republic - WasteNet.Kg implemented by the Agency "CSR Central Asia" with the support of the International Fund "The Coca-Cola Foundation" This publication does not necessarily reflect the opinion of the pilot project WasteNet.Kg