Growth and Development: Starting Point – Children?
March 15, 2017
American University of Central Asia, Division of Social Sciences
Bergische Universität Wuppertal, Department of Sociology
Growth and Development: Starting Point – Children? Conference
Date: March 23rd 2017
Venue: AUCA, room 220
Time: 9.30 - 17.00
The event will allow the participants to discuss the latest tendencies and subjects of interest in the studies related to children's lives and their development in Kyrgyzstan. One of the expected outcomes of this conference is the establishment of a specific network, which will unite experts from different fields and let them share their knowledge, ideas and perspectives with others who are interested in the topic of childhood in Kyrgyzstan.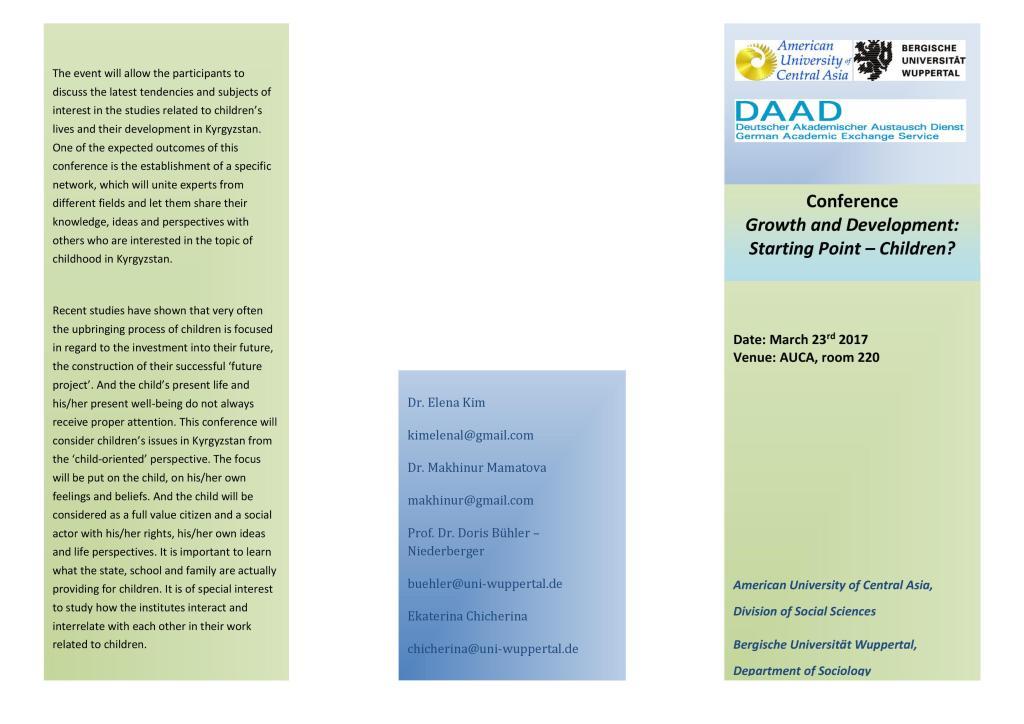 Recent studies have shown that very often the upbringing process of children is focused in regard to the investment into their future, the construction of their successful 'future project'. And the child's present life and his/her present well-being do not always receive proper attention. This conference will consider children's issues in Kyrgyzstan from the 'child-oriented' perspective. The focus will be put on the child, on his/her own feelings and beliefs. And the child will be considered as a full value citizen and a social actor with his/her rights, his/her own ideas and life perspectives. It is important to learn what the state, school and family are actually providing for children. It is of special interest to study how the institutes interact and interrelate with each other in their work related to children.