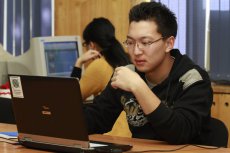 PROGRAM CHAIR

MELIS OSMONOV

OFFICE MANAGER

ALEKSANDRA BASHKIROVA

SECOND BUILDING ROOM 201
TEL: +996 312 663 106
EXT. 205
EMAIL: sfw@mail.auca.kg
SOFTWARE ENGINEERING
WHAT IS SFW?
"The software is where the magic is. If you're going to have all this power be simple enough, appealing enough and cool enough, it's going to be because the software is right."
- Bill Gates
(
co-founder of sfw
giant Microsoft™ Corp.)
Software Engineering is a field of science and technology that uses the whole set of systematic, disciplined, quantifiable approaches for software development. It applies principles and practices of both computer science and engineering for the creation, operation, and maintenance of software systems.
ABOUT US
Do you enjoy solving logic problems and mathematical equations?
Do you like taking things apart and figuring out how they work?
Do you like managing projects from the initial idea to the finished product?
Are you visually creative and enjoy presenting information in striking new ways?
Do you enjoy the feeling of building something that millions of people can use?
Then you can channel your talents and aptitudes into the field of software engineering and find yourself on the path to a rewarding career in programming, web design, systems and database administration, or network and information security. The software engineering program at AUCA produces not only technology specialists but also intelligent problem solvers with a well-rounded education who can add valuable insight to all aspects of project management.
OUR FACULTY
The main aim of the SFW Faculty members is to give to students the necessary basic knowledge of software engineering expected nowadays. The department would also like graduate students to acquire the ability to work independently and increase their knowledge.
YOUR POSSIBILITIES
The Curriculum, based on the Association for Computing Machinery (ACM) curriculum for a bachelor's degree in Computer Science, has been adapted to the standards set by the Ministry of Education of the Kyrgyz Republic. Upon completion of the degree, you will be prepared to work in both the research and commercial fields. You will also gain practical experience through a mandatory internship and the completion of a senior programming project.

As a graduate from the program you will be in high demand both here in Kyrgyzstan and abroad. Graduates work at a diverse array of companies such as BiTel, Google, USAID, and Kumtor Gold Company, and in countries as far away as Ireland, Russia, Singapore, and the United States.
AUCA and Google are very similar. Both organizations strictly conform to their unique values, which ensures their leadership positions. My company employs graduates of many universities and I see that AUCA and its software engineering program in particular are highly competitive in Central Asia and beyond.

Tilek Mamutov '05, Software Engineering. Currently a search quality coordinator at Google Ireland, Ltd.