WARC NEWS
Aiym Aidaralieva Becomes WARC's First Kyrgyz Language Tutor
September 20, 2019
For the first time, AUCA's Writing and Academic Resource Center will offer free, one-on-one peer tutoring in the Kyrgyz language. Students who are interested in lessons can book a tutoring session by going to the WARC's website and signing in using their AUCA account details.
​Aiym Aidaralieva, a senior in Social Entrepreneurship at AUCA, officially joined the WARC team this September. Originally from Osh, Aiym grew up speaking only Kyrgyz at home and remembers watching films based on Chingiz Aitmatov's novel's on TV as a young girl. When she got older, she began participating in Kyrgyz-language essay competitions and remained passionate about Kyrgyz history and culture.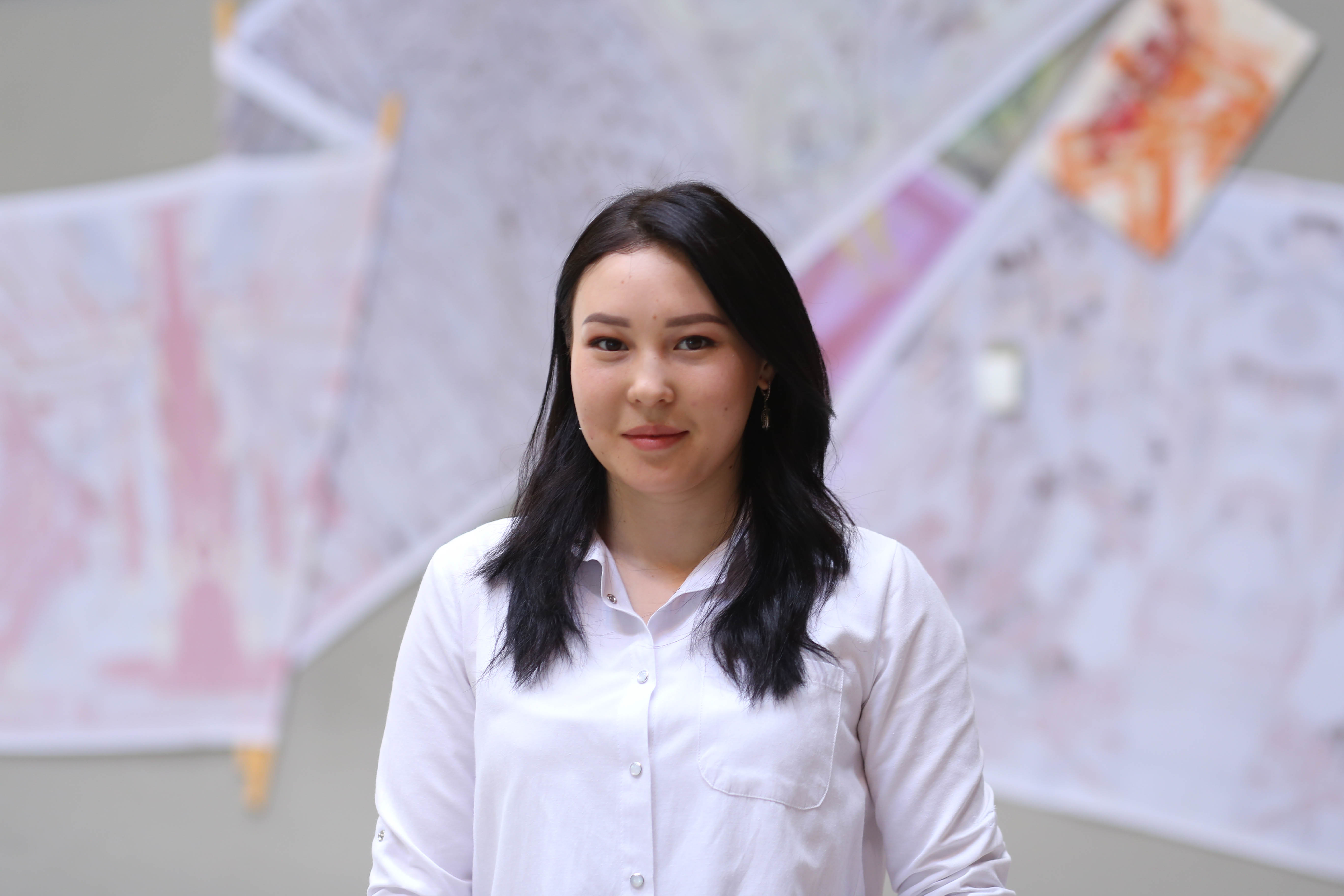 Aiym's help is particularly valuable given that AUCA students starting with the Class of 2023 will be required to pass a state-wide Kyrgyz language exam in their second year in accordance with government policy.
Aiym is not just a native Kyrgyz speaker--she has also contributed to the development of a new Kyrgyz language textbook for university students. Working closely with Prof. Daniyar Karabaev, Aiym compiled a dictionary, created exercises, and wrote dialogues. She feels a number of features set this textbook apart from other Kyrgyz-language primers that already exist: "When you read this book, it's not about heavy grammar, it's not about very hard words." Instead, she says, the textbook is designed for "survival," with lessons organized around real-life encounters like ordering at a cafe or consulting with a librarian. Working with students at the WARC, Aiym will be able to bring to bear the expertise and pedagogical insights she gleaned from her work with this project.
Another part of her work that is important to Aiym is linguistic accessibility: preparing for her first WARC lesson, she says she was struck by how few Kyrgyz-learning resources were available to non-Russian speakers. Both in her work on the new textbook (which includes English translations) and in her work at the WARC, Aiym hopes to make the Kyrgyz language available and engaging for the full range of AUCA's diverse student body.
For her WARC motto, Aiym selected a Kyrgyz proverb: "Learn a new language and get a new soul." "Learning a language means not only just the words, the dictionary, writing, and grammar, but also it means that you are learning a new culture," she explains. When I ask her where she's from--a straightforward enough question in English--she begins telling me about the importance of genealogy in Kyrgyz culture, saying that in Kyrgyz questions about someone's origins would traditionally be related to their father's birthplace, their tribal affiliation, or their "seven fathers."
As a former WARC tutee herself, Aiym understands first-hand the positive impact that peer tutoring can have. "You can't always ask a teacher, or sometimes you hesitate to ask and something is left unclear, and I feel like WARC is the place where you can come, you can ask, you can get suggestions, and you can understand everything. That's why WARC for me is a place where I feel wonderful," shey says. "As I got help from the WARC, I want to provide this kind of help for students as well."
Asked what advice she has for students who are worried about the state Kyrgyz exam, she replies without hesitation: "First of all, please come as early as possible to WARC!" Mastering Kyrgyz, says Aiym, is not something that students can just do the week before the test--but it is something that she's happy to help with over weeks and months of steady practice. "So if you want to learn, if you want to get a new soul, come to WARC!"
This article was originally published on the AUCA homepage. The original article can be found here.