With love for children and mathematics
May 22, 2023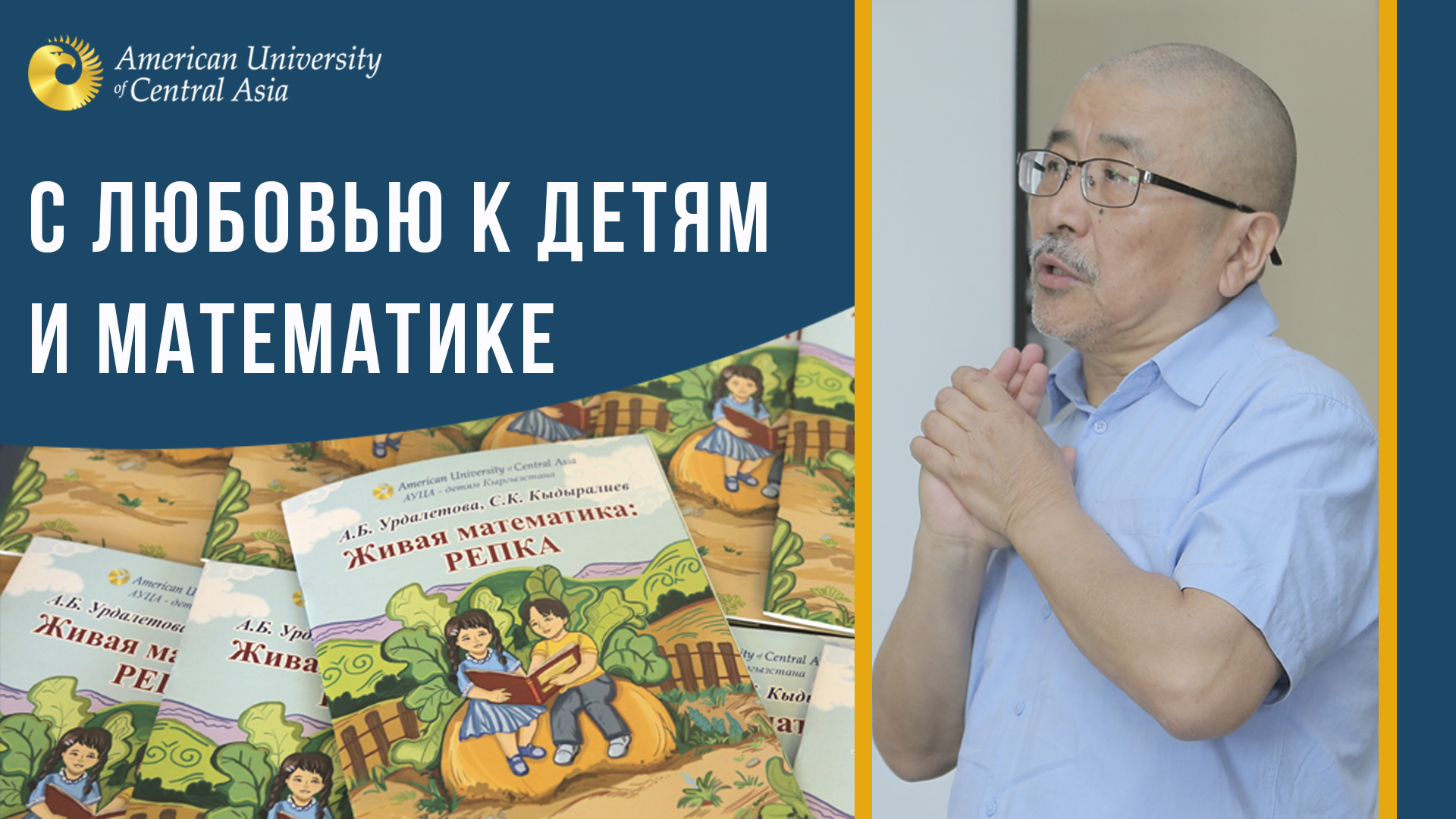 AUCA hosted a presentation of the book by Professor of Applied Mathematics and Informatics Department Syrgak Kaparovich Kydyraliv and Professor of the Kyrgyz-Turkish University "Manas" Anarkul Burganakovna Urdaletova: "Live Mathematics: Turnip." («Живая математика: Репка»). The library and the AUCA Center for Civic Engagement supported the presentation. In addition, primary school teachers from the Chui region were invited to the exhibition.
In the first part of the presentation, Syrgak Kaparovich spoke about mathematicians, physicists, and astronomers who lived in Central Asia in the Middle Ages, anticipating the discoveries of European scientists for centuries. Some of their works are relevant to this day. In particular, it was told about Abu Ali ibn Sina (980 - 1037), Omar Khayyam (1048 - 1331), Ulugbek, the grandson of Tamerlane (1409 - 1449), Giyas-ad-din Jamshid ibn Masud al-Kashi (1380 - June 22, 1429). More details were told about the Central Asian scholar of the 9th century Abu Abdullah (or Abu Jafar) Muhammad ibn Musa al-Khwarizmi (c. 783 - c. 850). Thanks to him, the terms "algorithm" and "algebra" appeared in mathematics. Until the 16th century, translations of his books on arithmetic were used in European universities as the leading textbooks on mathematics. The outstanding scientists of the Renaissance, G. Cardano (1501 - 1576), and N. Tartaglia (1500 - 1557), whose works began European algebra, called al-Khwarizmi the creator of this mathematical discipline. This is only a tiny part of the scientists of the Muslim world who have made an enormous contribution to the development of mathematics and astronomy.
The next part of the presentation was devoted to the recently published book "Live Mathematics: Turnip." («Живая математика: Репка»). As stated in the abstract, "The book, in a lively, entertaining way, introduces the basics of mathematical knowledge."
As Syrgak Kaparovich noted, the plot of this fairy tale has been familiar to each of us since childhood, and it is the best suited for learning. Using simple examples, it was shown how to teach children to count, add and subtract and derive logical sequences, ask questions, develop their creativity, and even explain family values to them. The book also shows how the enumeration method is used to solve problems in middle school using a system of equations. With the help of the enumeration method, even a first-grader will be able to solve these problems. The book contains examples of tasks, answers, and guidelines.
At the end of the meeting, the teachers received the book "Live Mathematics: Turnip" as a gift.