"Literature in the Age of Artificial Intelligence" talk by Dr. Dennis Yi Tenenan
March 15, 2023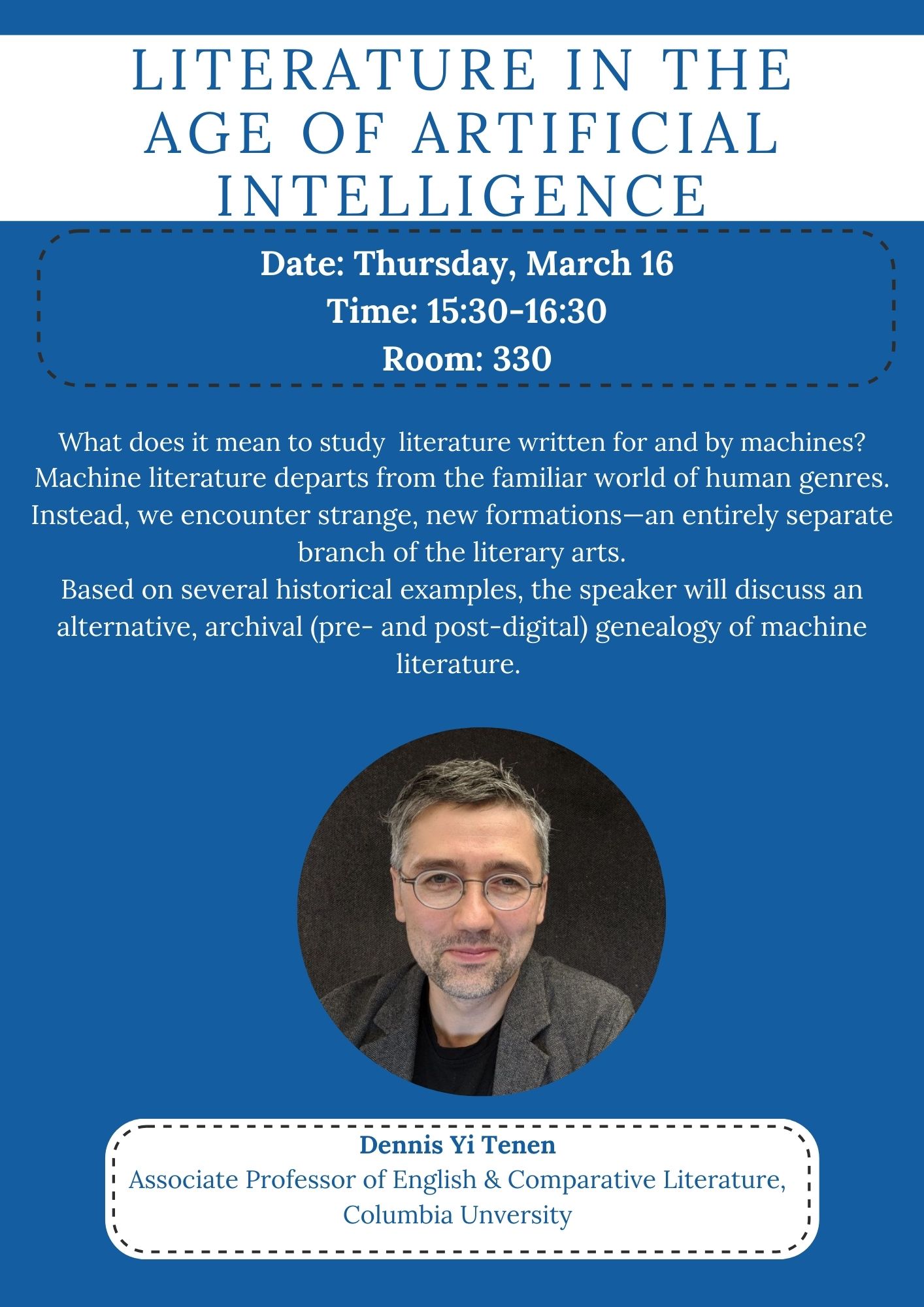 "Literature in the Age of Artificial Intelligence" talk by
 Dr. 
Dennis Yi Tenen
an, 
Columbia University 
Computers love to read. And it's not just fiction before going to bed. They read voraciously, all literature, all the time, in every sense of the word—novels, encyclopedias, academic articles, private messages, advertisements, love letters, news stories, hate speech, and crime reports—everything is written, no matter how insignificant.
What does it mean to study literature written for and by machines? Initially, we imagine the answer to lie in something that reads like computer-generated fiction or poetry. In this talk, I would like to suggest another answer: Machine literature departs from the familiar world of human genres. Instead, we encounter strange, new formations—an entirely separate branch of the literary arts. Based on several historical examples, I will suggest an alternative, archival (pre- and post-digital) genealogy of machine literature. In conclusion, we will discuss the methodological challenges inherent in the study of this archive.
Speaker's bio:
Dennis Yi Tenen is an associate professor of English and Comparative Literature at Columbia University. His teaching and research happen at the intersection of people, texts, and technologies. A long-time affiliate of Columbia's Data Science Institute and formerly a Microsoft engineer and a Berkman Center for Internet and Society Fellow, his code runs on millions of personal computers worldwide. Tenen received his doctorate in Comparative Literature at Harvard University under the advisement of Professors Elaine Scarry and William Todd. A co-founder of Columbia's Group for Experimental Methods in Humanistic Research and the editor of the On Method book series at Columbia University Press, he is the author of Plain Text: The Poetics of Computation (Stanford University Press, 2017). His recent work appears on the pages of Modern Philology, New Literary History, Amodern, boundary2, Computational Culture, and Modernism/modernity on topics that include literary theory, the sociology of literature, media history, and computational narratology. His next book concerns the creative limits of artificial intelligence.