Aziza Kanimetova: "AUCA taught me how to think outside of the box"
January 18, 2023
Aziza Kanimetova graduated AUCA from the Journalism and Mass Communications department in 2020. After graduation, Aziza started an internship as a communication specialist at UNICEF. Upon successful internship completion, Aziza was offered to work at UNICEF as a Design and Social Media Consultant. Further, Aziza was offered an internship at the Organization for Security and Co-operation in Europe at the Communication Department in Vienna and accepted it. Since Aziza won a MEXT scholarship from the Japanese government, she is currently working on research at the top private university Waseda in Tokyo. In this interview, Aziza shares her experience and career path.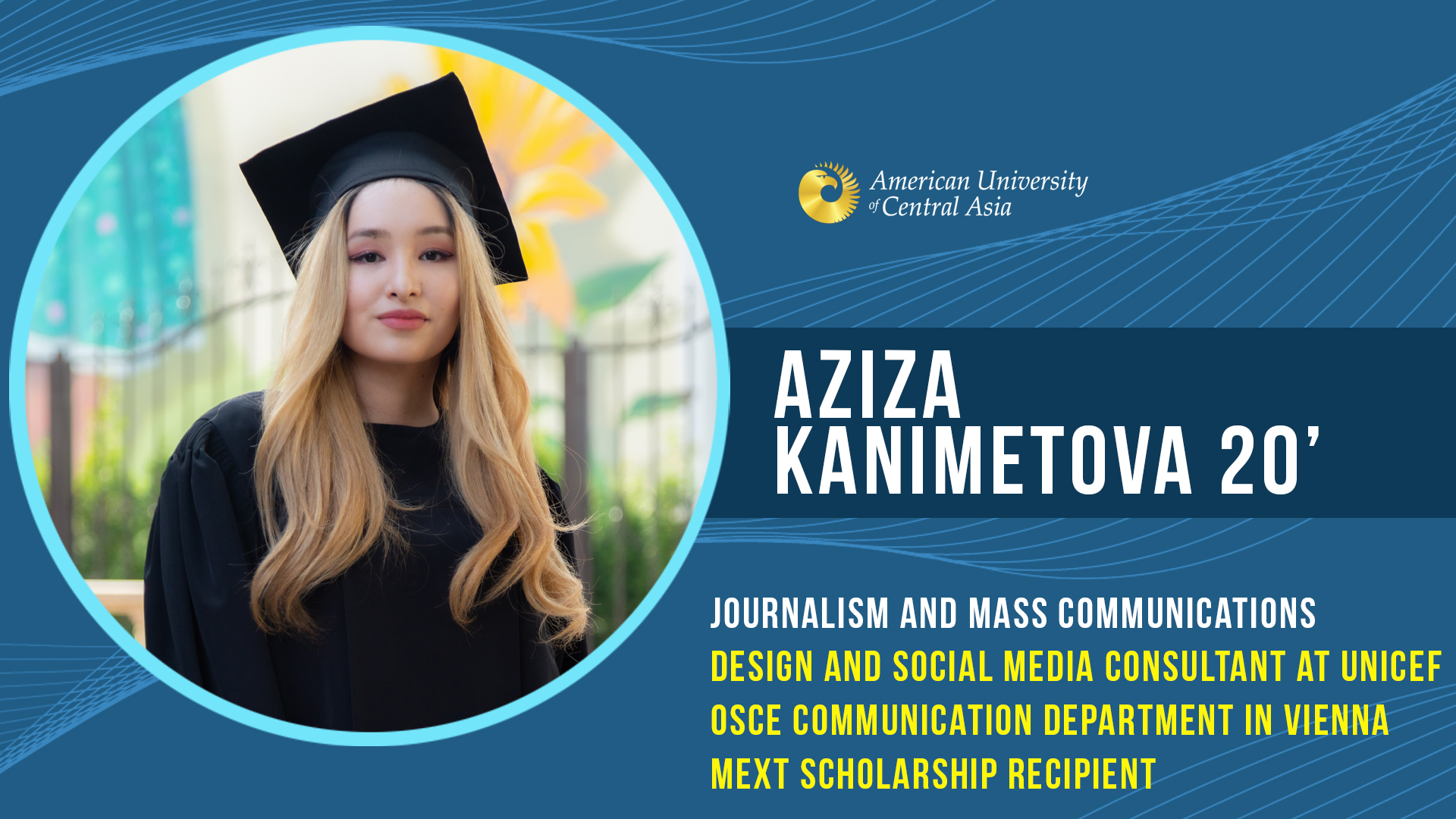 My student life was abundant and full of opportunities. AUCA taught me how to think outside of the box. I obtained useful skills from my courses at AUCA, including essay writing, data journalism analysis, scriptwriting, and professional research techniques. The American educational system used by AUCA gives students the chance to enroll in classes from any faculty they are interested in. For example, I was able to take graphic design and 3D classes combined with lessons from psychology or anthropology departments. This experience helped me to test my skills in different areas, which further impacted my professional experience of working on the international level. In addition, AUCA provides a variety of club activities. In my case, I drew comics about student life for the student newspaper and later became the senior designer. What I like most about my alma mater is the people. AUCA community is a place with passion and motivated students from different areas of study. My experience after graduation has brought together the inspirations, and motivations of everyone I have ever known during my student life at AUCA.

The most memorable experience for me was an exchange semester in Japan. AUCA offers semester- or year-long exchange programs at many colleges across the globe. I was lucky enough to be a JASSO Scholar and spent my junior year in Japan in Beppu - the city of hot springs. I studied at Asia Pacific University in the faculty of Media, Culture, and Society. I attended design and digital media classes while I was studying abroad in Japan. In these courses, we filmed our TV series, edited videos, and created posters. I also deeply studied Japanese culture and the phenomenon of anime popularity. Through the exchange program, I was able to widen my worldview, meet inspiring people from all around the world, and develop my skills. Studying in Japan was my first independent trip and experience of living abroad. This opportunity was a first step toward my future goal and aspirations. I am very grateful to AUCA for this opportunity.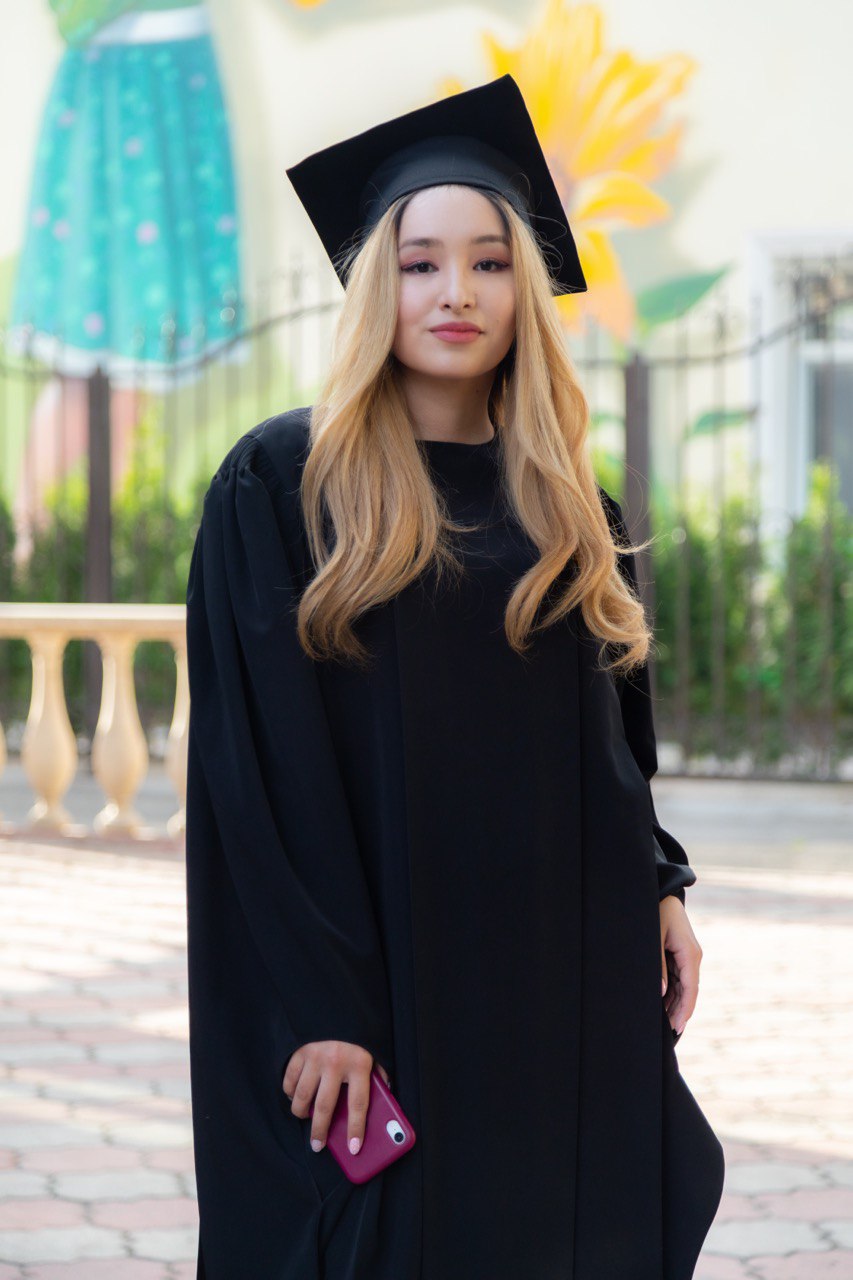 After graduation, I did an internship at the Communications Department of UNICEF Kyrgyzstan. For 6 months I helped create content for UNICEF's social media. After completing my internship program, I was promoted to design and social media consultant. I worked on different digital projects and campaigns for children and youth. For example, I worked on a mental health campaign and illustrated comics with the character "U" - a mental health mascot. I also worked on the "U-Report Kyrgyzstan" platform's brand identity, which was introduced for the first time in Kyrgyzstan. U-Report is a social project for young people in 93 countries around the globe. The platform allows youth to express their opinions on topics that concern them. You can become a U-Reporter and learn about the platform on the U-Report Kyrgyzstan website. During my career, UNICEF and my coworkers helped me to broaden my skills and taught me a lot. I could not be more grateful for such an amazing experience.
In the summer of 2021, I did not think I would receive an offer to work with UNICEF after the internship, so I simultaneously applied for an internship at the Organization for Security and Co-operation in Europe at the Communication Department in Vienna.
In the autumn I received an invitation for an interview. To be honest, I thought I would have to decline it because I chose to work at the UN. However, my supervisor encouraged me not to lose this opportunity and suggested that I give it a shot. Hence, I passed the interview and in December 2021 I flew to work in Vienna. It was my first experience working abroad in an international organization. For me, it was a new level of work among ministers and ambassadors from different countries.
At the OSCE, I also worked as a designer. I assisted in the coverage of Central Asian regions, updated the OSCE's brand icons, produced and edited videos, and created banners with postcards for the Secretary-General and my colleagues from the 57 participating states. It was a fulfilling period of my life - I learned a lot, met amazing people, and traveled a lot!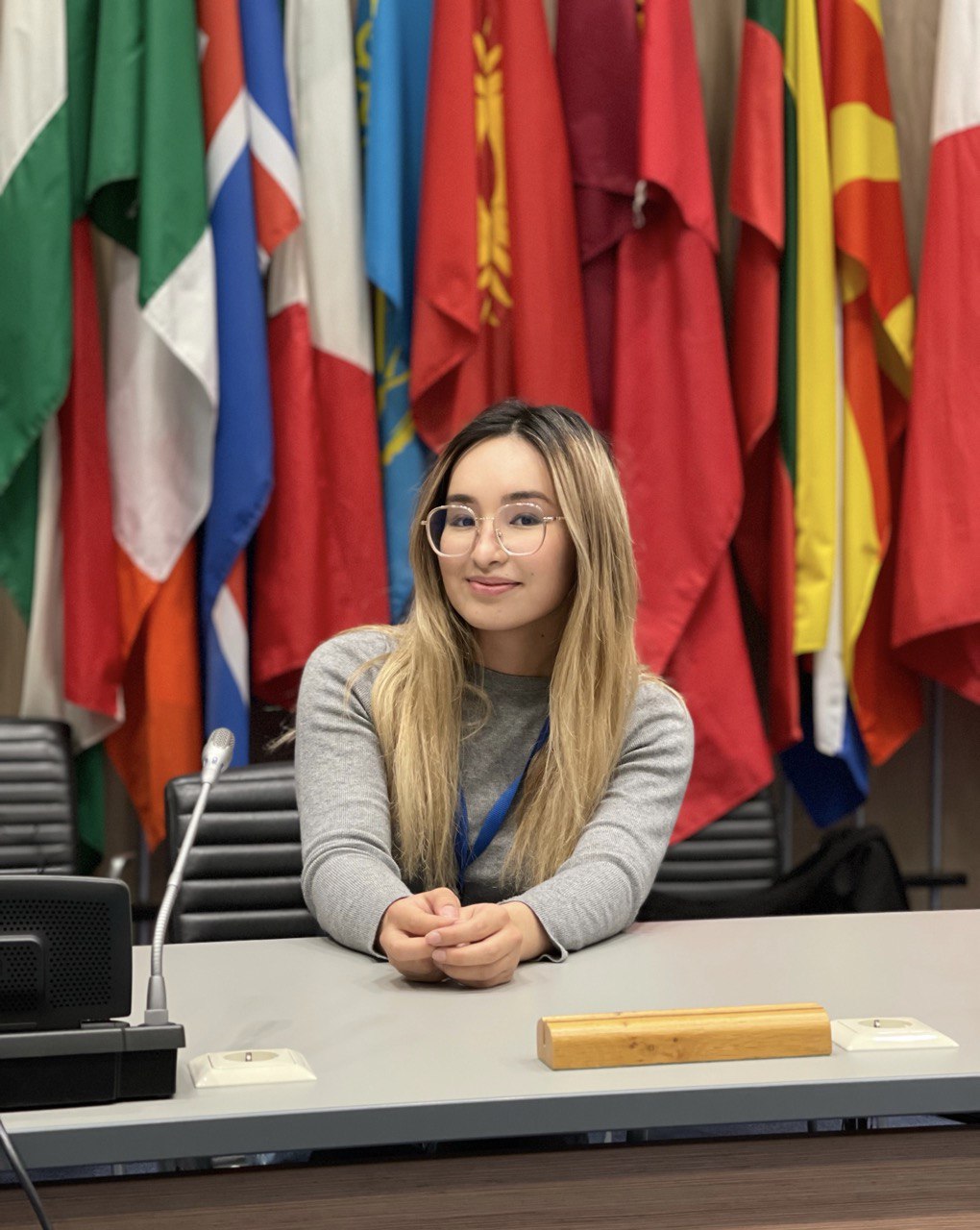 Toward the end of my internship, I received an offer to work with the OSCE and stay in Vienna. However, I won a MEXT scholarship from the Japanese government, which I applied for at the beginning of 2021. Therefore, I finished my internship at the OSCE earlier and flew to study in Tokyo. MEXT scholarship covers all expenses and offers a degree in a Japanese university. However, the scholarship policy requires you to start as a non-degree researcher before you can extend the scholarship and apply to a MA or Ph.D. program. I study as a non-degree student at Waseda University — a top private university in Tokyo. I focus on studying digital media, communication, and design. My future research will benefit Kyrgyzstan through the prism of Japanese digital media and innovations. I will extend my scholarship later according to the program schedule and receive a master's degree.
After moving to Tokyo, I proceeded to work with UNICEF. However, it was hard to maintain a full-time job and studies, therefore, I finished my contract and resigned from my position.
I am currently collaborating with a design society in Tokyo that was specifically set up to promote design and innovation in Japan. Since I currently have a student visa, I cannot work full-time. Sometimes I take work as a freelance illustrator and graphic designer. Right now, I mostly focus on my studies and practicing 3D and Game design.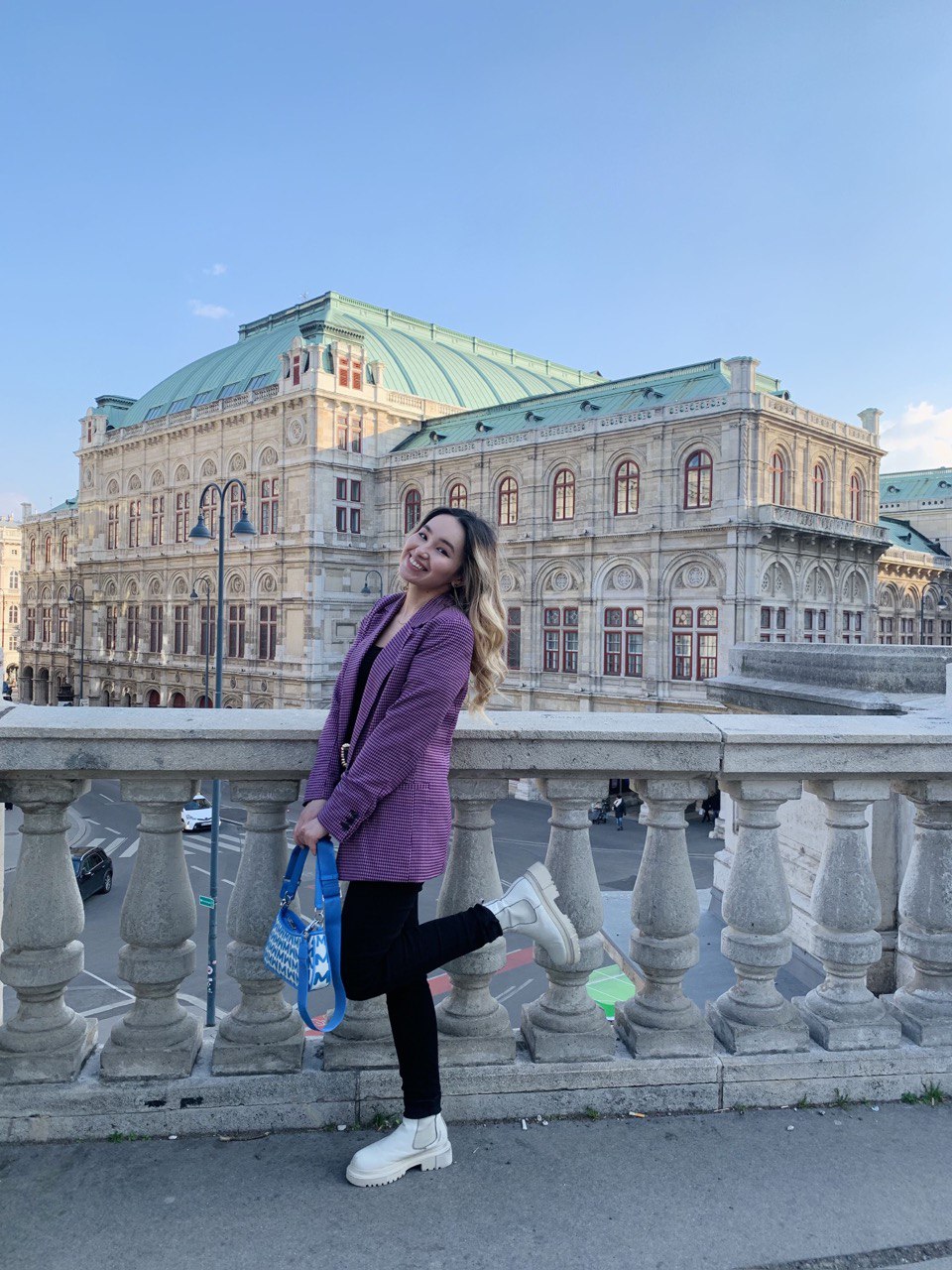 Waseda University, as well as the MEXT scholarship, provides vast opportunities. Waseda University has internship contacts with giant media companies like Washington Post and New York Times. My university also has exchange programs at top world universities like Yale, Harvard, and Stanford. Hence, I want to focus on my studies in the near future and keep a good GPA for my scholarship policy to obtain all the possibilities Japan offers. Essentially, I have a lot of plans for my future career and dreams I want to achieve. However, some of my preferences might change during my life in Japan. My future path will become more transparent after I graduate. I want to impact our world and help to integrate steps toward creating an innovative future for society. As for now, I want to keep my plans a secret.
My advice for youngsters is to learn English and other languages to open astonishing opportunities for your future! The world is so big and unpredictable, it has dozens of places and chances to share with you. Don't be afraid to shape your world! Never give up! Yes, it's going to be hard, but you will be grateful to yourself later. Believe in yourself, you can achieve everything!