Ecotour No. 1 as part of the Green October in AUCA
October 12, 2022

On October 15, as part of the Green October, AUCA will host Ecotour No. 1. This is an educational tour for students of AUCA and other universities of the Kyrgyz Republic to locations near Bishkek with environmental problems with air, water, soil, flora, and fauna.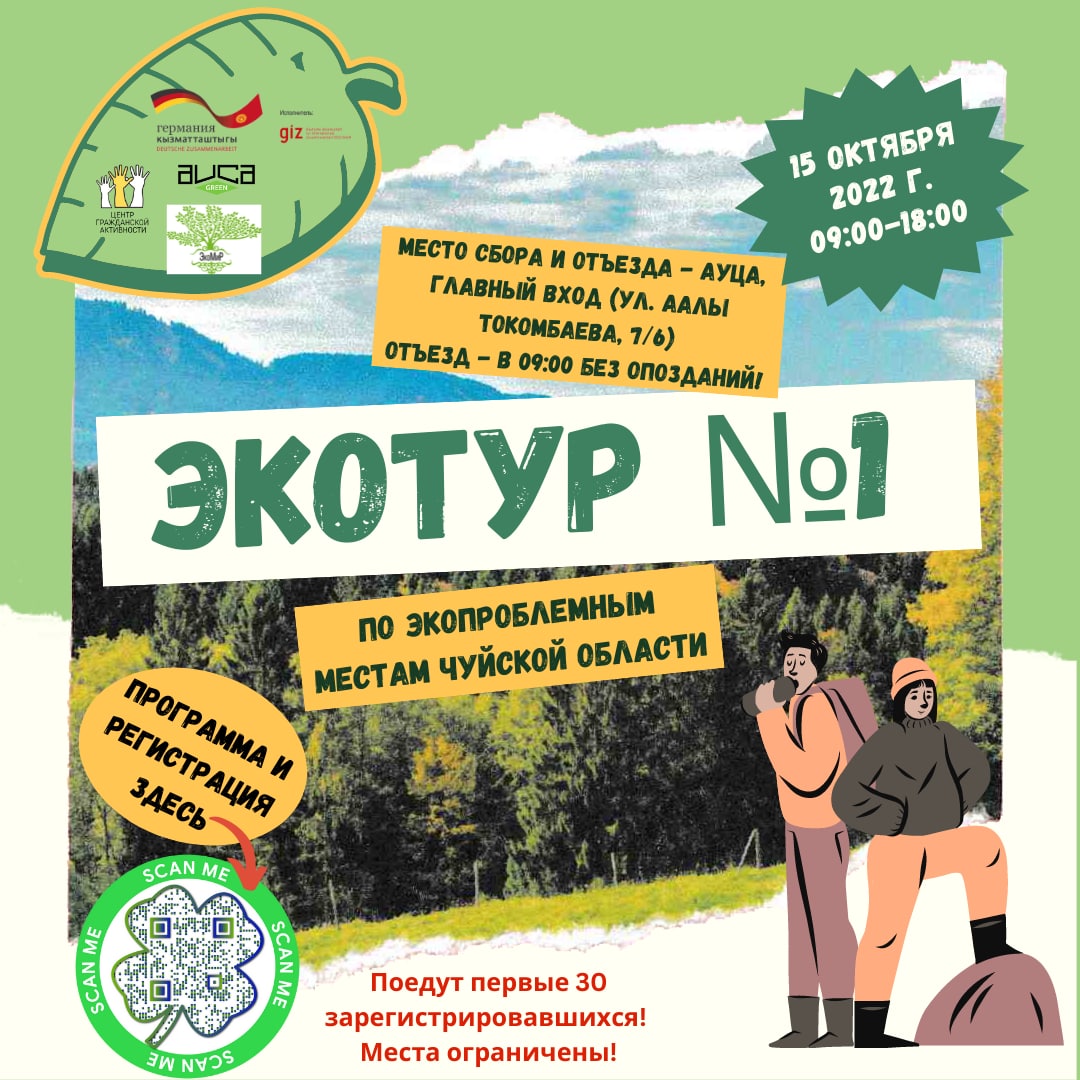 Ecotour will be chaperoned by 3 experts - a travel guide, an ecologist/biologist, and an urbanist. They will be commenting on what issues they see and how to solve them, answer participants' questions, and share how to travel around the Kyrgyz Republic without polluting the environment.
The event organizers: AUCA (Civic Engagement Center), "EcoMiR – Environmental Monitoring and Investigations" (Vlad Ushakov, Yaroslav Tartykov)
The event is conducted with the support of the Kyrgyz-German-Swiss program "Green Economy and Sustainable Development of the Private Sector in the Kyrgyz Republic", implemented by GIZ.
The purpose of the events is to increase the level of environmental education among students of Bishkek universities (development of skills of interaction with nature, the ability to think environmentally), and the development of environmental activity among young people.
Participants: students, teachers, employees of AUCA and other universities and schools in Bishkek.
Date: 15 October
Departure time: 09:00 
Place of gathering and departure: AUCA, main entrance (st. Aaly Tokombaeva, 7/6)
Participation is free. Food and water will be provided to the participants.
The number of participants is limited - the first 30 registered!
Event language: Russian
You can register for the ecotour HERE: https://www.addevent.com/event/qj15222190
Ecotour program and schedule can be viewed here: https://drive.google.com/file/d/1O796roKVLu3pJQjY4RUEHBvjb387ND7v/view?usp=sharing