GREEN AUCA: "Buy Nothing in Bishkek" initiative – in AUCA!
September 22, 2022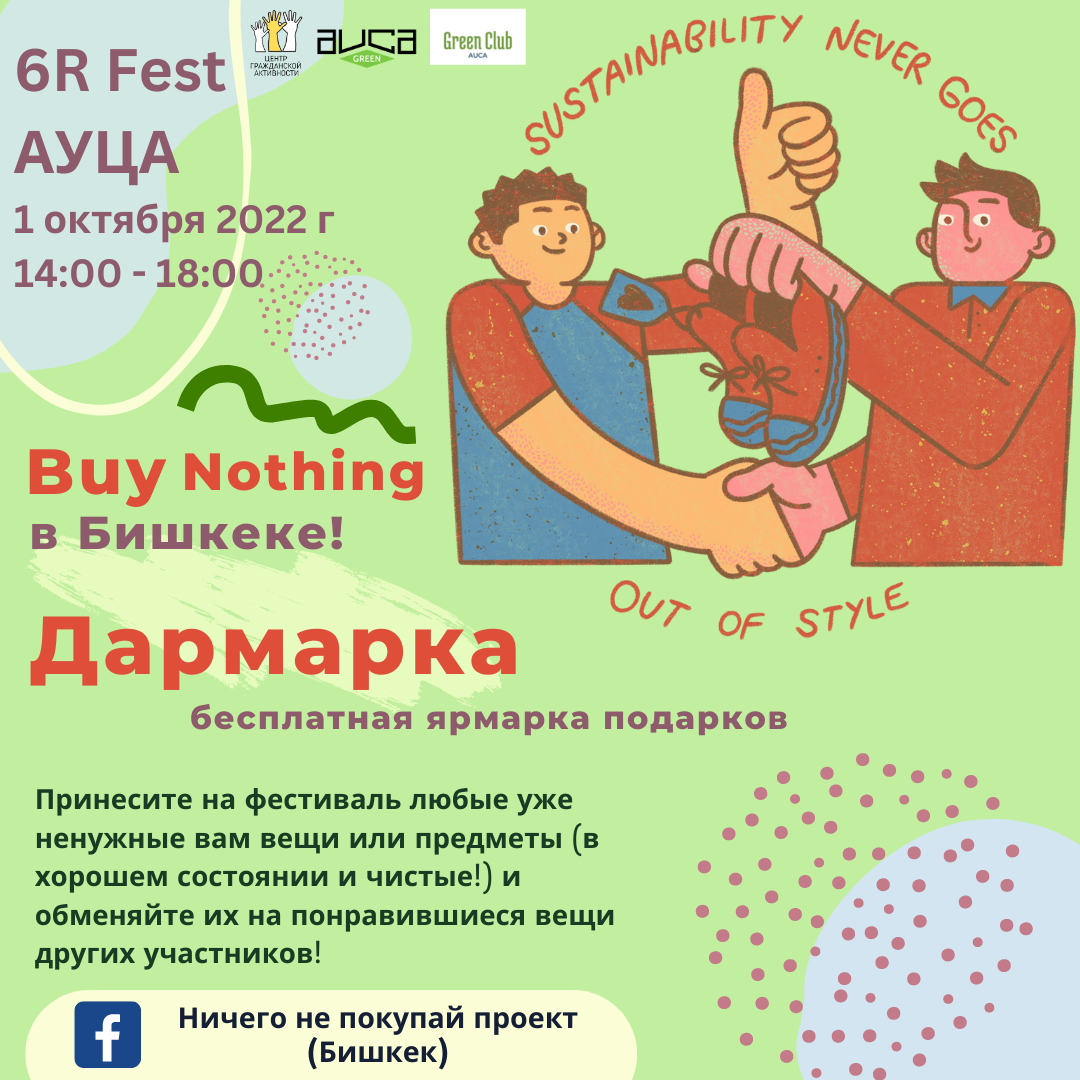 On the 1st of October from 2:00 pm to 6 pm, the 6R Fest: Reduce, Reuse, Recycle, Refuse, Rot, Rethink whereby an exchange of items within "Buy Nothing" initiative will take place at the American University of Central Asia (AUCA). The 6R Fest is organized by the Center of Civic Engagement AUCA.
Everyone is invited to bring unneeded items (in a good condition!) beforehand or right on the fest with an opportunity to exchange them for needed items that other participants have brought. For instance, if you gift five items, you can receive five from other participants.
AUCA students, teachers, and staff can leave items (in a good and clean condition) in designated boxes in room 315 (faculty room) till the 30th of September. Items can also be left at the festival on the 1st of October. Please write on the stickers available next to the boxes your full name, department, position (student/faculty/staff), and contacts. (It is necessary to keep a record and for you to be able to receive items from other participants.)
Unchosen items are given to the partners that distribute the goods to those in need (Association of Children from Orphanages, Children's Rights League)
If any questions, please contact the coordinator of the initiative «Buy Nothing in Bishkek», AUCA professor Olga Tarabashkina via email:
More information on the initiative «Buy Nothing!»
"Buy Nothing" is a unique international project, aimed to popularize and spread the practice of upcycling, redistributive justice, and minimization of the anthropogenic factor on the environment.
Initiated by the local community for common usage of resources, the project now operates in Bishkek, too. Initiative Group invites Bishkek residents to gift the items they no longer need and receive as a gift from other participants the items you might need. Let us gift old items a new life with new owners!
Gifting items is one of the sustainable (eco-friendly) behaviors. People are gifted needed things for free. Remember: items you no longer need can be valuable to others.
This sustainable behavior reduces the rates of consumption and rubbish accumulation in the environment and thus provides us a chance to enjoy nature and have healthier surroundings. Thus, the participants are making a great contribution to saving the world.
The initiative "Buy Nothing in Bishkek" has a Facebook page where you can upload information about items in your household you are ready to give to those who need them. And vice versa, you can leave a request to receive items posted by the participants.
Save the planet by participating in the initiative "Buy Nothing"!