Green AUCA: 13 kg of batteries have been disposed of!
April 14, 2022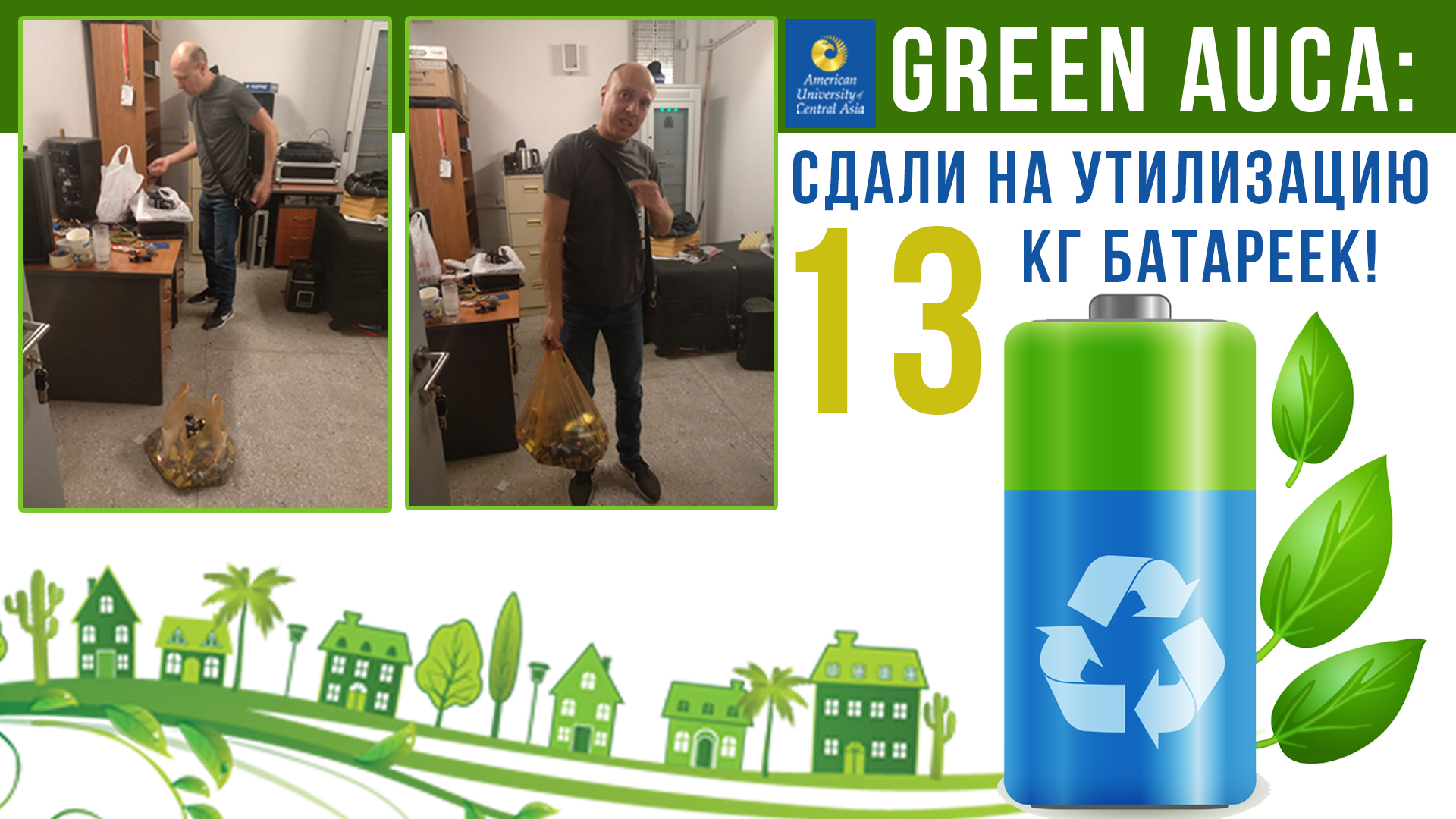 In April, the team of the Green AUCA project handed over 13 kg of batteries for recycling, which we collected in March (!). We sincerely thank all concerned AUCA staff, faculty and students who took part in our "green" initiative and handed over used batteries!
Special thanks to the office for extracurricular activities of students and sound engineer Evgeny Boyko, who for almost 7 years collected batteries after all the events held on campus and did not throw them in the trash, because he knew that used batteries are extremely dangerous for humans and the environment. Evgeny was going to accumulate them further, until, according to him, until he knew which organization could dispose of them.
Having learned about the "Green AUCA" project and that we are handing over batteries to an organization that is licensed to dispose of hazardous waste, Evgeny brought us all the batteries he collected. They made up the lion's share of those batteries that we handed over for recycling.
Just think about it: about 10-11 kg of waste in the form of batteries was produced in 7 years only by our campus, or 600-700 grams per year!
Although we did not count the batteries handed over piece by piece, you and I (and especially Evgeny!), not letting the batteries get to the landfill and decompose there, releasing dangerous elements into the environment, such as mercury, lead, nickel, zinc, etc., saved several tens of thousands of square meters of land and several tons of water from pollution and many, many trees, insects, animals, plants!
Experts note that one battery can poison 400 liters of groundwater, about 20 square meters of land on which at least 2 trees can grow, many insects, small animals, birds can live (it is difficult to calculate the exact number).
We handed over the batteries to the "Eco Complex" LLC, and we plan to hand over the electronic waste collected on campus to them in June. This is the only organization in Kyrgyzstan that has a license to collect and dispose of more than 600 types of waste that are not recyclable (medical, electronic, coffee cups, mercury lamps, etc.). Moreover, the destruction is carried out using smokeless pyrolysis technologies - one of the environmentally safe methods at the moment.
As the director of the organization Nurlan Djumaliev said at an event at AUCA on March 30, the organization does not dispose of the batteries itself, but only collects them. When 10 tons of this hazardous waste is collected (batteries belong to the 2nd hazard class, they are also called "slow killers"), they will take them to the Russian battery processing plant in Chelyabinsk (there are only 2 such plants in Russia - in Chelyabinsk and Novosibirsk, there are no such plants in Kyrgyzstan and Kazakhstan).
We continue to collect waste paper, plastic, electronic waste and batteries – and we will hand them over for recycling/disposal in June. We remind you that used batteries can be brought from home and handed over to the office of PPD, room T14.
Remember the example of Evgeny Boyko: even one person can change the situation for the better, and make the world cleaner! Join our initiative and you - bring used batteries from home. Together we can make our Bishkek cleaner.
Separate and collect garbage correctly!
Separate, collect and recycle with us #GreenAUCA!
This project is being implemented as part of the Pilot program "Improving the efficiency of the waste collection and processing system in the Kyrgyz Republic" - WasteNet.Kg implemented by the Agency "CSR Central Asia" with the support of the International Fund "The Coca-Cola Foundation" This publication does not necessarily reflect the opinion of the pilot project WasteNet.Kg.