Green AUCA: RESULTS of the competition among departments. Who is the greenest?
March 24, 2022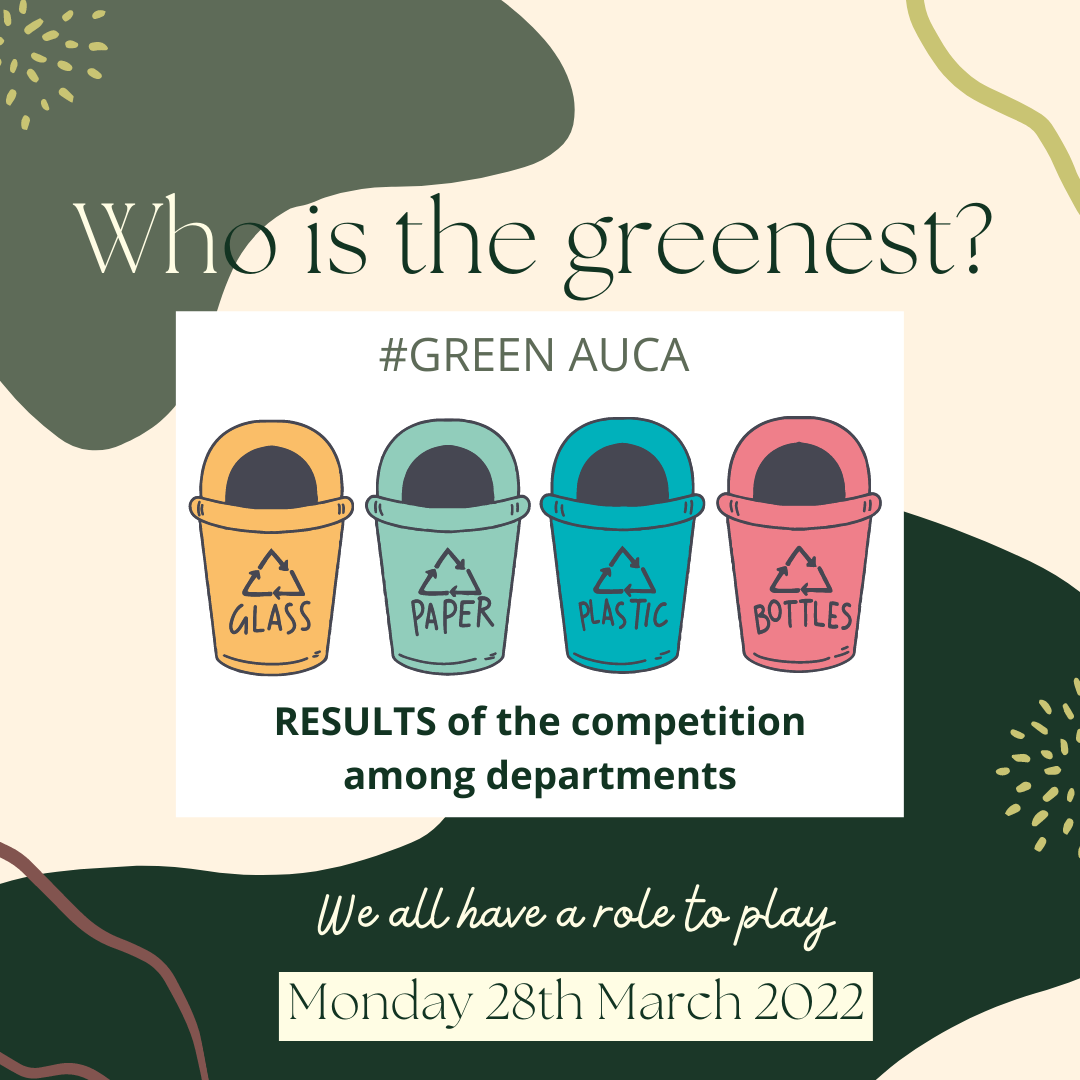 The Center for the Environment and Development (CED) and the Center for Civic Engagement (CCE) within the framework of the "Green AUCA" project announced a competition among the departments/offices of the university "The greenest Department".
The task of offices and departments wishing to take part in the competition and join the green initiative was for 2 weeks, from March 7 to March 20, to select paper, electronic and plastic waste from their offices.
We are very glad that 27 departments and offices responded to our call and took part in the initiative and competition! We thank everyone for their consciousness, activity and desire to make the world cleaner and better!
On March 22, the "Green AUCA" project team, including PPD staff and volunteers, went around the contestants, recorded the collected waste paper from each office/department, and handed it in for recycling the same day. We decided to continue collecting electronic and plastic waste and hand it over to recyclers in June.
After analyzing the results, the "Green AUCA" project team chose the winners. On the one hand, it was not easy to do this, on the other hand, three departments clearly took the lead in terms of initiative, well-coordinated work and the volume of waste paper handed over.
So, the RESULTS of the competition: 
The Department of Applied Mathematics and Informatics became the undisputed leader who left the competitors far behind! They are the ones who get the title of "The greenest department" and the 1st place!
Tian Shan Policy Center, Central Asian Studies Institute, and Master of Arts in Central Asian Studies won 2nd place in the competition and were awarded the title of "The greenest department" with two stars!
The 3rd place and the title of "The greenest department" with 3 stars was awarded to the New Generation Academy / NGA.
 Congratulations to the winners!
 The award ceremony with PRIZES will take place on March 28 in AUCA. We will inform you about the details closer to the date of the event.
Please follow the email newsletter marked "Green AUCA digest" and the project news on the AUCA website!
This project is being implemented as part of the Pilot program "Improving the efficiency of the waste collection and processing system in the Kyrgyz Republic - WasteNet.Kg implemented by the Agency "CSR Central Asia" with the support of the International Fund "The Coca-Cola Foundation" This publication does not necessarily reflect the opinion of the pilot project WasteNet.Kg