Knowledge Day 2021
December 14, 2021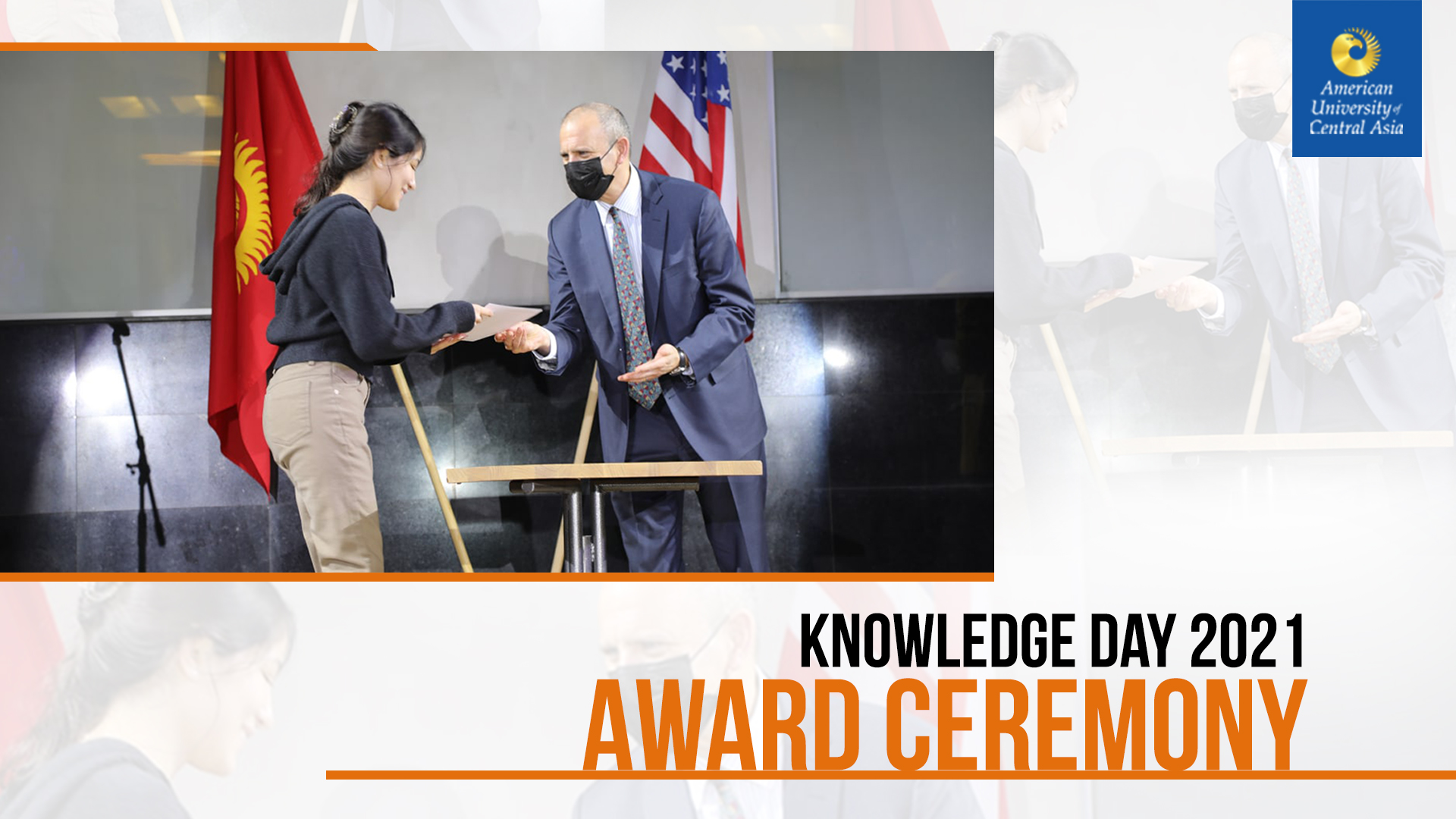 On December 13th, the AUCA administration headed by President Jonathan Becker conducted the Knowledge Day Ceremony. The Acting President of the AUCA, Dr. Jonathan Becker, and Dr. Nurgul Ukueva, the Vice President for Academic Affairs personally awarded the best students for their outstanding academic excellence with a President's List and Dean's List, respectively. 
Applied Mathematics and Informatics: Edita Don.
Anthropology, Technology and International Development Program: Maftunakhon Tokhirova, Montana Belle Reid.
Business Administration: Altynai Nuralieva, Aiana Rysbekova, Ailin Albanova, Inga Beskorovainaia, Masooma Hassanzada, Alina Imanakhunova, Shoola Joldoshbek, Maryam Mahammadi, Aiana Kyialbekova, Nazik Akmatova, Viktoriia Shchekaturova, Kairat Tagaev, Maryam Yari.
International Comparative Politics: Ahmad Omid Arman, Umeda Khudoberdieva, Abdul Ali Ismailzada, Khiradmand Sheraliev, Tahmina Ustoeva, Abdul Walid Azizi, Daniiar Sadykov, Aisha Manasova, Zhanybek uulu Zhiidebai, Abdul Jamil Omary, Lima Habib, Saltanat Erkinbekova.
Journalism and Mass communication: Zuhro Azorabekova 
Liberal Arts and Sciences: Akhtar Safi
Psychology: Adinai Abdyrasulova, Husniya Shosilemonova, Aliia Tagaibaeva
Software Engineering: Pavel Ges, Nazgul Ismailova, Rysmende Kadyrkulov, Deniz Narova
After the award ceremony, Jonathan Becker asked the students whether they prefer to study online or in person, and the answer was obvious: most students prefer to study on campus. The President also stated that he is responsible for preserving the unity of the AUCA community, and in connection with the Covid-19 pandemic, it is imperative to follow all the rules of self-defense and hygiene in order to stay safe together.
The AUCA community joins to all congratulations and wishes of this Ceremony, additionally to all partial words we wish our students to achieve and conquer new life peaks with the same joy and happiness as in the walls of AUCA.