The 5th Virtual Discussion between AUN-AUCA students
December 13, 2021
The 5th Annual Interuniversity Virtual Discussion devoted to Traditional Practices that Should Be Abolished was held on December 4th, 2021 between the American University of Nigeria (AUN) and the American University of Central Asia (AUCA) students within the framework of a Civic Engagement Project called Crossing Borders Through Social Media and Dialogue initiated by Ekaterina Galimova (AUCA) and Emilienne Akpan (AUN) in 2019. 
The online discussion gathered together 44 students in total, which is a record for this kind of event. It was conducted by the three AUCA hosts: Nilab Hadid (ANTH-121), Nooria Noori (LAS-SE-121), Aitolkun Muratbekova (TCMA-121), and one AUN host: John Yashim (CSC- 1021). Prior to the online discussion, the hosts contemplated the logistics of the virtual discussion via zoom meetings and email correspondence.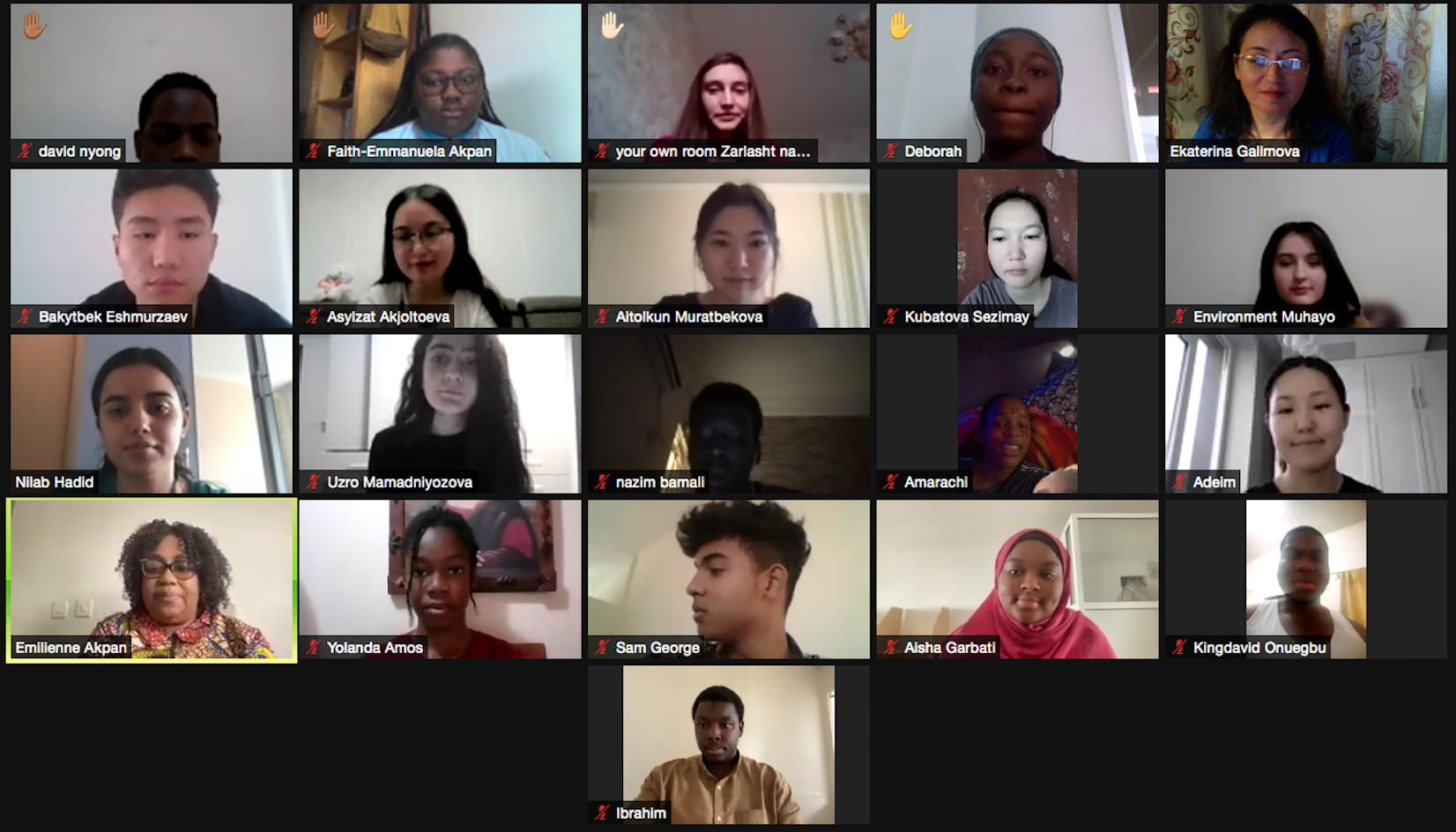 At first, the hosts introduced the Ground Rules of the discussion, asked the attendees to set their goals, and demonstrated video presentations about the AUN and AUCA campuses. The main part of the discussion was comprised of the General Discussion and Breakout Room Discussion. During the General Discussion, the students talked about Nigerian and Kyrgyz traditions that have negative effects on the entire nation and considered the ways to eradicate them. They viewed the traditions regarding Confucius filial piety (child labor), female genital mutilation in Nigeria, and bride kidnapping in Kyrgyzstan. Students not only raised and criticized the up-to-date issues but also provided possible solutions. The Discussions held in Breakouts Rooms were devoted to the following topics: The History Of A Nation Should Be A Mandatory First-Year Seminar, Presidents Of Countries Should Not Have Absolute Immunity During Or After Their Tenures, Equality Is A Utopian Idea, Free Higher Education Should Be Accessible To All Eligible Citizens Of A Nation, University Graduates Should Be Exempted From Visa Formalities Into Any Country. 
Based on the survey conducted after the virtual discussion, both students and supervisors concluded that such events highly motivate students to do research on their target topics, evolve their team-building skills when getting ready for the event, and overcome psychological barriers to public speaking. Along with advantages, students noted several disadvantages, such as the poor connection of the internet, inability to interact with each other via chat, and lack of live faces of some of the participants during the Virtual Discussion. 
Despite technological problems, it is worth pointing out that the event was a success as students were not only able to practise their listening comprehension and speaking skills but also improve their leadership skills, ability to prepare and lead a discussion in a diplomatic way, conceive interview questions and conduct those as well as to analyze the data and include it into their own research papers and video projects.
If you haven't had a chance to join the Virtual Discussion, you are welcome to do so next semester!