CASI Literature Week: "Writing Central Asia in Russian: Language, Place, and Displacement in Post-Soviet Rusosphone Literature", Dec 2, 17:00
November 30, 2021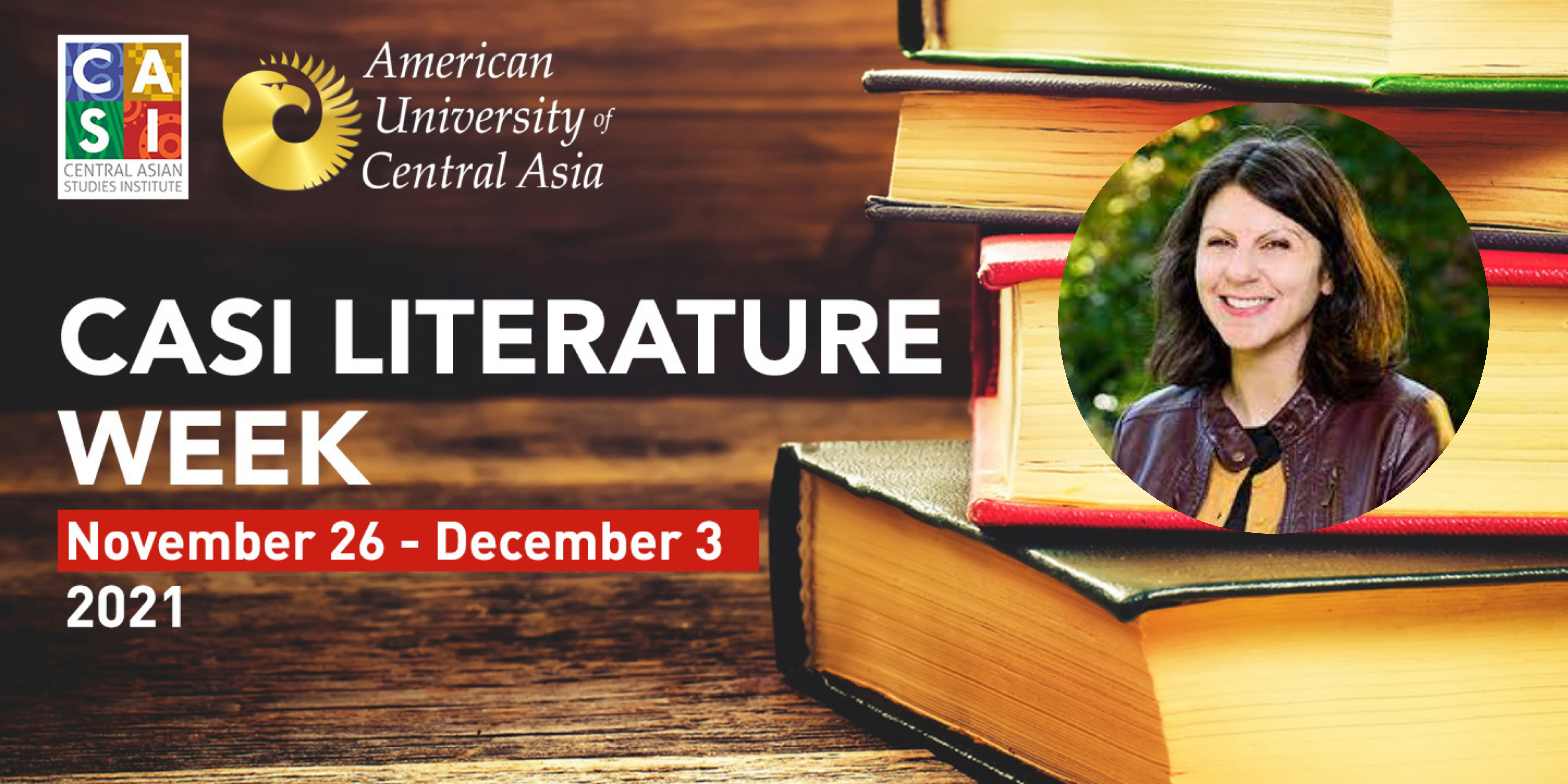 Literature Week is a part of CASI's Workshop on Literature and History. Supported by a generous contribution from Matthew Nimetz, the aim of the workshop is to create a community of junior scholars and advanced graduate students committed to studying literature and to applying literary tools and methodologies to the study of literary art in the Central Asian past.
"Writing Central Asia in Russian: Language, Place, and Displacement in Post-Soviet Rusosphone Literature"
SPEAKER: Naomi Caffee, Reed College
Date: December 2, 
Time: 17:00
Venue: AUCA, CH1
Zoom link: https://zoom.us/j/92163709677?pwd=VlovL2loRlNRREtCUFBsV0VMU01XQT09
Passcode: 519551
Abstract: What "makes" a place? What kind of place is Central Asia? What does it mean to be Central Asian, for whom, and to whom? These questions frame the topic of my lecture, which examines constructions of places and selves in the works of Russophone writers from post-Soviet Kazakhstan and Uzbekistan. I investigate how these authors assemble or stage the interactions of different representations of Central Asia and Central Asian-ness, invoking the ways Central Asia has been experienced, remembered, created, and recreated at various times and places throughout history. I argue that, as mobile, multilingual subjects writing in a former colonial language, who are plugged into broader global literary networks yet increasingly oriented towards local communities, they employ strategies of poetic place-making in order to challenge existing paradigms of Central Asian-ness and pave the way for new kinds of radical embeddedness, introducing new possibilities for identity, belonging, and creative expression.
Bio: Naomi earned a B.A. from Grinnell College (2004) and an M.A. (2008) and Ph.D. (2013) in Slavic Languages and Literatures from UCLA. Prior to her arrival at Reed, she taught Russian language and literature courses at UCLA and the University of Arizona, where she also developed interdisciplinary offerings such as "Nuclear Literatures," "Multicultural Russia," and "Language, Power, and Identity in the Post-Communist World." In 2018 she co-organized and led two study abroad programs: a trip to the Moscow region as part of the course "Russian and American Foodways," and a Fulbright Hays Group Projects Abroad trip to Kazakhstan and Uzbekistan. Naomi's research concerns minority and transnational writing in Russian, with a particular focus on authors from Central Asia, the Caucasus, and Siberia. Her publications include the articles "How Tatiana's Voice Rang Across the Steppe: Russian Literature in the Life and Legend of Abai" (2018), and "The Transformation of Azerbaijani Orientalists into Islamic Thinkers after 1991" (2011, co-authored with Altay Goyushov and Robert Denis), as well as Verses on the Saami Land (2009), a translation of poetry by the indigenous Saami writer Askold Bazhanov. Her current project is a book entitled Russophonia: Writing the Wide Russian World.
This is a hybrid event. All AUCA faculty and students are welcome to join Literature Week in person. Those external to AUCA are welcome to join via Zoom.
In person participants are required to wear masks and follow AUCA's Covid protocols and social distancing requirements.