"Oral history and best research practices"
May 6, 2021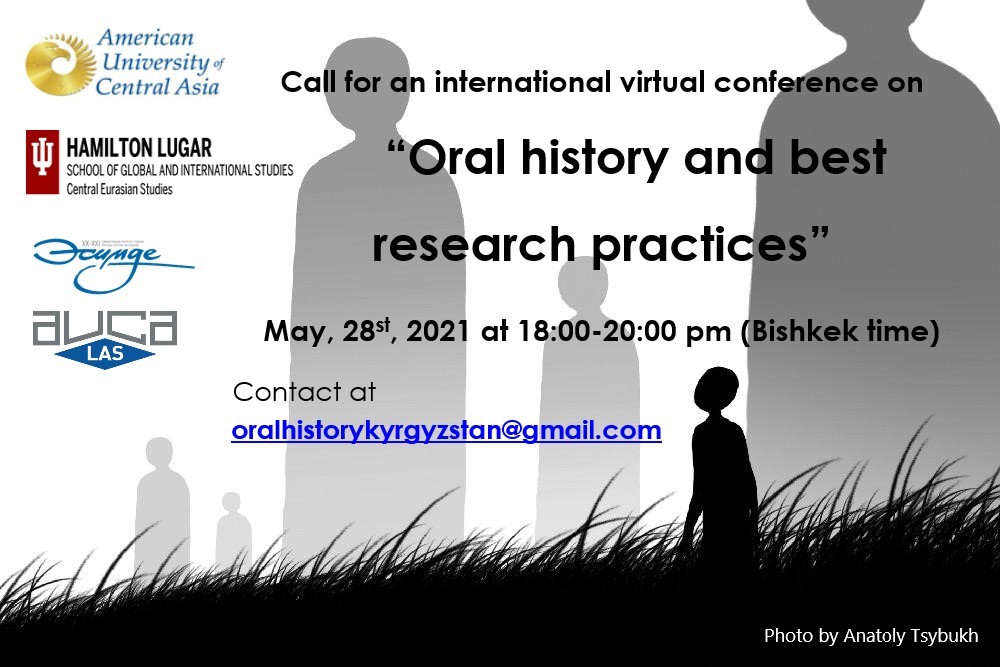 American University of Central Asia, Indiana University and Research Platform Esimde call for an international virtual conference on
"Oral history and best research practices."
Date and time: May, 28st, 2021 at 18:00-20:00 pm (Bishkek time).
This conference aims to bring historians, scholars, researchers, teachers, students, archivists, and librarians working on oral history in Central Asia to share their best practices. In his book, Doing Oral History, Donald Ritchie explains, "Oral History collects memories and personal commentaries of historical significance through recorded interviews." Oral history has become an important method for researching recent history in Central Asia, opening questions that relate to people's lived experiences of the late Soviet and independence years.
The conference will focus on different aspects of oral history such as theoretical and practical value of oral history, its role in the communities as well as in the digital world, research ethics, preserving and archiving, teaching and doing oral history, and examples from research done by participants in the conference.  The conference will take place in the form of live exchanges in small groups with brief presentations and discussion, rather than by formal plenary sessions.
We look forward to receiving submitted papers on the following themes, with specific examples or cases related to Central Asia. The following themes are not limited; new topics can be submitted.
- Oral history: past, current, and future methods;
- Oral history, culture, and identity;
- Oral history, ethics, and the law;
- Oral history and archiving;
- Oral history and technology;
- Teaching oral history;
- Collective memory;
- Local stories in oral history;
- Oral history and post-traumatic memory;
- Oral history at the time of COVID-19.
The languages of the conference are Kyrgyz, English, and Russian.
Submission guidelines:
Application should include a full, written paper (up to 2000 words) and information about the author/s (full name, title, place of work and contact information). Papers will be published by AUCA in a conference proceedings volume and online. Conference participants will be awarded with certificates and small gifts.
Papers will be accepted by May 23, 2021 at oralhistorykyrgyzstan@gmail.com. Applications will be assessed anonymously by the conference organizers, and authors of selected papers will be announced on May 25, 2021.
The organizers are Daniyar Karabaev, Aijamal Sarybaeva (AUCA), Marianne Kamp (Indiana University) and Elmira Nogoibaeva (Research platform Esimde).
Preliminary agenda of the conference
Introduction: 10 minutes
Key guest speakers:  20 minutes by Marianne Kamp, Daniyar Karabaev, Aijamal Sarybaeva and Elmira Nogoibaeva.
Each group session runs simultaneously, for 50 minutes, with four participants and a moderator. Each presents for 7 minutes, followed by a 20-minute discussion. Papers will be shared in advance.
Group 1: Teachers and/or historians: 50 minutes.
Group 2: Teachers and/or historians: 50 minutes.
Group 3: Students and/or researchers: 50 minutes.
Group 4:  Librarians and/or archivists: 50 minutes.
Finale:  Common discussion and oral history conference declaration:  30 minutes.
Online award ceremony and conclusion: 10 minutes.