Meet Grant Awardees for Spring 2021 Presidential Research and Education Fund (PREF)
April 20, 2021
Congratulations to the Spring 2021 Presidential Research and Education Fund (PREF) Awardees. This year, the commission selected 9 of the most competitive proposals out of 14 applications from faculty, students, and staff.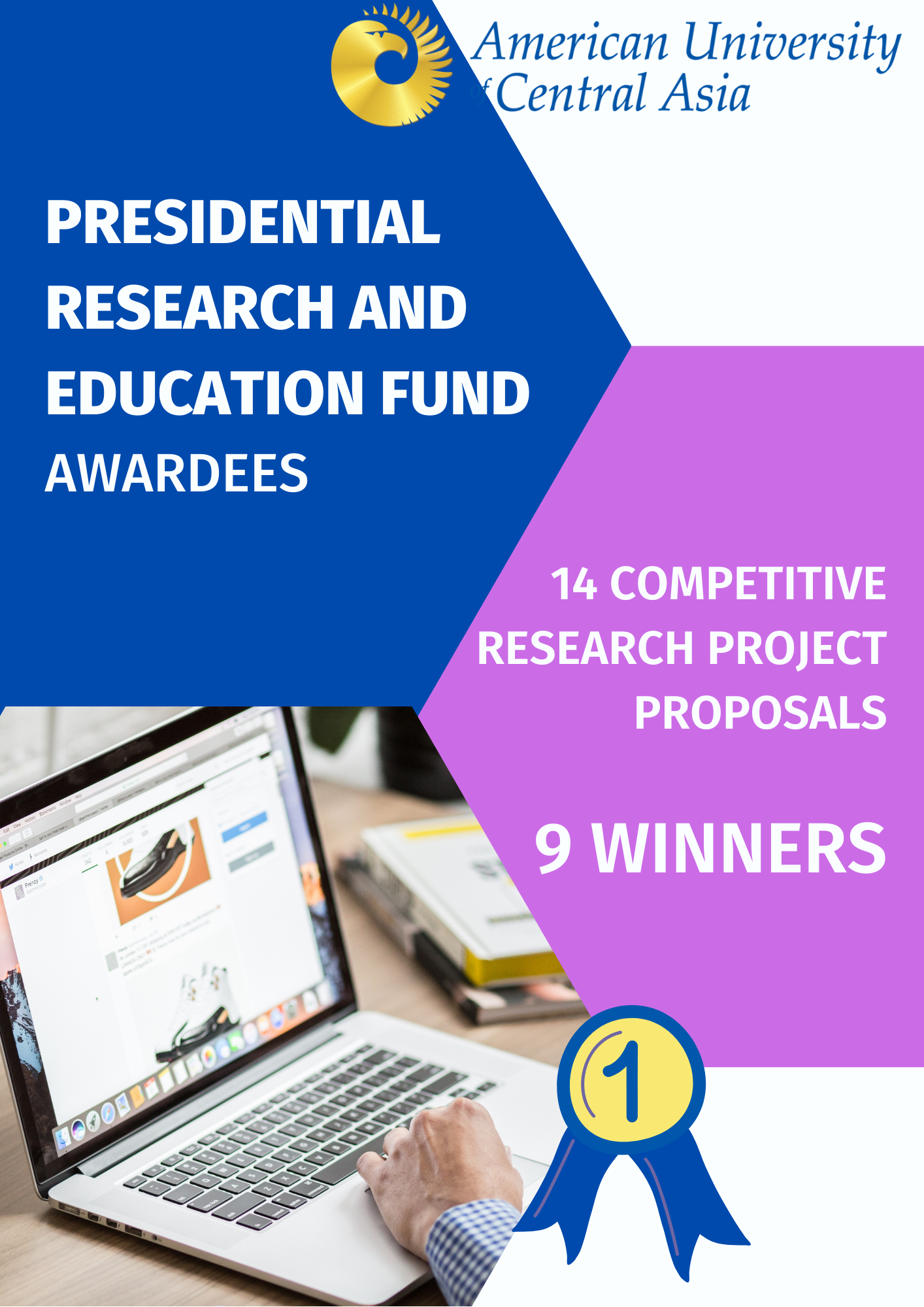 List of winners:
1. Olga Tarabashkina,
Role of Gender and Social Media in Kyrgyzstani Parliamentary Elections October 2020;
2. Aida Abdykanova, 
Montana Reid Mapping of Issyk-Kul Rock Art: Prevention and Preservation;
3. Ruslan Rahimov and Joldosh Kalmurzaev,
Documentary Interview Film "Immigration, Sense of Belonging and Envisioning the Future: unheard voices of people of Kyrgyzstan" (working title);
4. Chynara Ryskulova and Anguelina Popova,
Accreditation of undergraduate programs at AUCA: lessons learned and way forward;
5. Jyldyz Bekbalaeva and Aijamal Sarybaeva,
Oral Histories Collection at AUCA;
6. Talgat Dzhumashev,
Forward - to the past. Satellite images of Chui region from 1960 to the present day;
7. Mingoiim Nishonova,
On the Edge of Bishkek: Highlighting Ecological Problems Through Creative Writing and Visual Research.
8. Adina Sulumbekova and Kamila Kurbonmamadova,
Climate Change in Kyrgyzstan: Short Movie Series Project
9. Begaiym Esenkulova,
RESPONSIBLE MINING AT THE TOP OF THE WORLD: Balancing the Protection of Investors' Rights and Advancement of Sustainable Development in the Kyrgyz Republic.
"I am pleased to inform all the Spring 2021 Presidential Research and Education Fund (PREF) Awardees. We received 14 very interesting and exceptionally competitive applications from faculty, students and staff, and it was very challenging to stay within our planned budget in deciding which projects to fund. I thank all for submitting applications for this round of funding. I want to congratulate the winning proposals and their principal investigators, which are listed below. I wish you all success in your work ahead!" - said Dr. Andrew Kuchins.
In 2019 President Andrew Kuchins announced the establishment of the AUCA Presidential Research and Education Fund (PREF), a unique initiative designed to support discrete projects from faculty, students, and staff for research and educational activities through the Office of the President at AUCA. The Fund especially welcomes seed funding for new initiatives at the University, multidisciplinary projects, and those involving AUCA students are strongly encouraged. Despite the unexpected COVID pandemic, and its negative impact on the feasibility of the projects, over the last academic years 14 projects initiated by the faculty and students were accomplished. The other five research projects are in the process of being implemented.