Call for Participants: International Crisis Game
March 17, 2021
#International Crisis Game#ICP
The Department of International and Comparative Politics
at the American University of Central Asia
announces
a call for participation in an annual
International Crisis Game
March 27-28, 2021
Bishkek, AUCA
"China's Expanding Influence and Role in World Affairs".
The ICP department is pleased to announce a call for participation for students who major in political sciences or international relations to share their expertise, gain a deeper understanding of contemporary international issues and develop public speaking, teamwork and leadership skills.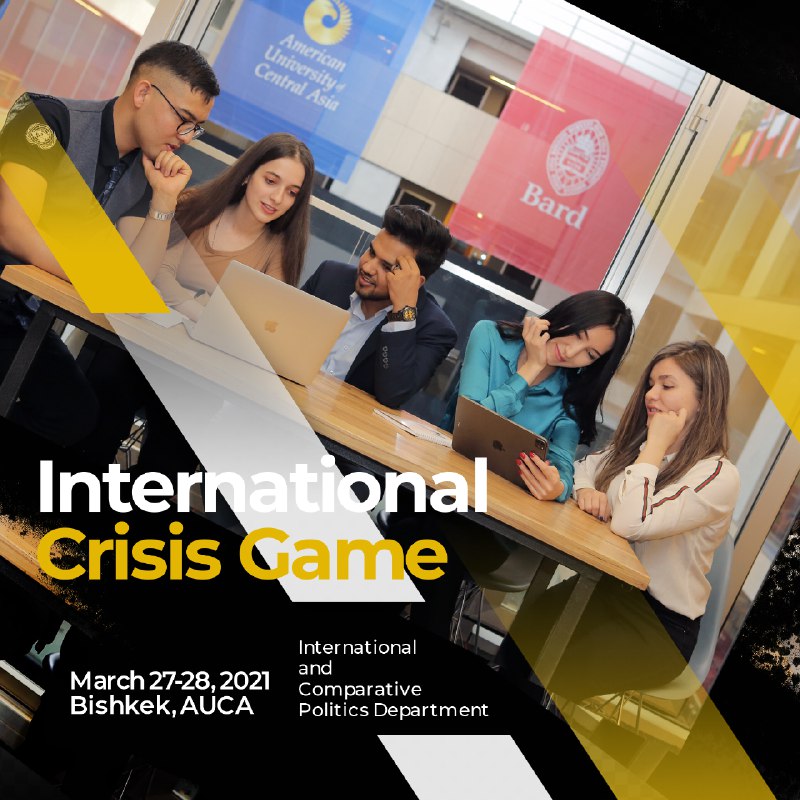 This time, the crisis game will simulate international responses to pressing global challenges, such as Covid-19, in the light of China's growing role in world affairs and recent controversies associated with the "Uygur question" and China's actions along its borders.
This event intends to raise the awareness of students about the complex nature of the international system, better understand various political aspects and behavior of actors in the region, analyze wider international context of the ongoing territorial disputes and skirmishes.
The game is open to any English language speaking students from universities in Bishkek and beyond.

Dates – March 27-28, 2021 (all day Saturday and half day Sunday);
Venue – American University of Central Asia (main campus);
Language – English.

Those interested, please send an email expressing your interest to icp@auca.kg by March 19, 2021.
Selected participants will be assigned to countries/actors/teams a week before the game and will need to prepare accordingly.
The details and instructions of the game will be communicated to the registered teams via email.