Launch of Fatima Khalil Human Rights Scholarship Fund
February 22, 2021
##KhalilScholarship #rememberFatima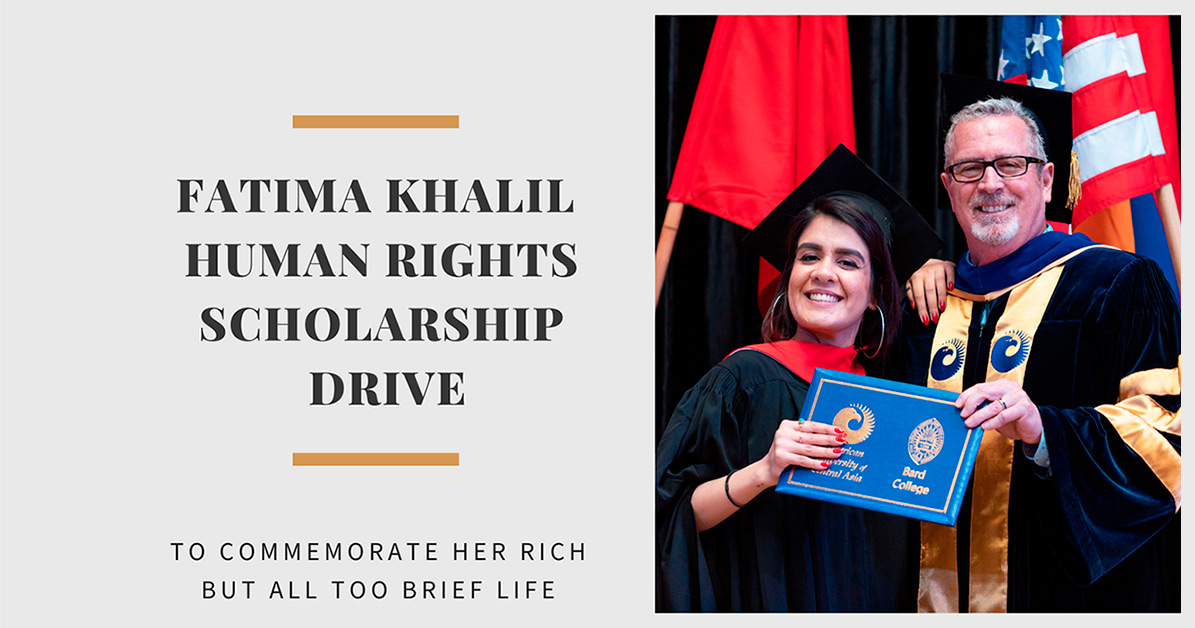 The American University of Central Asia is pleased to announce start of the fundraising drive for a new scholarship fund in memory of Fatima Khalil to commemorate her rich but all too brief life.
Fatima double majored in Human rights and Anthropology and graduated in 2019. She was a very active student and a fierce advocate for human and women's rights. Fatima used to say "We need respect, we need freedom that belongs to us!" Upon graduation, she returned to Afghanistan where she worked with the Afghan Independent Human Rights Commission. Tragically, she was murdered by a car bomb in Kabul on June 27, 2020 while on her way to work.
At AUCA we will continue our mission to support the liberal arts education of young people that we believe will build the future with the values that Fatima Khalil so cherished. In her memory and honor, we are seeking to raise an endowed scholarship fund that will support one extraordinarily motivated student majoring in human rights and committed to furthering women's rights who is also very actively engaged in his/her community to advance these causes.
In many ways, Fatima's brief life reflects the dilemma for many young educated Afghans who want to rebuild their country but face many deadly obstacles. A wonderful New York Times story (
https://www.nytimes.com/.../afghanistan-women-human...
) of Fatima's life and death captured this beautifully, a dilemma that all Afghan students, who comprise 10% of the AUCA student body thanks mostly through generous support from the U.S. Department of State.
We ask that you join us by contributing to the Fatima Khalil Human Rights Scholarship Fund. For more information, please contact the Alumni Relations Office. We are delighted to announce that the Open Society Foundation will match dollar for dollar up to $100,000 raised by AUCA for the Fatima Khalil Scholarship. George Soros was personally saddened by the death of Fatima as she embodied so many core values supported by his extraordinary philanthropic work. Please help us by spreading the word, contributing, finding donors, and remembering Fatima's short but wonderful life.