Students of Applied Geology took part in the XII International Youth Conference on the basis of the Scientific Station of the Russian Academy of Sciences
November 6, 2020
Students of the Applied Geology Program Alparov Aslan, Begmetov Akmal, Zhumabaev Aidar and Mamedov Emir under the guidance of Dr.Zheenbek Kulenbekov and Dr. Sagynbek Orunbayev took part in the XII International Conference of Young Scientists and Students " Modern TechNology and Technologies in Scientific Research" held by the Scientific Station of the Russian Academy of Sciences in Bishkek, Kyrgyz Republic (online).
Each student participated in different sections on topics:
Section 1. "Geophysical Monitoring and Geoinformation Systems" includes reports on methods and new software packages used for monitoring the geosphere and ionosphere and the results of their application.
Section 2. "Natural and Man-caused Hazards" includes reports on prevalence and peculiarities of seismic tectonic processes, landslides and mudflows on the territory of Central Asia. In the same section the reports on technogenic hazards related to reservoir operation and mining on the seismic dangerous territories are collected.
Section 3. "Interdisciplinary Reports":
"Mechanics" sub-section - includes reports on solving problems in different directions of modern mechanics;
"Interdisciplinary Reports" sub-section - includes reports on setting and solving problems of mathematical modeling of physical, economic and other processes, as well as modern methods and technologies used in processing of different kinds of data.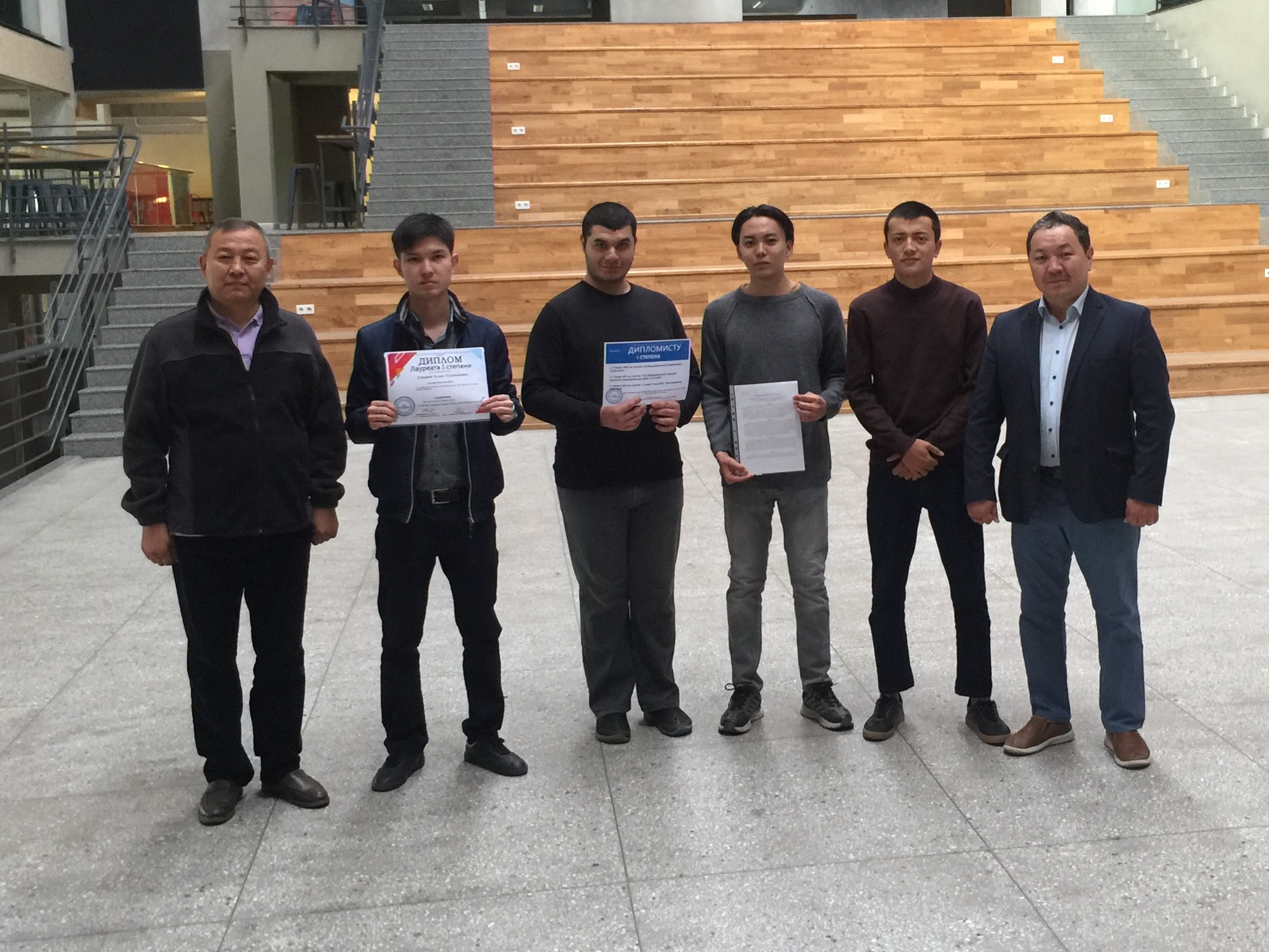 In addition, the students took part in the XVI International Competition of Research Works PTScience, Moscow. The event was organized by the All-Russian Society for Research and Development of ONR PTScience (Moscow).
Doctors and Candidates of Science, research workers, specialists of different profiles and directions, applicants for scientific degrees, teachers, postgraduates, master's students and students were invited to participate in the contest.
In the field of "Earth Science" in the nomination "scientific article" the 1st degree diploma was awarded to the 4th year students Alparov Aslan and Zhumabayev Aidar. Our students participated with scientific publications prepared under the course "Research methods" headed by Dr. Sagynbek Orunbayev.
"In the 3rd year within the Research Methods course, our teacher Sagynbek Orunbayev assigned us the task to write an article for the "XII INTERNATIONAL CONFERENCE of YOUNG RESEARCHERS AND STUDENTS". I repelled what I liked and preferred. Since I have been working at KAZ Minerals Bozymchak for the third year, I decided to focus on the industrial part of geology. Namely geotechnical monitoring methods at Bozymchak. My colleague and mentor Alibayev Asan Pahurovich (Acting Chief Surveyor and Head of Geotechnical Service) helped me. Asan Pakhurovich provided me with necessary data for writing my article.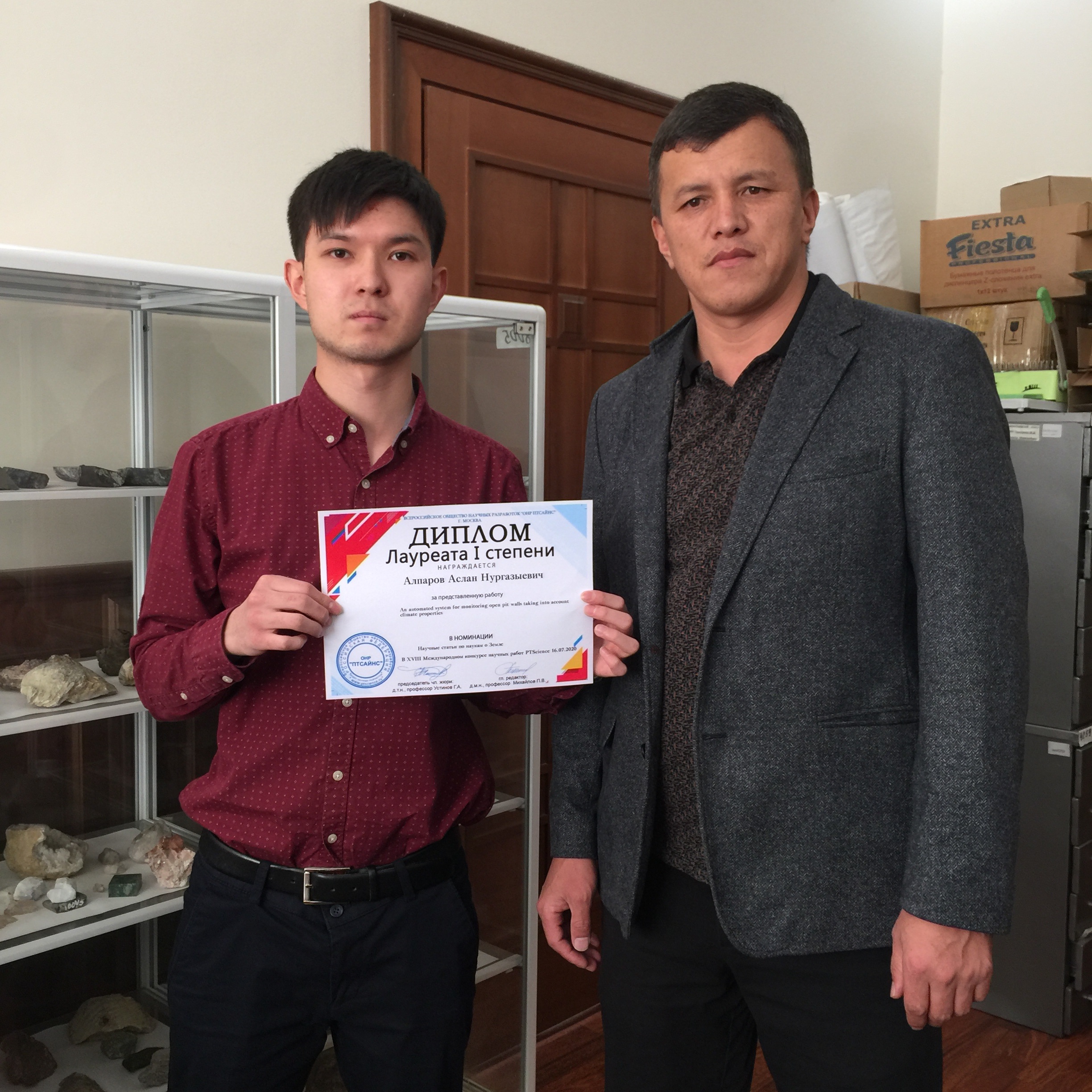 The case was left to small - to process all available data. The Faculty members of Applied Geology taught me all the necessary skills to perform this task, so there were no difficulties. Having prepared my article under the mentorship of Sagynbek Orunbayev and Asan Alibayev, I sent it to the commissions to participate in the conference. Unfortunately, the conference was never held due to the epidemiological situation in the country. But the publication within this conference attracted attention of the All-Russian Society of Scientific Developments. They contacted me and asked me to send my work for participation in the "XVIII International Scientific Contest". After sending my work, I waited for the results to be announced.
I did not try to get my hopes up, but I was surprised to become a laureate of the first degree. I consider my result as a collective achievement of the faculty of Applied Geology Department and the Department of Mineral Resources of KAZ Minerals Bozymchak. After all, without such mentors I would not have been able to achieve such a high result", - shared Aslan Alparov.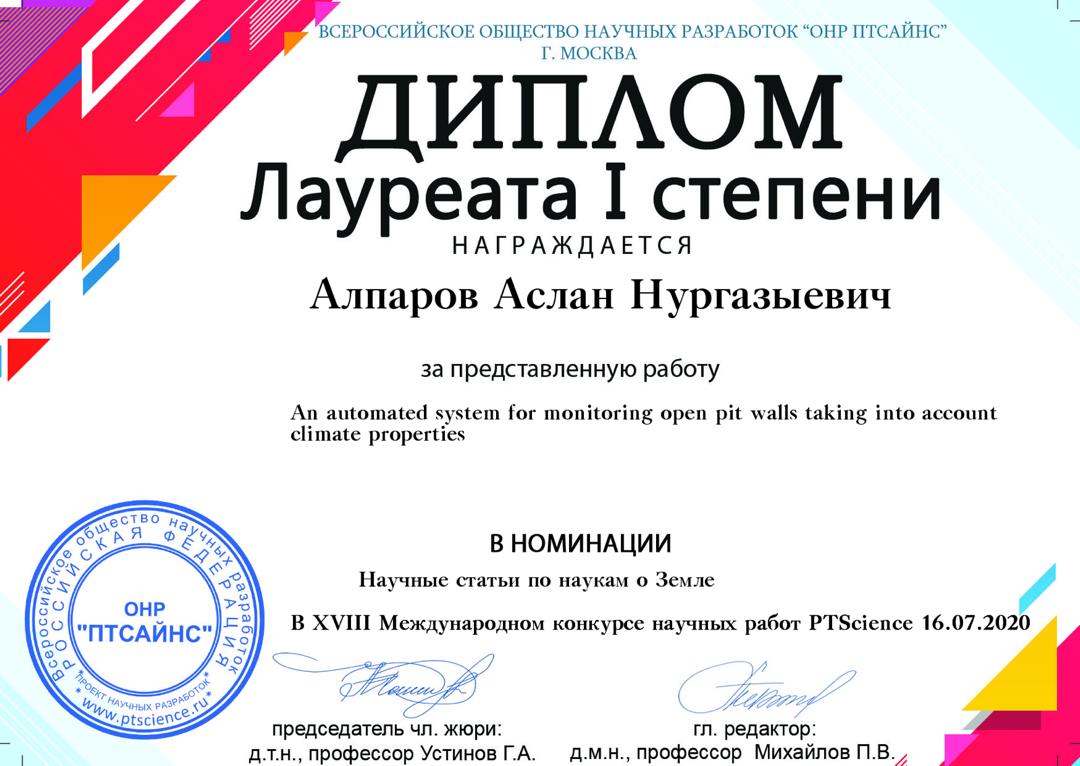 "The way to get the first published article was not an easy one. It was a long trial and error process, which lasted 7 months. I must say that it was a completely new experience. Now,I am in the process of writing a senior thesis, and I understand that writing a scientific article for publication is very similar to writing a thesis. The moment when I sent my article to the editorial office was similar to the moment when I sent my first FYS essay. And the day when I received the published version of my article was incomparable and joyful.
I want to thank all my professors, especially Zheenbek Kulenbekov, Sagynbek Orunbayev and Aizhamal Sarybayeva" ,-said Aidar Zhumabaev.