ATTENTION! DEADLINE EXTENDED!!! The Tian-Shan Policy Center (TSPC) of AUCA is delighted to announce the contest for the 3 BEST MIGRATION RESEARCH PROPOSALS
April 27, 2018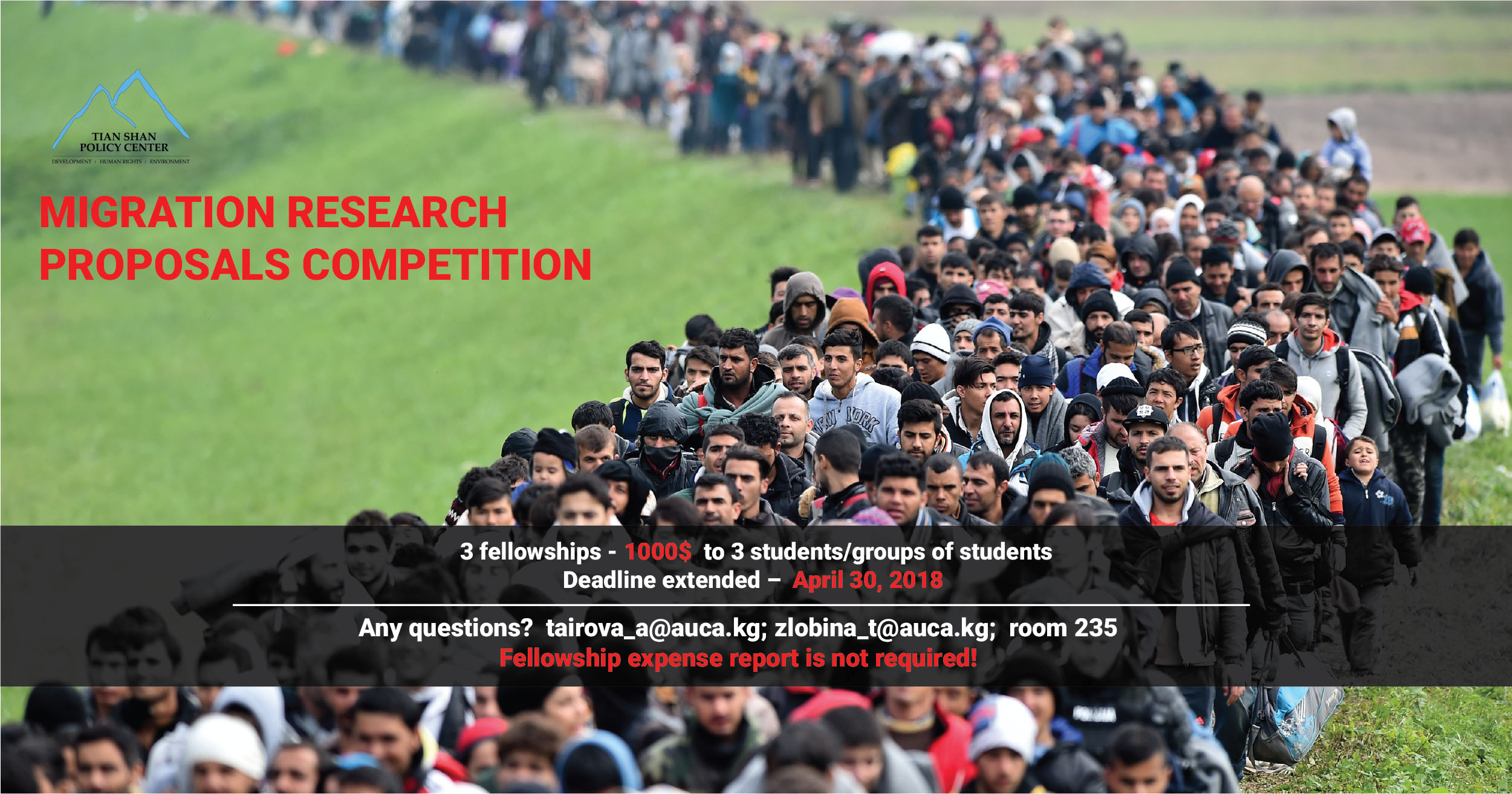 Based on high interest among AUCA students, and with the goal to raise academic research capacities of AUCA students and promote migration studies in KR in general, TSPC will award 3 fellowships for students to conduct research in migration issues pertaining to Kyrgyzstan/Central Asia.
The research proposal is welcome on any pressing issues concerning modern migration. Students are invited to address migration in their research proposal so that it should serve migrants' rights protection.  
The TSPC will award 3 fellowships (1,000 USD each) to 3 students/groups of students for the best research proposals. The money will cover the costs of conducting research in migration issues. Important: fellowship expense report is not required, you only need to submit research paper to TSPC.
The three best migration research proposals will be selected by an independent and impartial jury composed of people from state bodies, international organizations, academic institutions and NGOs in Bishkek at an open competition for the most topical issue, best research questions and best methodology proposed. The selected students/groups of students will conduct the proposed research under the supervision of the TSPC. The students can also ask for guidance and consultation from their AUCA professors/instructors. The research reports shall be submitted to TSPC by 01 October 2018. The research works will be presented at the National Students Conference on Migration at the end of 2018. 
General eligibility criteria:
- Only AUCA students are eligible (except for the senior students already graduating this year);
- No limitations are imposed on the number of pages, font, and spacing of the research proposal;
- Research proposal must be new and original work of the student/group of students;
- Only one research proposal can be submitted from student/group of students;
- The language of the research proposal is English;
- The research proposal shall consist of: short background information (overview of the problem), the general aim of the research, timelines and geographic frames, a methodology used, proposed reporting, short information about the student-applicant/group of students-applicants. 
- The deadline for submission of migration research proposals is April 30, 2018. No late entries will be accepted. Entries that do not meet the above requirements will not be considered. All research proposals submitted before the extension, are already accepted for the contest.
For further information and for sending research proposals please contact to:  
Ainur Tairova at  tairova_a@auca.kg        and
Tatiana Zlobina at   zlobina_t@auca.kg
[1] The fellowships will be paid in KGS basing on currency exchange rates of the National Bank of the KR.