Nature as culture, resource and object of contestation in Central Asia
November 2, 2016
On September 16-17, 2016, the Central Asian Studies Institute (CASI) of the American University of Central Asia (AUCA) held its fifth annual international conference. This time, the conference theme was "Contesting Nature in Central Asia," which attracted scholars of various backgrounds -- social anthropologists, ecologists, historians, philologists, philosophers, political scientists and archeologists -- coming from various countries -- Kyrgyzstan, Kazakhstan, Uzbekistan, Germany, Norway and the US. The conference started with a keynote speech by Amanda Wooden, Associate Professor of Environmental Studies at Bucknell University (Pennsylvania, US.) Amanda Wooden is a "transdisciplinary scholar," with background in political science and environmental studies. She has been working on the political ecology of the mining and energy sectors of the Kyrgyz Republic. In her keynote address, Wooden explored how scholars write about nature as plural, complex, and social. Wooden focused on Kyrgyzstan, where public discourses on mining industry and glacier melting are tightly intertwined with such ideological and political constructions as "nation" and "patriotism." In addition to traditional sites of contestation, such as street protests or formal parliamentary debates, Wooden drew attention to those cases, in which popular mobilization and protests do not happen. She emphasized that silence, mundane and quiet resistances can reveal important aspects of the affective ties between communities and the environment.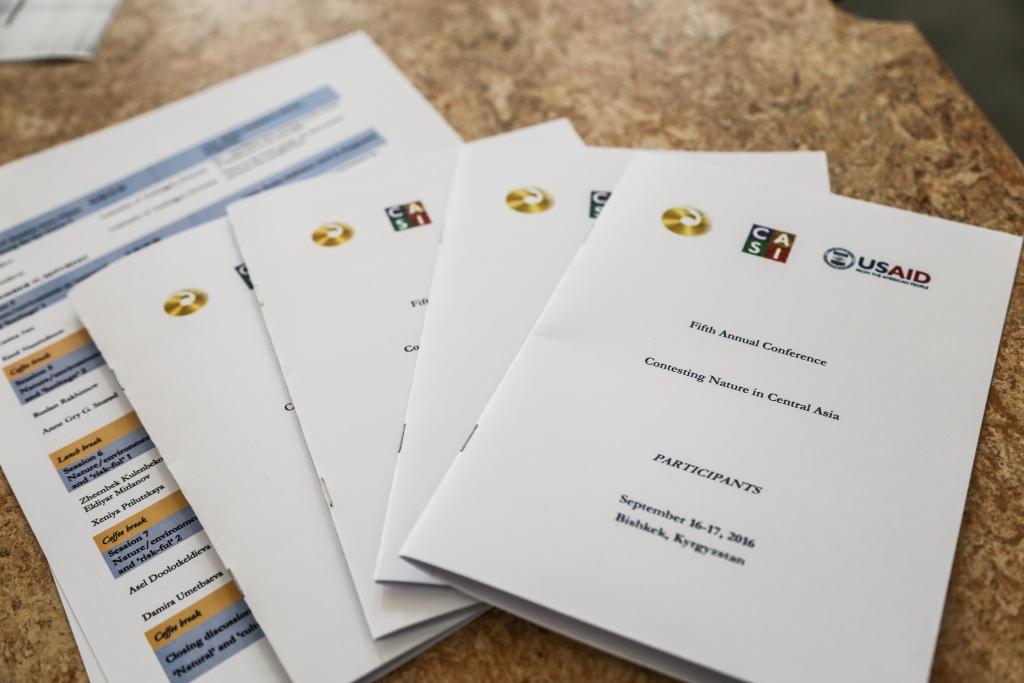 The presentations that followed developed further the theme of "contesting nature" in Central Asia. AUCA faculty members Elena Popa and James Plumtree, both of whom are philosophers, discussed the split between ecology's and economics' definitions of biodiversity, and how this split relates to contemporary understandings of biodiversity in Kyrgyzstan, while a literary studies scholar, Natalia Khokholova (AUCA), attempted a comparative analysis of discourses on the sustainable development of the commons as nation-making myths in Norway and Kyrgyzstan. Five reports under a common title "What is a river? Answers from the Naryn to Aral, along the Syr Darya were presented by a group of scholars working within the framework of an international research project called "Social life of the Naryn-Syr Darya river." The project is headed by Jeanne Féaux de la Croix (University of Tübingen) and Mohira Suyarkulova (AUCA). Adham Ashirov (Institute of History, Uzbekistan) and two doctoral students from Kyrgyzstan -- Aibek Samakov and Gulzat Baialieva -- are also involved in the project. The members of this project are undertaking studies at various sites along the longest transboundary river in Central Asia. In their presentations, they discussed the numerous meanings and uses of the river in Naryn and Shamalduu Sai towns (Kyrgyzstan), in Namangan (Uzbekistan), in Khujand (Tajikistan), and in Kazalinsk (Kazakhstan.) The papers demonstrated that despite the seeming "naturalness" of the river, it is in fact a highly regulated system, a hybrid of nature and technology, or of nature and culture.

The second day of the conference was devoted to discussions on nature/environment as a "resource" and/or "heritage", and as a source of danger and various risks. Emil Nasritdinov (Department of Anthropology, AUCA) focused on mountains as a major inspiration for Kyrgyz artists and the ways mountains are represented in traditional decorative arts, in the paintings of Soviet Kyrgyz artists, and in the works of contemporary artists after independence while his colleague from the same department, Ruslan Rahimov examined the evolution of the concept of "nature" among Kyrgyz users of the Song Kul Lake where pastoralism, nature preservation and tourism are practiced simultaneously. Anne Gry Sturød, Ph D candidate at the University College of Southeast Norway, continued the topic of mountains as a cultural and economic resource in her presentation on the ecological and cultural tourism industry in Kyrgyzstan. On the other hand, environment is often represented as an object in need of protection, especially from humans' lifestyles and industrial production. In a joint presentation, Eldiyar Mirlanov -- a student at AUCA's MA program in Central Asian studies -- and Zheenbek Kulenbekov -- AUCA Environmental Sustainability officer -- discussed waste disposal and management in Bishkek based on publications in the local news media. Ksenia Prilutskaya (Nazarbayev University, Kazakhstan) presented a fascinating study on public perceptions of health and environmental risks in the mono-industrial city of Temirtau. Asel Doolotkeldieva (Kyrgyz-Turkish Manas University), in her turn, presented her research on popular resistance to mining activities in the Talas region of Kyrgyz Republic. Damira Umetbaeva (AUCA) concluded the conference by discussing the results of an extensive study on environmental degradation, climate change and migration in Kyrgyzstan.

Though of the major topic of the conference was "contestation," the event was marked by a productive and friendly atmosphere. The participants agreed on the importance of the topics discussed and the need for further research. The extension of such a research agenda would require a broader geographical scope and more interdisciplinarity. The participants also discussed the possibilities for the creation of a network of scholars engaged in transdisciplinary research on societies and natures in Central Asia.
Author: Mohira Suyarkulova, Associate Professor of International and Comparative Politics Department, AUCA; Research coordinator, Central Asian Studies Institute (CASI), AUCA.