Erasmus+ project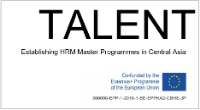 The program was developed with the support of the Erasmus+ -Key Action 2- Capacity building program in the field of higher education grant. 
The basic aim of the TALENT Erasmus+ project (December 2018 – November 2021) is to establish a two-year master's program in HRM in six universities in Central Asia. 
 Coached by EU universities in Belgium, Bulgaria, Germany and Greece, six universities in Kazakhstan, the Kyrgyz Republic and Uzbekistan are developing an innovative academic environment to teach and study HRM insights and practices adapted to the needs and specificities of the socio-economic challenges the Central Asian region is confronted with. The first cohort of students is expected to start its education in September 2020. 
Through its various objectives and activities, such as teacher trainings and seminars, the TALENT project intends to develop a network between universities and public and private actors allowing for a long-lasting exchange of expertise in HRM as well as to create the incentives for mobilities between the partner universities of students, teachers and researchers interested in HRM in Central Asia. 
The project aims to:
Retrain

teachers from 6 Central Asian universities in 8 HRM related courses. The CA teachers will be made deeper acquainted with EU HRM research and practice. The CA teachers will be encouraged to develop comparative courses, and to question what HRM in the EU or western context takes for granted. Mainly, the teachers will develop syllabi and introductory texts to their courses. In the margin of the project, they will be stimulated to set up research in HRM. 

 Establish

6 accredited master programs in "HRM and Talent Development" (TALENT). The details of the curriculum have been developed in Year 1 of the project. The program is oriented towards giving students a background in HRM that enables them to scientifically analyze an organization and to set up methods for improving both the situation of employees and the economic efficiency of the organization. 

Make an informal network of EU and CA teachers. Within the project, CA teachers working on the same or similar courses are coming together in workgroups and HRM seminars with the EU teachers. Academic discussion and comparative HRM is being stimulated. In Year 3 of the project, the network will aim for the systematization of CA HRM research.
You can learn more about Erasmus+ TALENT Project here: https://hrmincentralasia.eu/