The AUCA Outdoor Club had its first expedition
September 28, 2016
This past weekend American University of Central Asia's (AUCA) newest club, the AUCA Outdoor Club, had its first ever expedition – and what an expedition it was!
Lead by two of this summer's Eco Leadership Program (ELP) Alumni, students from the AUCA Outdoor Club attended the Trekking Union of Kyrgyzstan's annual 'Meeting of the Tourists' in Kegeti Gorge to show off their Outdoor Skills and compete in trekking and camping competitions against students from four other Bishkek Universities.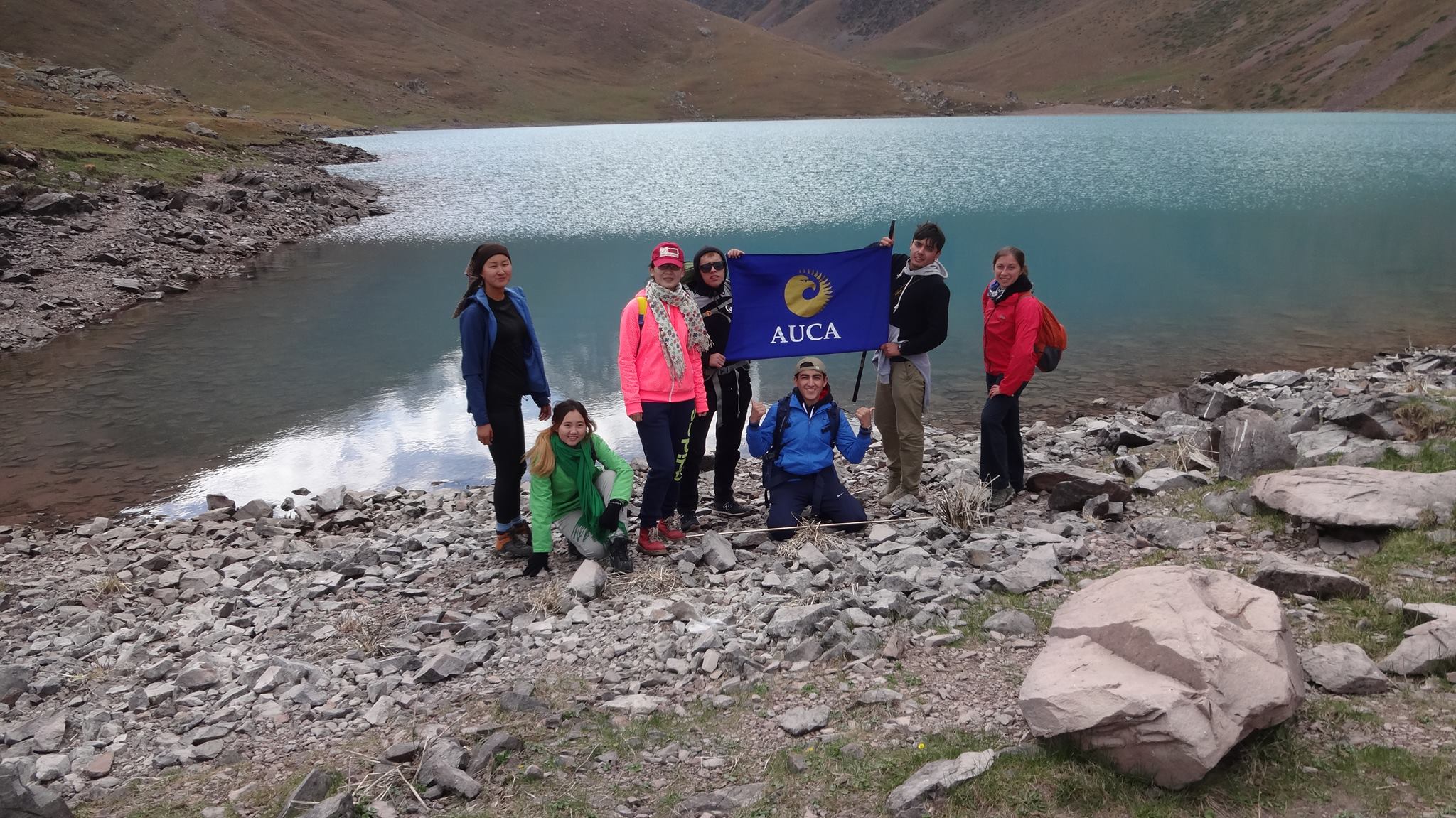 All of the participants set up camp at the base site together on Saturday (the Outdoor Club would like to thank everyone who donated money and gear to the ELP!). Our AUCA students were very active in singing and providing music and entertainment to everyone around the campfire.
Following a night full of music under the stars, Outdoor Club members were split into two teams for the trekking competitions.

The first team, the more experienced team, was made up of ELP alumnus Elpodin Kydyrmaev and sophomore Software Engineering student, Bakhtiyor Ayubov. These gentlemen woke up at 5am to begin their mission to reach the summit of Peak TUK, at 3750m above sea level, and then make it back down to the campsite before 4:30pm, walking a total route of 20km. We are proud to report that our AUCA Outdoor Club boys were among the 17 trekkers who completed this task!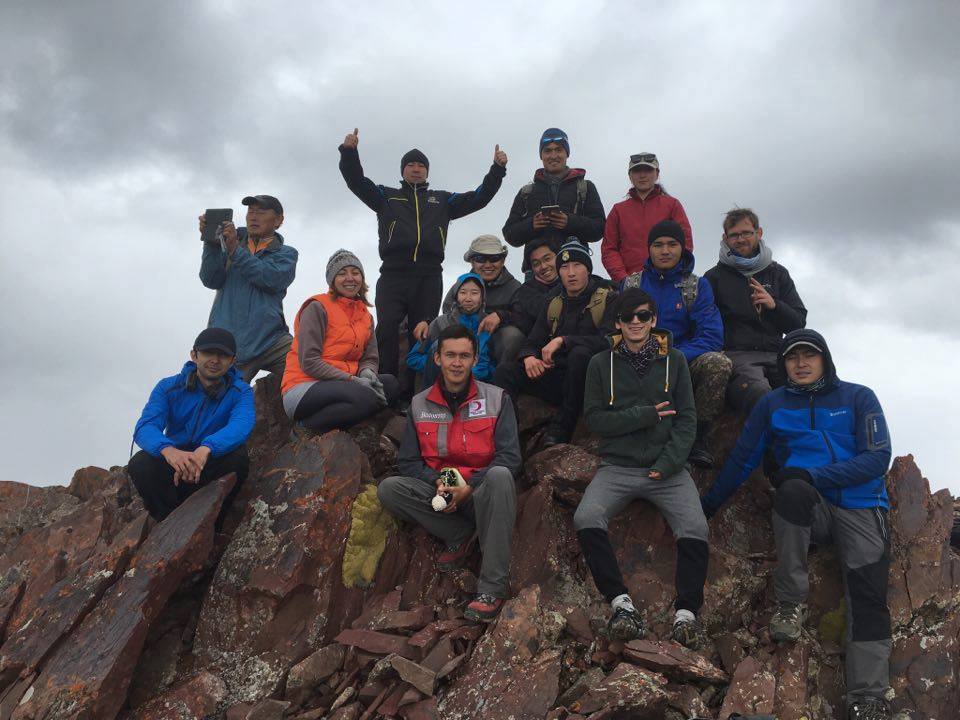 The less experienced team wasled by ELP Alumna and junior Environmental Management and Sustainable Development Student, Nurzhan Chunueva. This team was made up of New Generation Academy(NGA) students Grace Guo, Saule Sagdanbek kyzy, Abdurakhman Abdurakhmanov, Shodiyor Ogonazarov and Shamsullo Ismatov, and was accompanied by AUCA Outdoor Club Faculty Advisor, Assistant Professor Alessandra Sztrimbely. This team's mission was to make it to the beautiful Kol Tor lake at 2733m above sea level, before heading back to the campsite, a total route of 14km, and to do soas a whole unified team. 

Not only did the team members manage to complete their mission with the second fastest time of all of the teams taking part in the competition, our group demonstrated excellent teamwork, consistently encouraging one another and helping each other out when things got tricky. The AUCA Outdoors Club was also the only group out of all of the university groups present from which all of the members completed their missions – well done Outdoors Club Members!

Throughout the weekend, the AUCA Outdoors Club members also worked to preserve the environment and keep the lessons they learned from the ELP alive, joining with other TUK members in collecting any garbage they found on route and leaving the campsite even more pristine then they found it.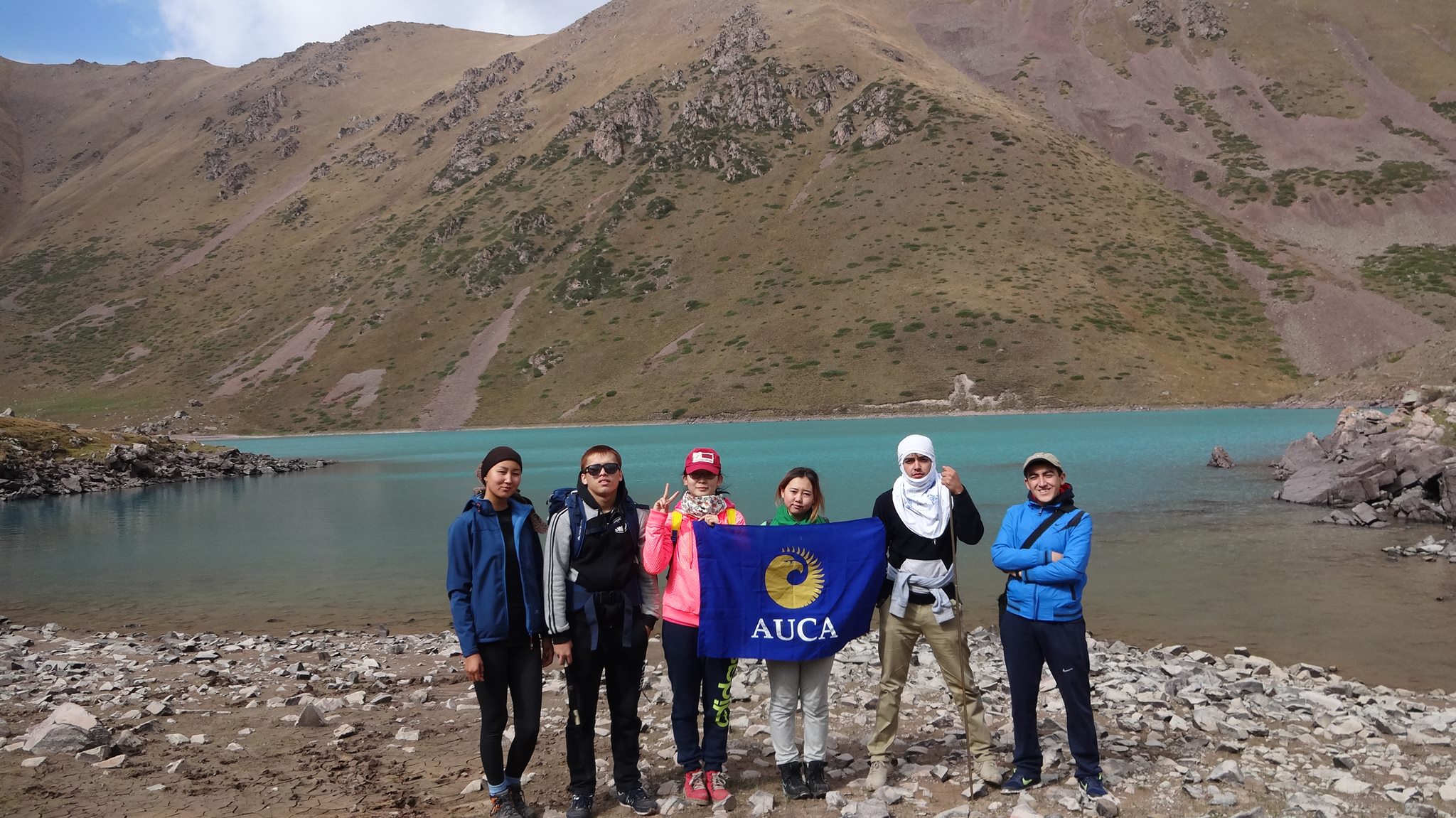 About the Outdoors Club
The AUCA Outdoor Club was founded this year following the success of this summer's 14-day Ala ArchaEco-Leadership Projectlead by University of Vermont Graduate Student, Nathan Fry, with support from ZheenbekKulenbekov, chair of the AUCA EMSD department. Not wishing to forget their achievements and lessons learned during the project, ELP alumni NuraliOrozbekov, AltynaiAbrakhmanova, BegimaiAmantaeva, BegimaiAshyrlukova, NurzhanChunueva and German Dondecided to create a new AUCA club to expose other AUCA students to the wonders of the Kyrgyz outdoors, and to provide them with a taste of what they can expect from the ELP program in the future.

The Outdoors Club welcomes all students, and plans to organize a variety of outdoor activities for students with a range of skill levels and experience. Their next excursion will be a day hike in Sokuluk (Belagorka) Gorge on Saturday, October 1.

Students who are interested in joining excursions in the future can check out the AUCA Outdoor Club Facebook Page for more information.