ELP participants meeting with Patrick Barrow
Ecological Leadership Program (ELP) project participants held a meeting with Patrick Barrow. Barrow is expected to be an assistant instructor for the ELP project this summer.
Patrick held a meeting with the head of the Environmental Management and Sustainable Development (EMSD) Department, Zheenbek Kulenbekov, to discuss the ELP project and arrange time to meet with all of the project participants. Patrick handed out the project information packet to all the participants and answered any questions that they had. Additionally, he helped out by conducting some orientation hikes with program participants in the spring to help prepare for the trip, particularly, during the meeting selected ELP students got some training course about safety instructions for hiking in high mountains area.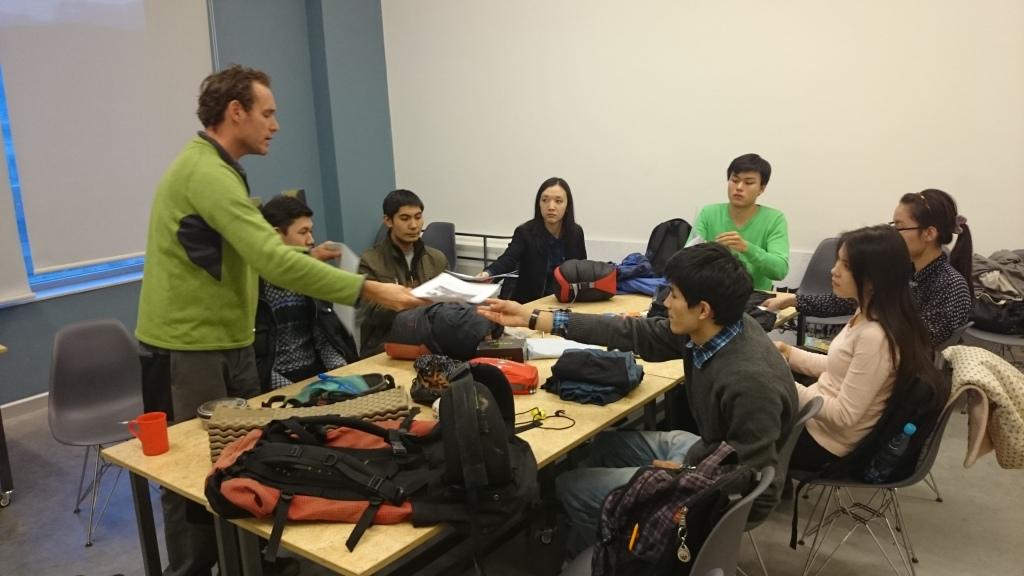 Patrick Barrow lives in Kyrgyzstan and runs outdoor education programs for high school students in Bishkek. Patrick spent a decade travelling Eurasia, before arriving in Kyrgyzstan in 2009. His first post in Kyrgzstan was 'Hutman,' in Ala-Archa national park, for the Kyrgyz Alpine Club. He's since worked for a local company as everything from porter and cooks help to lead guide on a variety of expeditions. In this time Patrick's developed an intrinsic understanding of local practice and an invaluable network of local friends and partners. Patrick is an Outdoor Education Instructor and Guide having guided in Australia, Kyrgyzstan and abroad. He holds an Australian Guiding Qualification with training in a variety of outdoor disciplines. Patrick's adventures include some bike trips in Siberia and a 6000km solo ride across West China and Tibet, including riding into Everest Base Camp.  In 2014 Patrick again completed a full 80hr Wilderness First Responder with NOLS.  Languages: Native English, Russian, Basic Kyrgyz.