Main Job Responsibilities of RA
Assist with day-to-day operational procedures: damage assessment, room changes, identifying and reporting maintenance and safety concerns, etc.
Assist in the handling of all emergency situations (e.g., fire, health, safety).
Document all incidents impacting the operation of the residence hall and report all policy violations to the supervisors.  
Discuss and address students' concerns and problems, both individually and in groups. Initiate discussions about individual and group dynamics before issues manifest.
Resident Assistant must take the residents to a hospital for blood tests and if residents have serious/urgent health problems occurring in the dorm, if emergency aid or necessary medical checkup for foreign students (who need translation assistance) is needed. Resident Assistant should be ready for possible situations when he or she might need to take residents to the hospital in case of emergency during the night time.
Plan, organize, and participate in floor activities that help to enhance the community, as well as the social, educational, and personal development of dorm residents.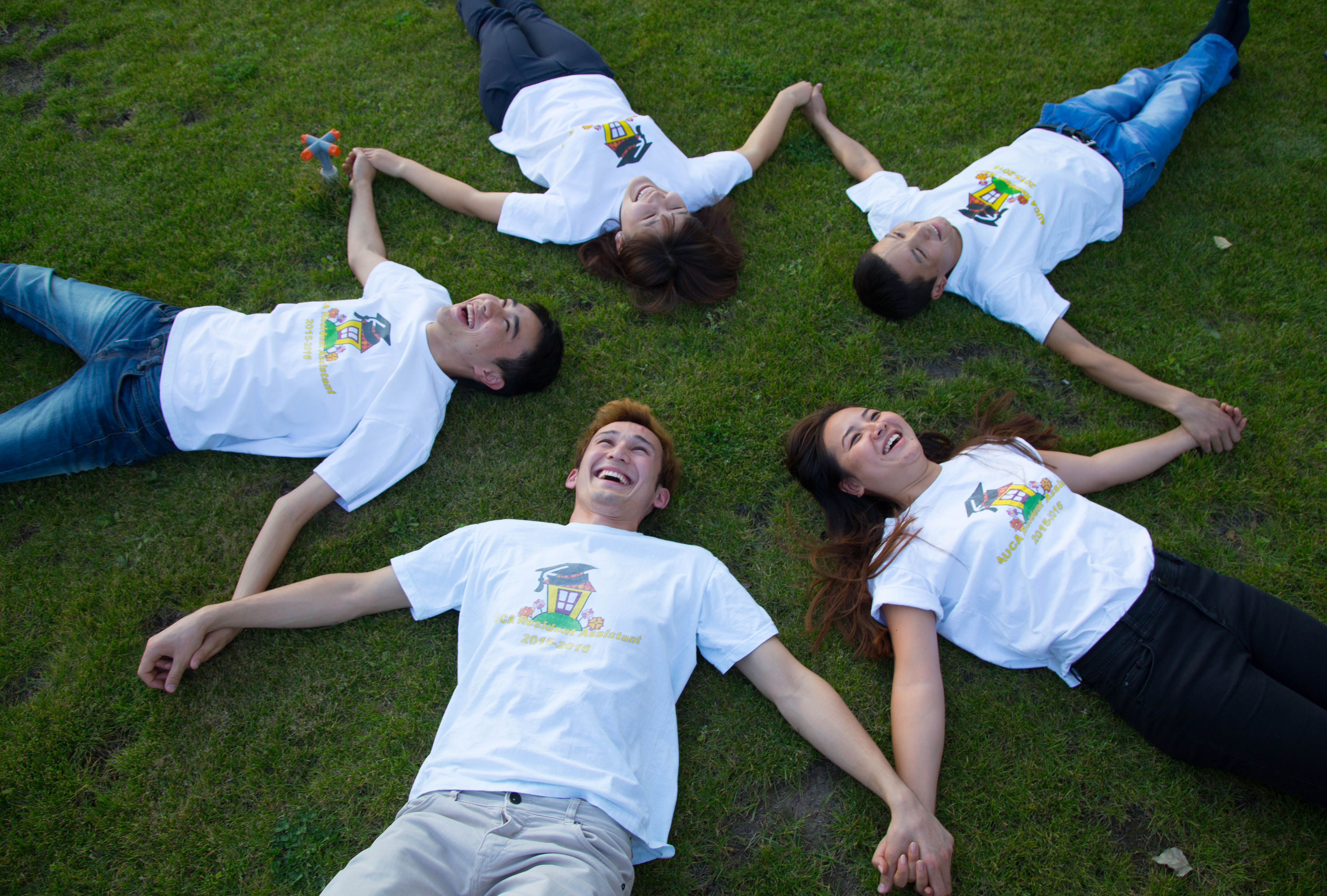 Aimeerim Shukurbekova
Floor: 4
Additional responsibilities: Visa and registration assistance
Aimeerim Shukurbekova is studying law as a major and minoring in Human Rights. She likes her studies a lot, but except academic part , Aimeerim is engaged also in different social projects: she has been served in AIESEC , international youth run organization, has volunteered in orphanage for deaf children. She is gathering professional  experience so far as well: interning in consulting law firm GRATA, IDLO. Lucky she , Aimeerim can find time for sport , especially yoga. She has an aim to do alpinism professionally. She likes to do things she is afraid of . For instance, she loves paragliding despite she has a phobia of highness.
Almazbek Suiunbekov
Floor:  3
Additional responsibilities: Green Campus movement and NGA Mentorship Program
My name is Almazbek, a junior in my dream university majoring in Business Administration and Resident Assistant at the Dormitory of AUCA. As AUCA provides various opportunities for its students, I decided that I must not miss such great chances and should benefit from them.  One of such privileges is the Resident Assistant  (RA) job, which creates a platform to practice effective and efficient working skills. I do like RA job, since it is giving me good chance to practice my skills of working with people.
AUCA accepts international exchange students every year who usually live in the Dormitory, and since I am RA there it is a great chance for me to create a network and foster cultural exchange with prospective students from many countries. I am sure that knowledge and experience sharing among the students is broadening my career prospects.
I can say that one should have desire to constantly help, learn and improve, strong sense of responsibility and dedication to be eligible to work as RA.
Lira Momunalieva
Floor: 5
Additional responsibilities: Extracurricular and clubs activities
My name is Lira and I am Resident Assistants in AUCA Dormitory 2014-2015 and 2015-2016. I am Junior student at Sociology Department. My work experience include following positions:
Coordinator of English Access Micro scholarship Program in Kyrgyzstan. (US.Embassy)
(Coordinate three sites: Isfana, Arslanbob and Bishkek, program for socially disadvantaged and disable children), 2014-2015
Armada Trader (American vehicles in Central Asia and Europe) ,2014
Researcher in Non-governmental research organization – El-Pikir,2014
Organizator of Zhashtar Camp-2013,Kant
Organizator of El-Campo, 2015
Internship in Myself My World 2015, AIESEC, Turkey
Alumni of Club of Young Kyrgyzstanis, Stipend Progam,2014
British Language Centre - English teacher for beginners and elementarily,2013
Alumni of New Generation Academy ,2013
Organizator of Access Program Conference-2013
Access delegate in Kazachstan, Osh, Yssyk-Kul, (2012-2013)
President of Access Association in Kyrgyzstan,2012
Alumni of English Access Microscholarship Program in KG,2012
My Hobbies: Face painting, Body painting, drawing
 Handmade crafts (cards, jewelry and etc.)
Jogging, hicking
Slogan:  Be thankful, don`t stop, live every moment.
Samatbek Osmonov
Floor: 4
Additional responsibilities: IT and technology assistance
My name is Samatbek Osmonov, I am a junior student of Business Administration department and Resident Assistant of AUCA Dormitory. I like to try and learn new things. I am very interested in Information Technologies, programming, internet marketing and the opportunities that they provide. As my passion is Information Technologies, on top of conventional RA's responsibilities I am also responsible for all technical stuff at the Dormitory. So if you have any IT-related problems, feel free to ask me and I will do best to help you.
Talgat Subanaliev 
Floor: 2
Additional responsibilities: Extracurricular and clubs activities
Talgat is a junior student of Journalism department. He goes in for photography and singing. 
Talgat: Being an RA is a great experience, there's a lot to experience and learn about other cultures, student life, to deploy networking and develop communication skills basically, it's the best job for students.