The Institute's Events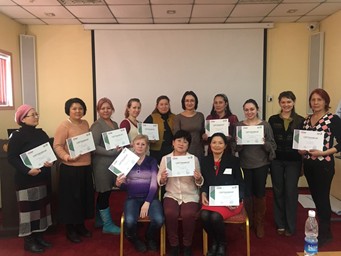 On February 20th of 2017 the specialists of the Institute conducted a training titled "Becoming a Caring Nanny" for the beneficiaries of the Public Charity Fund Babushka Adoption.
Olga Yarova, MA, ABA-therapist and specialist of child psychology, and Elena Kosterina, Ph.D., specialist in working with elderly and in behavioral psychotherapy, presented the approaches to upbringing and styles of parents, ways to develop a system of reinforcement for kids and develop relationships with a child.
The participants learned about childhood development and practiced child-directed play and methods of structuring kid's activities.
---
Providing services for lonely elderly people in partnership with PCF Babushka Adoption:
From January 7th-16th, the staff of the Institute for Behavioral Health conducted trainings for the clients of the Public Charity Foundation "Grandmother Adoption". Trainings were held under the theme of "Delaying Aging" and included a discussion of an active lifestyle for elderly people, approaches to training memory and maintaining a healthy lifestyle. Trainings included yoga for the elderly, relaxation and meditation training.
Practical course "Applied Behavioral Analysis, Part II".
The AUCA Psychology Department and the Institute of Behavioral Health in collaboration with the Association of Parents of Children with Down Syndrome "Santerra" in the fall semester of 2016 offered a practical course "Applied Behavioral Analysis, Part II". As part of the course, students of the Psychology  Department worked with children with Down syndrome and applied their theoretical knowledge into practice. The students worked on academic skills, gross and motor skills, and on the development of speech in children. Students themselves developed materials and programs under the supervision of Olga Yarova, a certified behavior analyst .