Trash Can
Psychological Laboratory
n.a. A.A. Brudny
The Psychological Laboratory is a scientific/academic subdivision of the Psychology Department at AUCA. The center was founded in 2004 as the Psychology Laboratory. Students and teachers are actively involved in activities of the center. The mission of the center is the promotion of education in the sphere of psychology and the development of experimental methods to build the capacity of specialists in psychology.
Major current research areas of Laboratory include: Social Justice Belief (cross-cultural research), Moral Development, Crisis Resolution, Educational Psychology and Disability.
The staff of the center regularly participate in scientific conferences. Publications include the CD-ROM Man and Society, which was supported and recorded with grant support from the Soros Foundation-Kyrgyzstan. This CD-Rom is available upon request.
Theoretical research history from 2004:
Signs as connecting tissue (stroma) of society
Communication as socio-psychological phenomenon
Understanding as an object of psychological research.
Applied research history:
Money
Signs
Cross-cultural research
Business as a form of communication
Mass-Media and advertising
Rumors
Mechanism of a dissemination
Self-knowledge
Text Understanding
Partners:
Center for Innovative Methods in Education
Bureau of Study Council
Kyrgyz National Academy of Science
Moscow State University
Columbia University
Erevan State University
Support provided for different projects:
Soros Foundation - Kyrgyzstan
F. Ebert Stiftung
Aitmatov Foundation
Foundation for Educational Initiatives
"Review of Psychological Laboratory 2008-2011":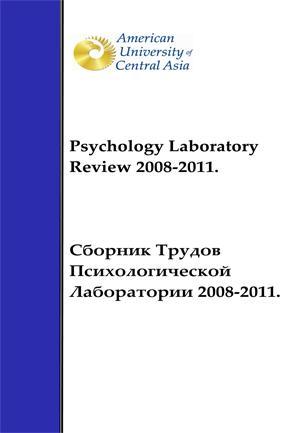 The electronic version of the issue can be downloaded here.
In 2011 Psychological Laboratory of AUCA published the most significant and interesting works of its student fellows and affiliated department faculty as the Review of Psychological Laboratory 2008-2011. Aron Abramovich Brudny edited the publication as the recent review of the brightest theoretical achievements and summary of the essential directions of research at the Laboratory. This issue was presented by A.A. Brydny as the first issues of the future journal which will be published by CPR.