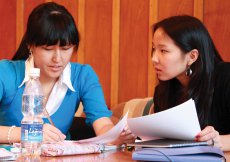 WARC

PEG PEOPLES

MAIN BUILDING ROOM 228
TEL: +996 312 663 309
EXT. 309
EMAIL: peoples_p@mail.auca.kg
WRITING AND ACADEMIC RESOURCE CENTER
WHAT IS WARC?
AUCA's Writing and Academic Resource Center: A Place for Students and Faculty.
ABOUT US
WARC's mission is simple: We're dedicated to AUCA's pursuit of excellence in teaching, writing, research, and learning in the liberal arts tradition. We're here to help students develop the intellectual practices that allow us to not only be passive learners, but active learners who move from consuming the ideas of others to discovering and producing our own.
Because writing plays a crucial role in being an educated person, WARC provides AUCA students with trained tutors who meet with students in free one-hour sessions to work on their writing— from understanding assignments, generating ideas, organizing them and reflecting critically on them, to writing thesis statements, and to reviewing one's writing at every stage in the writing process. WARC also helps students review math—from contemporary mathematics to probability and statistics—as well as provides assistance with individual language learning.
WARC is not just for students though: it is also a place for teachers. Through online resources found on our site, individual consultations, and through a variety of workshops about writing, best classroom practices, syllabi and course development, responding to writing, and developing writing assignments, WARC is dedicated to excellence in teaching and research across the disciplines.
WARC HOURS

M-F 9:00 - 17:00