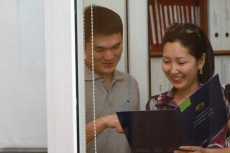 PROGRAM CHAIR

GALINA GORBORUKOVA

OFFICE MANAGER

KALIYA AKMATOVA

MAIN BUILDING ROOM 234/235
TEL: +996 312 661 092
EMAIL: soc@mail.auca.kg
SOCIOLOGY
WHAT IS SOCIOLOGY?
Sociology is the study of society. It is a social science which seeks the truth about human social activity, and using that truth to progress humanity.
ABOUT US
The breakup of the Soviet Union led to tremendous social changes throughout the region, and change continues as the new states integrate into the global economy. How do the aspirations of the youth of the region differ from their parents? How does religion play a role in times of uncertainty? How does labor migration affect the social fabric of rural communities? Enter the Sociology Program and you can explore these and other burning questions facing almost every country in the region. Sociology – the systematic inquiry and study of human social life – offers a unique perspective for understanding modern and historical issues, social structures, interpersonal interactions, social stability, and processes of transformation. The Sociology Program will provide you with a solid foundation in sociological research and theory and prepare you for work in a variety of academic and professional careers.
While all Sociology students must complete the core sociology courses and the general education requirements, you can select elective courses that relate to your own research and professional interests. From the third semester onwards, students choose one of two tracks, "Economy, Polity and Society" or "Culture and Society." Student internships are an important part of the program. Students undertake an eight-week practicum with an organization such as UNDP, Counterpart Consortium, OSCE, or one of a number of marketing and social research organizations. Another vital aspect of the department is the Social Research Center (SRC), which has examined such issues as bride kidnapping, marriage patterns, mass media and political participation, and AIDS initiative effectiveness.
OUR FACULTY

YOUR POSSIBILITIES
Sociology graduates are pursuing advanced degrees in institutions such as Aachen University, Germany; Ball State University, U.S.A.; New York University, U.S.A.; Edinburgh University, UK; and Central European University, Hungary. Graduates currently work in organizations such as PRAGMA, Central Asia-Caucasus Institute, SIAR Social and Marketing Research Company, TACIS, and BRIEF, among others.
"The Sociology Program is primarily focused on advancing students' abilities for social inquiry - understanding the important questions that are seldom raised, but which often have serious implications for the political, economic, and social programs of policymakers. It is my mission to inspire my students, but even a fantastic teacher will have difficulty with an uninspired audience. My students are already inspired to learn, and my motivation is derived from the need to perform up to their standards, and my own."

David Levy, instructor of Sociology