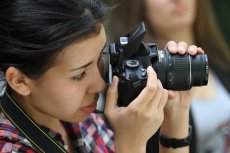 PROGRAM CHAIR

GULNURA TORALIEVA

OFFICE MANAGER

ELVIRA MEDETBEKOVA

MAIN BUILDING ROOM 206/1
TEL: +996 312 666 882
EXT. 234
EMAIL: jour@mail.auca.kg
JOURNALISM AND MASS COMMUNICATIONS
WHAT IS JOURNALISM AND MASS COMMUNICATIONS?
Journalism and Mass Communications is the practice of investigation and reporting of events, issues, and trends to a broad audience
ABOUT US
The AUCA Journalism and Mass Communication Department has been training and educating competent media professionals since 1995. The Program's graduates have proved their professionalism working as reporters, staff writers, editors, public relations and communications specialists. They succeed in many organizations such as NTS TV, NBT TV, Pyramida TV, 5 Kanal, Raketa TV, Vecherny Bishkek daily, Internews, Helvetas, SDC, Associated Press and the like. A number of JMC graduates continued their studies in leading American and European universities and some of them returned to their alma mater to teach in the department.

In 2009 the Department received accreditation as the Department of Journalism and Mass Communication, which has already begun offering courses in such high-demand areas as public relations, advertising, mass culture and media/communication studies.
AUCA offers students facilities and resources to develop hands-on journalistic skills along with their regular course work. The students benefit from AUCA TV where they develop and hone their reporting skills. They also practice writing and producing the student newspaper The New Star. Others gain experience through hands-on practice at the AUCA Public Relations Office. Some students contribute to production of the Alumni Magazine. The Program will continue streamlining its structure and content in the upcoming years to keep up with rapidly changing media in the Central Asian region and the world.