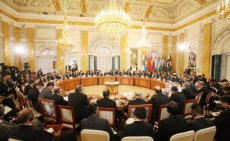 PROGRAM CHAIR

AZAMAT TEMIRKULOV

OFFICE MANAGER

NAZIMA MANAPAEVA

MAIN BUILDING ROOM 233
TEL: +996 312 663 524
EMAIL: icp@mail.auca.kg
INTERNATIONAL AND COMPARATIVE POLITICS
WHAT IS INTERNATIONAL AND COMPARATIVE POLITICS?
The Department of International and Comparative Politics offers a rigorous training in Political Science with a particular emphasis on two major subfields: International Relations and Comparative Politics. The combined program, International and Comparative Politics, offers a unique opportunity to study the nature and trends in relations between international actors, including the states, sub-state, non-state as well as supra-national actors and combines this with deep and broad study of domestic political systems, institutions focused on explaining the similarities and differences of various forms of such systems.
ABOUT US
Join the International and Comparative Politics (ICP) Program, one of the most competitive at AUCA, and surround yourself with some of the brightest minds engaged in analyzing the ever-changing political landscapes of Central Asia. Learn about the new "Great Game" of Central Asia, where the competition for influence involves both the national governments of Central Asian states and the big regional players, such as Russia, USA, China, Iran and others. See firsthand how a new state like Kyrgyzstan tries to assert its own national identity, craft a better constitution, and forge an effective democracy. Explore political systems beyond the region through an exciting array of courses including Russian Foreign Policy, International Organizations, Political Violence and Terrorism, Human Rights and International Law, Comparative Constitutional Systems, and Politics of the Middle East and many others.
Indeed, politics is always at your fingertips here; the Kyrgyz Parliament sits right across the street. And, you can meet representatives of dozens of international organizations when they come to speak at numerous lectures, roundtable discussions, and conferences every year. The underlying philosophy of the program is that our graduates should be discerning, well-educated and caring citizens, actively participating in either a local or an international setting, and dedicated to the principle of democracy and human rights.
OUR FACULTY
The faculty members of ICP come from different countries and with different research interests, but with similar commitment to nurturing students' critical thinking, analytical reasoning and academic honesty. They passionately believe in using an interactive teaching method, whereby students are encouraged to express their ideas and opinions as active participants. Our faculty members come with extensive educational and research experience from the leading universities of USA, Europe, Russia and Central Asia. They are here not to teach the truth but to effectively facilitate the students' own journey for intellectual development and professional growth.
YOUR POSSIBILITIES
ICP provides an excellent school of thinking, writing and communicating and thus opens the doors for a variety of professional paths for its graduates. All successful graduates of our program join a growing mass of intellectual elite of the region, working in such fields as government, international organizations, business, non-governmental organizations, think tanks and so on. ICP also actively cooperates with the AUCA's research centers, such as Central Asian Studies Institute, Tian Shan Policy Center in investigating relevant policy areas of security, migration, regional cooperation, and the role of religion in political life. Check the rubrics about the profiles of ICP graduates for more information.