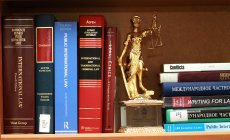 PROGRAM HEAD

KAMILA MATEEVA

OFFICE MANAGER

RAVSHANA MAKEEVA

MAIN BUILDING, ROOM 227
TEL: +996 312 661 090
EXT. 269
EMAIL: law@mail.auca.kg
INTERNATIONAL AND BUSINESS LAW
WHAT IS INTERNATIONAL AND BUSINESS LAW?
Law is a system of rules and guidelines, usually enforced through a set of institutions. It shapes politics, economics and society in numerous ways and serves as a social mediator of relations between people. International and business law are two areas of the law particularly important to the Kyrgyz Republic, as they govern relationships between governments and between government and business.
ABOUT US
Stand out from the crowd and study in one of the top law programs in the region. The mission of the AUCA International and Business Law Department is to educate new generation of lawyers through a program with a focus on independent, analytical learning and practical skills within a liberal arts framework for them to play a role in transformation of society to rule of law and market economy inCentral Asia.
The AUCA International and Business Law Program stands apart from law programs at other regional universities by using interactive teaching methods, integrating legal skills into all courses, introducing skills-based law disciplines apart from regular courses in the curriculum and utilizing visiting professors from Europe, Australia and the United States of America. You can also gain skills and experience outside the classroom by working in the AUCA Legal Clinic conducting research, giving free legal advice to private citizens, and even providing representation in court. Most of the courses are taught in English. By providing legal skills courses to our students, we encourage and train them to participate in both national and international moot court competitions.
OUR FACULTY
IBL faculty members are highly skilled and experienced professionals with Master's or Ph.D level qualifications. We have extensive experience in training students for legal careers. We are committed to providing a legal education that combines academic excellence with practical and transferable skills as well as developing core academic skills such as independent learning, critical thinking and problem solving. Our faculty members employ interactive teaching methods to let students to be active participants in class to express their opinions, ideas and therefore nurture their critical thinking along their studies.
YOUR POSSIBILITIES
IBL program prepares specialists to work in private and public sector. Graduates from our law program are working in the public and private sectors, both locally and abroad. More than 180 students have graduated over the past 11 years, and over 90% have secured work as legal experts for well known companies and organizations in Kyrgyzstan such as Kalikova & Associates Law Firm, Kyrgyz Investment Credit Bank, United States Agency International Development, Open Society Institute, National Society of the Red Cross, United Nations High Commissioner for Refugees, Ministry of Justice, and Eurasia Foundation in Central Asia etc. We have number of graduates who are working abroad at the International Criminal Court in The Hague, Islamic Development Bank in Saudi Arabia, United Nations Economic Commission in Europe in Switzerland, PricewaterhouseCoopers Company in Kazakhstan, European Commission in Kazakhstan etc. Graduates have chosen to pursue advanced degrees at distinguished institutions including Columbia University, Indiana University, Georgetown University, USA, Bern University, University of Geneva, Switzerland; Johann Wolfgang Goethe University, Nottebohm University, Germany; Marseille University, France; Moscow State University, Russia etc. IBL department actively cooperates with Tian Shan Policy Center and other institutes in research projects involving not only faculty members and graduates but also our students.
PUBLICATION
Contemporary International Law: Cases and Materials
"In our discussions we examine the complex relationship between states and how law regulates these relationships. Through our classroom simulations and debates we develop our analytical skills, which will help us in building a free society in Kyrgyzstan."

Albina Rachmidinova '08