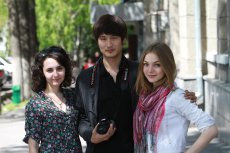 AUCA OFFICE OF ADMISSIONS

MAIN BUILDING ROOM 111
TEL: +996 312 661 089
EMAIL: admissions@mail.auca.kg
EXCHANGE STUDENT APPLICATION INSTRUCTIONS
Important Note: Students of North American Universities wishing to apply to AUCA Study Abroad must do so through Bard College. Students of universities outside North America can either apply through their own institution, or on their own by following the steps below. Click to see a list of AUCA Partner Universities.
APPLICATION CHECKLIST
Please state your reasons for applying to the chosen program of the American University of Central Asia, and how your studies at AUCA will contribute toward your life goals; also tell us what you feel most enthusiastic about and whether this has influenced your life in any way. Limit your statement of purpose to 700 words. Please attach your statement of purpose to this application.
Copy of passport information pages and for non-Kyrgyz citizens living in Kyrgyzstan, a copy of the Kyrgyz Republic visa page (international students must check in with the International Affairs Office within 2 days of arrival to submit copies of their Kyrgyz Visa and complete Ministry of Internal Affairs registration paperwork)4
4 color passport-style photographs (3 x 4 cm – white background)
Medical certificate, confirming all vaccinations and immunizations as well as health screenings for Tuberculosis (for applicants from the CIS, the Medical certificate is known as the Form 086-Y)
All international students should start their visa application to the Kyrgyz Republic no later than 30 days prior to their arrival. AUCA provides letters of support for all students who require it. Visa procedures differ greatly depending on your country of citizenship. To learn what kind of visa you will need to study at AUCA, follow the link: VISA.
Students must fill out a course registration form and submit it to the Office of the Registrar by the application deadline to be enrolled at AUCA for the desired semester. Visiting/exchange students can take any courses listed in the University catalogue, given that course prerequisite conditions are met, where necessary. The maximum allowable number of course credits a visiting/exchange student may take is 18 per semester.
Tuition for all exchange students will be the same as for AUCA undergraduate students: $2,450 per semester. Students from AUCA Partner Universities will be responsible only for their home university tuition. Financial aid is available only in extreme circumstances.
In addition, all semester-long exchange students are expected to live in Official AUCA Housing. The hospitality package is $1,000 per semester. Students studying at AUCA for a full academic year are welcome to find their own housing in their second semester.
TRANSFER OF CREDITS:
In most cases, students must get pre-approval of their courses by their home institution's Registrar to be sure that they will meet the requirements at their home institution. The AUCA Registrar serves as the advisor to visiting students and will help them plan their program.
All exchange students are entitled to receive transcripts, unless special conditions apply as may be the case with special programs and institutional agreements. A transcript of your coursework will be sent directly from the AUCA Registrar's Office to your home institution.
EXPECTATIONS AND RIGHTS:
Exchange students have access to all the student services that are available to AUCA students and are expected to abide by the AUCA Student Code of Conduct.
CHANGING ACADEMIC STATUS:
If an exchange student decides to obtain a degree at AUCA he/she must re-apply as a degree seeking student and follow the standard conditions for admission as a full-time student as per the Admission Policy of the academic year in which he/she applies to the degree program. No more than 36 credit hours earned at AUCA as an exchange student may be counted toward a degree program at AUCA without grades. Only credits for courses with grades higher than "C" can be transferred. Credits earned at other universities can be transferred to AUCA as per the transfer policy.
APPLICATION DEADLINE:

FALL 2012

AUGUST 31, 2012

SPRING 2013:

DECEMBER 31, 2012